WASHINGTON — In a reversal, Americans now prefer Republicans over Democrats as the party best equipped to deal with the economy and taxes, according to the latest NBC News/Wall Street Journal poll.
The survey, which was conducted April 8-11, shows that 35 percent of Americans believe the GOP is the better of the two major parties to handle the economy, compared with 28 percent who name Democrats — a seven point advantage for Republicans.
In December, Democrats held a five-point edge on this question, with 35 percent picking Democrats and 30 percent choosing Republicans.
On dealing with taxes, Republicans now have a slim two-point advantage over Democrats, with 31 percent saying the GOP will do a better job on the issue compared with 29 percent who name Democrats instead. In December, days before lawmakers passed a sweeping tax overhaul, Democrats enjoyed a four-point advantage on the same question.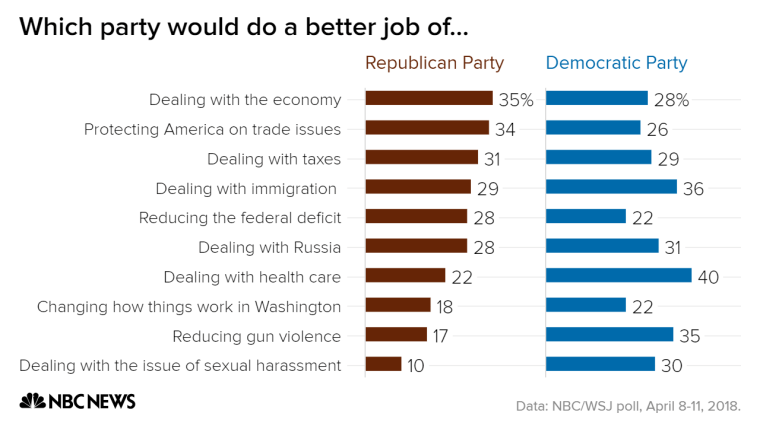 But while Republicans have regained the upper hand on handling taxes generally, the tax reform signed by the president late last year remains fairly unpopular. Just 27 percent of Americans call the tax overhaul a good idea, while 36 percent disagree and 34 percent say they don't yet know enough about the bill to have an opinion.
That's similar to results in January, when 30 percent called it a good idea, 38 percent called it a bad idea and 30 percent did not know enough to respond either way.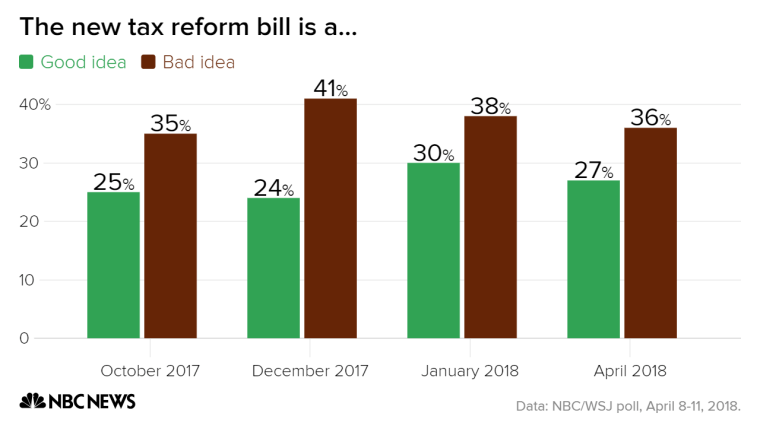 And more than half of Americans — 53 percent — also say the bill will be more of a negative because it will increase the federal deficit and mostly benefit the wealthy and big corporations. That includes 56 percent of those who are poor or working class, 49 percent of middle-class Americans and 54 percent of the country's highest earners.
Thirty-nine percent say the tax bill will be more of a positive because the average American will get a tax cut and the overall economy will improve.
Republicans have also seen their edge narrow when it comes to handing the federal deficit. In 2014, Americans rated the GOP as the better party to manage deficits by nearly 20 points, 39 percent to 21 percent. Now — after the GOP-led Congress passed both the tax plan and a massive spending bill —that margin is now down to 6 percent. And a plurality — 33 percent — say neither party will do a good job to address the issue.
Americans are divided about whether the new tax overhaul will increase the federal deficit. Republicans argue that the bill will ultimately pay for itself due to economic growth and increased tax revenues, while some outside analysts have estimated that it would increase federal deficits by as much as a trillion dollars or more.
About four in 10 Americans — 42 percent — say the tax bill will increase the federal deficit either a great deal (22 percent) or quite a bit (20 percent), while 48 percent say it will increase the deficit only "some" (33 percent) or not at all (15 percent.)
While Republicans are enjoying better ratings on economic matters in the latest poll, Democrats retain their advantage as the party preferred to handle immigration (seven-point advantage), reducing gun violence (18-point advantage), dealing with health care (18-point advantage) and dealing with sexual harassment (20-point advantage.)
Asked which party would be best at changing how things work in Washington, however, neither side gets particularly stellar ratings. While 22 percent of adults name Democrats as the better party to reform D.C. and 18 percent name Republicans, a full 40 percent say that neither political party does a good job at changing business as usual in the nation's capital.
As President Donald Trump approaches his sixteenth month in office, Americans continue to say that his administration is not managing the federal government competently.
A majority — 56 percent — of Americans say that the White House is either "not too competent" (17 percent) or "not competent at all" (39 percent). Sixteen percent call the administration "very competent."
That's virtually unchanged since last June, and it's a worse rating than President Barack Obama's administration received in June 2014, when Obama faced some of the lowest approval ratings of his presidency amid questions about his handling of foreign policy and the economy.
At that time, 19 percent of Americans called his administration "not too competent," while 31 percent called it "not competent at all."
The NBC/WSJ poll was conducted April 8-11 of 900 adults — including nearly half by cellphone — and it has an overall margin of error of plus-minus 3.3 percentage points. The margin of error for the 720 registered voters in the poll is plus-minus 3.7 percentage points.