Defense Secretary Chuck Hagel's resignation at the urging of the president is not a sign of a broader shift in the White House's national security or defense policies, according to former and current administration officials.
Rather, Hagel's departure reflects two new dynamics that have emerged since he took the helm at the Pentagon early last year. Hagel's background as a Vietnam War veteran and former Nebraska senator was seen by administration officials as giving credibility and clout to implement one of President Obama's major priorities back then: a broad overhaul of America's military that would reduce defense spending and shrink the U.S. Army to its smallest force levels in decades.
But the rise of ISIS and other military challenges, like halting Russia's incursions into the Ukraine and stopping the spread of Ebola, have emerged over the last two years, so the restructuring of the Pentagon is no longer at the top of Obama's to-do list.
He had a crappy relationship with Susan Rice.
And those events abroad have focused attention on Hagel's management skills. The Defense Secretary, according to administration sources, simply failed to convince leaders at the White House or the Pentagon that he is the right person to lead what is akin to a war against ISIS.
"They chose Hagel for a job that just turned out to be very different than what was expected with the rise of ISIS," said one former Obama national security aide.
But others argue that Hagel's downfall is much less about policy than personality and timing.
"He had a crappy relationship with Susan Rice," said Steve Clemons, a foreign policy expert and the founder of the American Strategy Program at the New America Foundation, referring to clashes Hagel had with the national security advisor.
And Clemons suggested that Hagel was being pushed out as a sacrificial lamb, allowing Obama to show he recognizes his national security policy has at times been ineffective and that he is making changes after the drubbing Democrats took on Election Day.
"This is part of a reset. The president has been criticized for a long list of mistakes," said Clemons.
Obama and Hagel, in fact, shared many of the same ideas, although the Defense Secretary was not a major force in shaping the administration's strategies. They became friends when both served in the Senate in part because they were early opponents of the Iraq War, and both remain skeptical about U.S. intervention abroad.
Instead of choosing someone with a notably different view of foreign policy, then, the president is likely to tap a replacement who will be better at implementing the administration's vision, sources close to the process suggest.
Michele Flournoy, who served as the No. 3 official at the Pentagon from 2009-2012, is considered a strong contender for the job. Another short-lister is Ashton Carter, who served as the deputy secretary of defense from 2011-2013.
White House officials have also floated the name of Rhode Island Democratic Sen. Jack Reed, a longtime Obama ally and foreign policy expert. But his spokesman said Monday that Reed was not interested in the job.
If picked, Flournoy would be the first-ever female Secretary of Defense. She has been on Obama's short list for the Defense Secretary before.
Hagel -- like Robert Gates and Leon Panetta, his predecessors as Obama's Defense Secretary -– complained privately of limited influence, citing Obama's reliance on White House aides over Cabinet officers.
"I know that Chuck was frustrated with aspects of the Administration's national security policy and decision-making process. His predecessors have spoken about the excessive micro-management they faced from the White House and how that made it more difficult to do their jobs successfully. Chuck's situation was no different," said Arizona Republican Sen. John McCain, in a statement.
He added, "I hope the President will nominate a secretary of defense with the strength of character, judgment, and independence that Bob Gates, Leon Panetta, and Chuck Hagel all exhibited at their best. But ultimately, the President needs to realize that the real source of his current failures on national security more often lie with his Administration's misguided policies and the role played by his White House in devising and implementing them. That is the real change we need right now."
Republicans like McCain -- and even some Democrats -– say that Obama's administration is too slow in recognizing emerging threats, such as the rise of ISIS and Putin's aggressiveness in invading Ukraine. But that gradual approach stems from Obama himself, who has resisted pushes to take more aggressive steps from advisers much more powerful than Hagel, such as then-Secretary of State Hillary Clinton.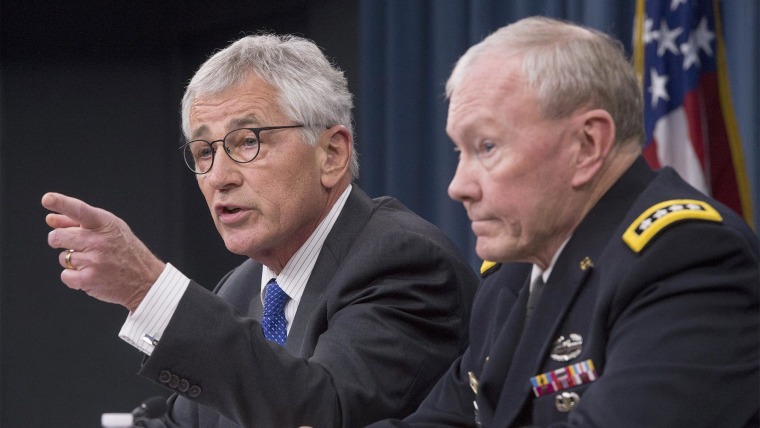 The White House's overall approach is unlikely to change, and Hagel may be alone in leaving Obama's national security team. Secretary of State John Kerry is considered by Democrats in Washington as a successful chief diplomat and is widely expected to stay in place.
White House Chief of Staff Denis McDonough and Rice have received the brunt of criticism from those who perceive Obama's national security approach as ineffective. But both are very close to Obama, and the removal of either would suggest an unexpected overhaul of the president's national security team.
Hagel's stepping down was not shocking. His lackluster performance during his confirmation hearings had weakened him on Capitol Hill and at the Pentagon, and influential Democrats in Washington had criticized his management of the Defense Department for months. At the same time, his departure took some observers aback because Obama rarely pushes out people – like longtime friend Hagel -- with whom he is personally close.
NBC's Jim Miklaszewski and Andrea Mitchell contributed to this story.