WASHINGTON — As both political parties confront a new wave of sexual misconduct complaints unleashed by the #MeToo movement, more than half of Republicans say that they would still consider voting for a candidate accused of sexual harassment as long as they agreed with them on the issues.
A new survey from the Public Religion Research Institute finds that six in 10 Americans (60 percent) say they would not consider supporting a candidate who had been accused of sexual harassment by multiple people, while 38 percent say they would still be open to voting for such a candidate.
And those who say multiple accusations of harassment are not disqualifying for political candidates are overwhelmingly more likely to be Republicans than to be Democrats. More than half — 56 percent — of Republicans overall, and 61 percent of Republican men, said they would still consider voting for an accused candidate, the poll found.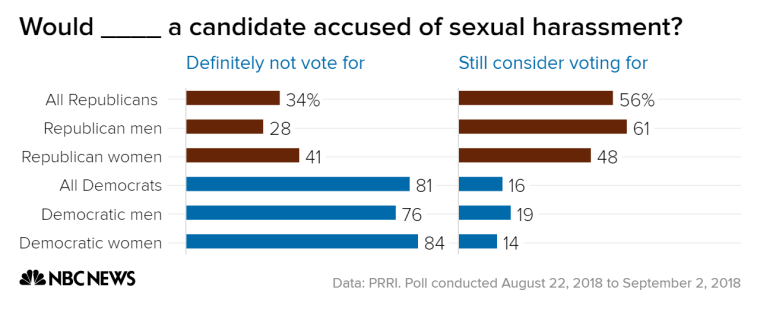 What's more, an overwhelming majority of Democrats — 81 percent — said that they would definitely not support a candidate accused of sexual harassment by several people, while only 34 percent of Republicans said the same.
The poll was conducted Aug. 22-Sept. 2, meaning that respondents were asked about the harassment issues before accusations of sexual misconduct surfaced against Brett Kavanaugh, President Donald Trump's pick for the Supreme Court. The debate over whether Kavanaugh assaulted Dr. Christine Blasey Ford when both were teenagers in 1982 — and whether he should be confirmed even if he did — has galvanized both parties, with some leading Republican voices suggesting that he and others accused of misconduct have been unfairly targeted as conservative white men.
"These women are angry," conservative commentator Rush Limbaugh said last week. "Something has happened to them in their lives, and their rage and anger, they take it out now on the country or on all men or men in 'the powerful majority,' which is white Christian men and so forth."
While gender plays some role in perceptions of how accusations against political candidates should be viewed, partisanship is the more powerful determinant, the poll found.
Seventy-six percent of Democratic men and 84 percent of Democratic women call accusations of harassment a nonstarter when it comes to winning their support.
Among Republicans, there is a slightly more pronounced gender gap. Six-in-10 Republican men (61 percent) say they'd consider supporting a candidate regardless of harassment accusations, as long as they agreed with that candidate on policy issues, while just 28 percent said multiple harassment accusations would be disqualifying.
For Republican women, 41 percent would rule out a candidate based on harassment accusations, while 48 percent said they would not.
Among white evangelicals — one of the groups most loyal to Trump — 43 percent would still consider voting for an accused candidate, while 45 percent would not.
The data collected before the fiery debate over Kavanaugh shows how the latest controversy has exacerbated existing differences between the left and the right over how seriously allegations of sexual misconduct should be taken in public life.
Those divides are already playing out in how the two parties have responded to allegations of harassment — and how such charges are being used as fodder for campaign ads.
Democrats, for their part, are currently grappling with how to address an accusation of domestic violence against Keith Ellison of Minnesota, who is giving up his House seat to run for state attorney general and is deputy chair of the Democratic National Committee. (Ellison has called for a House Ethics Committee investigation into the charges). Another Democratic candidate, Gil Cisneros in California's 49th Congressional District, faced accusations of inappropriate comments to a female lawmaker until she recanted earlier.
Other accused Democrats have been forced to leave office. Sen. Al Franken of Minnesota resigned late last year after facing groping accusations from eight women; Rep. John Conyers Jr. of Michigan stepped down amid harassment claims spanning two decades; and Rep. Ruben Kihuen of Nevada said he would not run for re-election because of charges of harassment and unwanted touching.
On the GOP side, three members of Congress — Reps. Blake Farenthold of Texas, Trent Franks of Arizona and Patrick Meehan of Pennsylvania — have been forced to step down in recent months because of harassment allegations.
But it also can't be dismissed that Republicans are led by a president who has been accused of misconduct by more than 20 women — charges he categorically denies — and who was caught on tape graphically describing unwanted groping of women. While 70 percent of voters in 2016 said that they were bothered by Trump's overall treatment of women, he won the election. And Trump has also continued to defend allies accused of sexual wrongdoing, including former FOX News host Bill O'Reilly and Alabama Senate candidate Roy Moore.
Particularly as the Kavanaugh melee has intensified, however, Republicans have been notably more aggressive about highlighting misconduct allegations against Democrats in midterm TV spots.
Television ads from GOP-linked groups have focused on the recently recanted accusations against Cisneros, the Democratic California House candidate.
The campaign arm of the House GOP is airing an ad criticizing Florida candidate Debbie Mucarsel-Powell for taking donations from Rep. Tony Cardenas, D-Calif., who has denied accusations that he assaulted a teenage girl in 2007.
And Republicans' Senate campaign arm is targeting Democratic Senate candidate Phil Bredesen in Tennessee for his handling of sexual harassment allegations in his administration during his tenure as governor.
"It's shameful. Deceitful. Buried," the GOP group's latest campaign video warns. "Sexual harassment. Powerful men protecting other powerful men."