First Read is a morning briefing from Meet the Press and the NBC Political Unit on the day's most important political stories and why they matter.
Why partisanship is the single greatest force in American politics
Want to know why partisanship -- or party identification -- is the single greatest force in American politics today? Just check out these shifting attitudes about the economy and nation's direction in the latest NBC/WSJ poll:
68% of Republicans believe the economy will get better in the next 12 months (versus just 14% of GOPers who said this a year ago in the Dec. 2015 NBC/WSJ poll).
By contrast, only 19% of Democrats said the economy will improve next year (compared with 37% of them who said this last December).
Right now, 52% of Republicans say the country is headed in the right direction (versus just 5% who said this in December 2015).
Conversely, only 18% of Democrats say the country is headed in the right direction (compared with 37% of them who said this a year ago).
Folks, the underlying dynamics of the U.S. economy have remained pretty much the same over the past year. The only thing that has changed is the party that will be in the White House next year. It's all confirmation that so much public opinion is shaped through Americans' partisan lenses, and little else. Want another example of this from our NBC/WSJ poll? A combined 86% of Democrats say they are bothered a great deal/quite a bit by Russia's interference in the 2016 presidential election, versus just 29% of Republican respondents who say this.
Asymmetrical warfare: Democrats have knives, Republicans have guns
But if partisanship is the greatest force in American politics, there's maybe a more important dynamic at play -- the asymmetrical warfare between the two parties. As the New York Times' David Leonhardt writes in comparing how Barack Obama is leaving the White House versus how Republican Pat McCory is leaving power in North Carolina, Democrats are wielding knives while Republicans have guns. Think of the 2011 debt-ceiling standoff. Mitch McConnell denying Obama's Supreme Court pick to even get a hearing. And now what's playing out in North Carolina. Republicans are playing a different game than Democrats are playing.
Trump's popularity improves -- but he's still the most unpopular president-elect in the history of our poll
Also from our NBC/WSJ poll: 40% of Americans now have a positive view of Donald Trump, versus 46% who have a negative view. That's up considerably from his 29%-62% rating in the October NBC/WSJ poll. Still, Trump's 40%-46% fav/unfav score is the WORST in the history of our poll for a president-elect and the first time it's a net-negative. Bill Clinton's was 60%-19% in Dec. 1992, George W. Bush's was 48%-35% in Dec. 2000, and Barack Obama's was 67%-16% in Dec. 2008. For the rest on our poll, click here.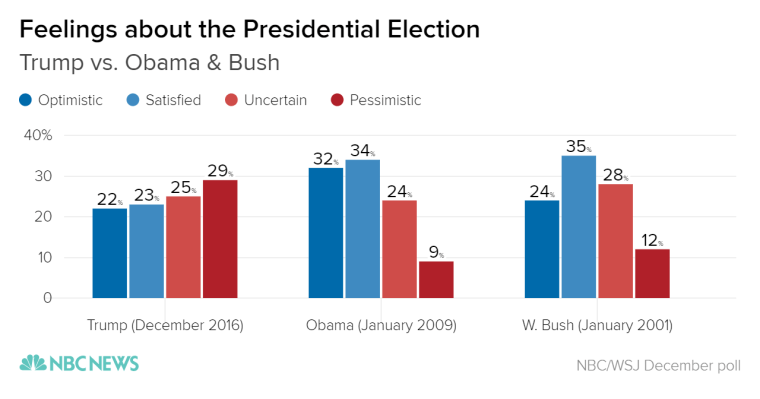 Faithlessly
In yesterday's Electoral College tally, it turned out there were seven faithless electors -- two Republicans voting for someone else other Donald Trump (John Kasich and Ron Paul), and five Democratic electors voting for someone else other than Hillary Clinton (three for Colin Powell, one for Bernie Sanders, and one for Faith Spotted Eagle). That there were more faithless Bernie Sanders-supporting Democratic electors bucking Hillary Clinton than faithless GOP electors spurning Trump sums up the 2016 contest pretty well. In the very end, despite all of the speculation to the contrary, Democrats were more divided than Republicans. Of course, it's worth wondering if these faithless Dem electors would have been as faithless if Clinton had won (though two of the Washington state electors had said they weren't behind Clinton BEFORE the election). But as University of Michigan economist Justin Wolfers observes, these seven faithless electors -- there had been just nine combined since 1948 -- are a troubling sign for future contests. "It could easily be enough to flip a future election," he tweets.
Conflict of interest watch
Here's reporting from the Center for Public Integrity: "A new Texas nonprofit led by Donald Trump's grown sons is offering access to the freshly-minted president during inauguration weekend — all in exchange for million-dollar donations to unnamed 'conservation' charities, according to interviews and documents reviewed by the Center for Public Integrity. And the donors' identities may never be known. Prospective million-dollar donors to the 'Opening Day 2017' event — slated for Jan. 21, the day after inauguration, at Washington, D.C.'s Walter E. Washington Convention Center — receive a 'private reception and photo opportunity for 16 guests with President Donald J. Trump,' a 'multi-day hunting and/or fishing excursion for 4 guests with Donald Trump, Jr. and/or Eric Trump, and team,' as well as tickets to other events and 'autographed guitars by an Opening Day 2017 performer.'" Here's the brochure to the "Opening Day 2017" event, which was first reported by TMZ. A question to ponder: What if we read that Bill Clinton was offering access to a Hillary Clinton-related inaugural event for $1 million per person?
When Austria's far-right party meets with Trump's national security adviser
"The leader of the Austrian far-right Freedom Party has signed what he called a cooperation agreement with Russia's ruling party and recently met with Lt. Gen. Michael T. Flynn, the designated national security adviser to President-elect Donald J. Trump of the United States," the New York Times writes. "Word of the agreement with Russia was the latest sign that the Kremlin is forging bonds with political parties across Europe in what some European leaders suspect is a coordinated attempt to meddle in their affairs and potentially weaken Western democracies. Many of these efforts are murky and involve obscure groups, and it is unclear what, if any, direct involvement President Vladimir V. Putin of Russia may have. The Freedom Party leader, Heinz-Christian Strache, reported the signing of the agreement with United Russia, Mr. Putin's party, on Monday on his Facebook page, where he also disclosed that he had visited General Flynn a few weeks ago in Trump Tower in New York."
Cabinet Watch
Secretary of State: Rex Tillerson OFFERED
Attorney General: Jeff Sessions OFFERED
Treasury: Steve Mnuchin OFFERED
Defense: JamesMattis OFFERED
Homeland: John Kelly OFFERED
Interior: Ryan Zinke OFFERED
HHS: Tom Price OFFERED
HUD: Ben Carson OFFERED
Education: Betsy DeVos OFFERED
Commerce: Wilbur Ross OFFERED
Transportation: Elaine Chao OFFERED
Labor: Andy Puzder OFFERED
Agriculture: Sid Miller, Heidi Heitkamp
Energy: Rick Perry OFFERED
Veterans Affairs: Scott Brown, Jeff Miller, Adm. Michelle Howard
OMB Director: Mick Mulvaney OFFERED
CIA Director: Mike PompeoOFFERED
UN Ambassador: Nikki Haley OFFERED
Environmental Protection Agency: Scott Pruitt OFFERED
National Security Adviser: Michael Flynn OFFERED
Small Business Administration: Linda McMahon OFFERED
RNC Chair: Ronna Romney McDaniel OFFERED