America's governors used to hold their heads up high when they came to the nation's capital. But this year? It's complicated.
For last several years, governors have been able to distance themselves from their counterparts in Congress and the White House: While Washington bickers, stalls and grandstands, governors across the country are getting things done.
But when they gather this weekend for the annual National Governors Association meeting, many of them find themselves in trouble back home with scandals and dicey re-election campaigns.
Two of the country's most prominent governors – Chris Christie of New Jersey and Scott Walker of Wisconsin – are facing scandals and investigations that could hurt any possible presidential bid in 2016.
And a slew of Democratic and Republican governors are facing difficult re-election bids this November, such as Govs. Pat Quinn, D-Ill., Rick Scott, R-Fla., Paul LePage, R-Maine, Tom Corbett, R-Pa.
2016ers under the spotlight
Christie's struggles have lingered in national headlines for weeks. The revelation that his aides conspired to close key access lanes to the busy George Washington Bridge – presumably to punish a Democratic mayor who didn't endorse Christie's re-election bid -– reinforced critics' allegations that the notoriously blunt governor bullies his political foes.
Christie has denied any involvement with the lane closures and fired his then-chief of staff, Bridget Kelly, after the disclosures.
Still, the bridge scandal – as well as another one involving the Democratic mayor of Hoboken alleging that the Christie administration tied hurricane-relief money to approval of a development project – has hurt Christie's standing both in New Jersey and nationally.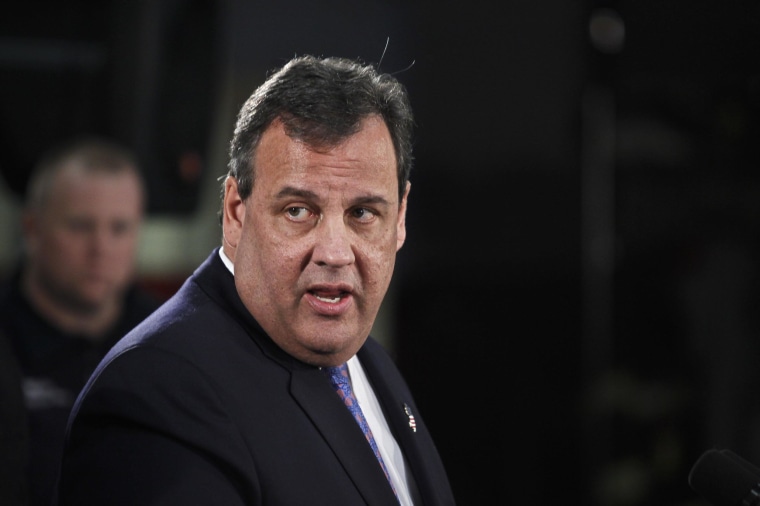 According to a Rutgers-Eagleton poll released last month, just 46 percent of New Jersey voters said they had a positive view of the governor, down 19 points from November. Meanwhile, a national NBC News/Wall Street Journal in January found Christie underwater with a 22 percent favorable, 29 percent unfavorable rating.
In October, the NBC/WSJ poll had him above water at 33 percent favorable, 17 percent unfavorable.
Christie's political problems opened a door for Wisconsin Gov. Scott Walker. But on Wednesday, thousands of pages of emails were released, including one in which it appeared Walker was asking his 2010 campaign team and county-executive team to coordinate on daily conference calls.
At issue in these emails: Walker's former aide, Kelly Rindfleisch, who pleaded guilty in 2012 of doing political work while serving in the county executive office Walker headed before he won his governorship.
Walker, who faces a tough re-election bid in November, has denied any wrongdoing.
"The recently released communications of a county staffer from several years ago are part of a legal process that was completed early last year," a Walker spokesman said in a statement. "Gov. Walker is confident that during that legal process, these communications were thoroughly reviewed by the authorities."
Tough re-election campaigns in 2014
And then there are the governors – both Democratic and Republican – who are facing challenging prospects of keeping their job in November's elections.
For instance, a recent Chicago Tribune/WGN-TV poll found that just 30 percent of Illinois voters approving of Democratic Gov. Pat Quinn's job. A Quinnipiac survey showed Republican Gov. Rick Scott trailing likely Democratic challenger Charlie Crist by 8 points. And another Quinnipiac poll had a majority of Pennsylvanians saying that GOP Gov. Tom Corbett doesn't deserve re-election.
Strikingly, these numbers come as the unemployment rate has dropped in all of these states and others. In Florida, it's down to 6.2 percent (from 11.1 percent in Dec. 2010); in Pennsylvania, it's dropped to 6.9 percent (from 8.1 percent); and in Illinois, it's declined to 8.6 percent from 9.5 percent).
That's the good news for these governors. The bad news is that they have a lot of ground to make up.
Silver lining?
But it's not all doom-and-gloom: Several well-known governors are surviving, if not thriving, in their states. Ohio Gov. John Kasich, a Republican up for re-election this year, enjoys a 51 percent job-approval rating in this perennial battleground state (though he leads his top Democratic challenger by just five points).
Colorado Gov. John Hickenlooper, a Democrat up in 2014, also is above 50 percent. Ditto Minnesota Gov. Mark Dayton and California Gov. Jerry Brown, both of whom are Democrats running for re-election in November.
What's more, even the most unpopular governors have stronger polling numbers than Congress, whose approval rating hovers close to 10 percent.