WASHINGTON — Democrats may call Tuesday's election a wave, but look closer and you'll see the latest evidence of a longer-term shift in the suburban vote away from the Republican Party. This metropolitan realignment was so powerful this year that its impacts were felt in places that until now had largely been immune, namely southern states.
Democrat Beto O'Rourke didn't unseat Republican Sen. Ted Cruz in Texas and the party's gubernatorial nominees may not win in Georgia and Florida (votes are still being tallied in those states), but metro areas in each race showed a noteworthy suburban blue shift.
The movement in Texas was remarkable. Cruz won his race by some 27 percentage points in 2012, but on Tuesday the incumbent's margin of victory was less than 3 points — and the state's big metro areas drove the change. O'Rourke flipped five big counties in state including Harris, the home of Houston, and reliably Republican Tarrant County.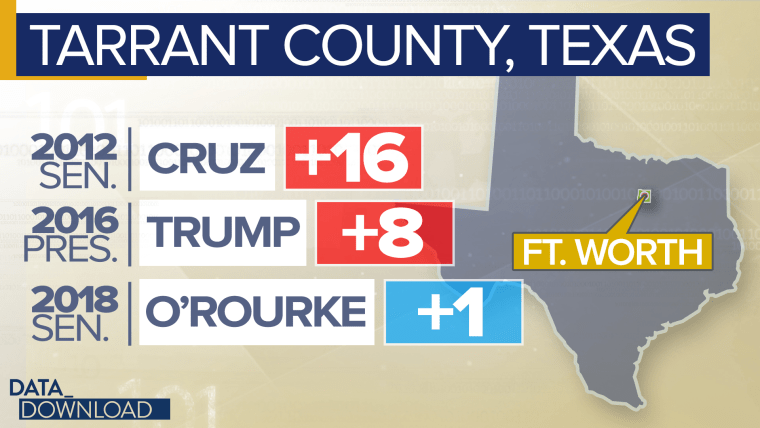 Tarrant, the home of Fort Worth, sits next to Dallas and has long held a distinctive red cast in its voting habits, but that's starting to change. In his 2012 Senate campaign, Cruz carried the county by 16 percentage points. In 2016, the Republican edge narrowed, when Donald Trump carried it by only 8 points. On Tuesday, O'Rourke flipped Tarrant and carried the county, narrowly, by less than a point.
That's a notable shift. The last time Tarrant voted for a Democratic Senate candidate was 1988, for Lloyd Bentsen.
The Georgia governor's race offers more evidence of the urban/suburban areas in the South turning blue. There, Democrat Stacey Abrams is behind Republican Brian Kemp by less than 2 percentage points with votes still being tallied. That's in a state where the Republican won the last gubernatorial election by about 8 points.
How did Abrams make the race so close? The counties in the Atlanta metro area were key, including Gwinnett.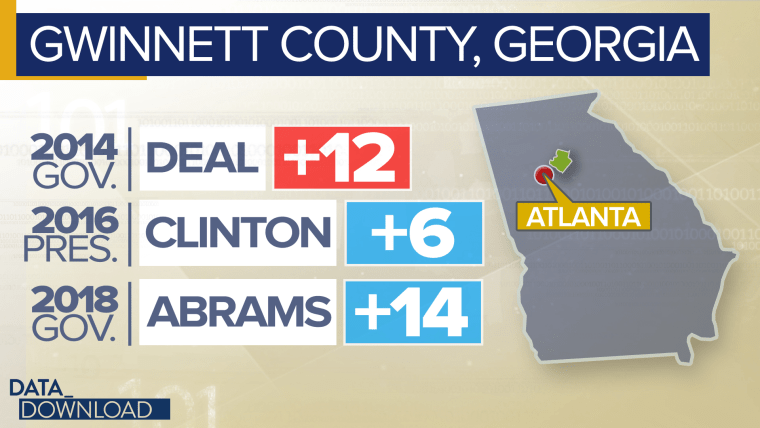 Four years ago, Gwinnett was a slam-dunk for Republican Nathan Deal when he carried the county by 12 points. Those numbers shifted markedly in the 2016 presidential race, when Gwinnett actually voted for Democrat Hillary Clinton by 6 points. (President Barack Obama had never carried it.) And on Tuesday night, Abrams blew open the Democratic advantage in the county, winning it by 14 points.
Abrams won traditionally Republican suburban Cobb County as well. The swing in the Atlanta metro area is particularly noteworthy because these suburbs were the political base of Republican Newt Gingrich in the 1990s — the place he used to usher in a Republican majority in the House. That era seems to be sliding away here.
A little further south, the gubernatorial race in Florida is, as one might expect, very close and seemingly headed for a recount. Currently, Republican Ron DeSantis leads by less than 1 percentage point. Democrat Andrew Gillum's campaign has gotten support from some metro areas that have not been especially good for his party in the past, including Seminole County in suburban Orlando.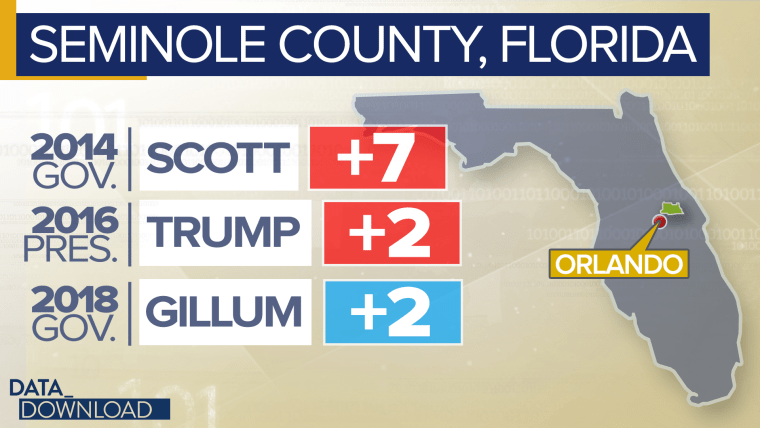 Back in 2014, Gov. Rick Scott carried Seminole comfortably, by a little more than 7 percentage points. Donald Trump won the county in 2016 as well, but his edge narrowed to less than 2 points. This week Gillum captured Seminole by about 2 points.
That's quite an accomplishment for a Democrat. Obama did not carry Seminole even when he won the state of Florida by about 3 points in 2008.
The message in all these races is about politics and geography.
The changes that remade the Democrats as a metropolitan party in the north appear to be working their way down into the southern states as well. In fact, it may be that Republicans held onto these areas in the South in recent elections because Democratic voters weren't fully engaged. Turnout was very high in all these states on Tuesday.
But these numbers, combined with the Democrats' big wins in suburban House districts in this midterm suggest a massive urban/suburban realignment is remaking the American political map.
The real question in the numbers is have we reached the peak of that large-scale change, or is there still more still to come? Two years from now, the 2020 presidential election will offer some answers.