WASHINGTON — A Supreme Court nominee's fate stands on the brink. The political parties are locked in their respective corners. Washington prepares for a TV spectacle that very few are looking forward to. And the best-case outcome for Brett Kavanaugh might be that he gets confirmed to a lifetime appointment to the nation's highest court on a party-line vote.
How did we get here?
We have one explanation: The elimination of the judicial filibuster. Now save us your emails and text messages on who's to blame for its elimination; we've heard all the arguments, and both Democrats and Republicans have good cases to make about why the other side is at fault. (Republicans: Harry Reid started it by eliminating the filibuster for executive-branch and judicial nominees. Democrats: Reid had to — because Mitch McConnell was opposing even non-controversial nominees. Republicans: Democrats filibustered a highly qualified nominee in Neil Gorsuch. Democrats: Merrick Garland! And on and on…)
But does anyone believe we'd be in this situation if 60 votes still mattered? After all, Kavanaugh's ceiling was never higher than 54 votes – before the sexual-assault allegation. (Then again, Neil Gorsuch's ceiling was 55 votes in 2017.) Would President Trump have been forced to nominate someone with less of a partisan/political background or less of a paper trail?
In the Bush and Obama eras, we saw Democrats and Republicans abuse the filibuster process. But at its core was this benefit: You achieved consensus — more than just a simple party-line majority.
We realize our politics has changed over the last 15-20 years: Voters no longer reward the consensus-builders; instead they prefer fighters and bold ideas.
But the result is a broken political process — as well as the spectacle we're likely to see next week in Washington.
Kavanaugh's accuser lays out her conditions to testify next week
Per NBC's Leigh Ann Caldwell, Kasie Hunt and Frank Thorp: "Lawyers for the woman accusing Supreme Court nominee Brett Kavanaugh spoke with attorneys for the Senate Judiciary Committee and laid out conditions for her appearance before the panel… Among the requests, the one that appeared to be non-negotiable for Ford was a Monday appearance. The earliest she could show would be Thursday, Republican and Democratic sources told NBC News. Monday is the day that Senate Republicans had originally offered for Ford to come testify and when Kavanaugh has said he is ready to testify."
"Here are the other items Ford requested:
Wants to testify second and Kavanaugh to appear first;
Doesn't want Kavanaugh in the room at the same time with her;
Prefers not to be questioned by outside counsel, but rather by the senators on the committee;
Would like the committee to subpoena Mark Judge, the other student Ford alleges to be in the room at the time of the assault, to testify;
Says each senator should have equal time questioning (already committee practice);
No time limit on her opening statement; and
Will appear at a public hearing but she would like to limit the number of cameras to pool coverage."
"After consulting with his fellow Republicans on the committee, Sen. Chuck Grassley, R-Iowa, chairman of the Judiciary Committee, is expected to present Ford with a counter offer as early as Friday."
NBC/WSJ poll: More American voters oppose Kavanaugh's nomination than support it
The numbers from our new NBC/WSJ poll, as one of us wrote: "38 percent of voters say they oppose Kavanaugh's nomination to serve on the nation's highest court, including 27 percent who 'strongly' oppose him. That's compared with 34 percent who support his nomination, including 25 percent who 'strongly' support him. Twenty-eight percent say they don't enough to have an opinion."
"This is the first time in the NBC/WSJ poll — dating back to John Roberts' nomination in 2005 — that a Supreme Court nominee has been underwater on this confirmation question. (Harriet Miers, whose nomination was ultimately withdrawn, was above water at 27 percent support, 21 percent oppose in the October 2005 survey)."
"It's also a reversal from the NBC/WSJ poll earlier this summer, when more voters said they supported Kavanaugh than opposed him. In July, 32 percent backed his nomination, versus 26 percent who opposed it (+6). And in August, it was 33 percent support, 29 percent oppose (+4)."
Kavanaugh is underwater in our poll now because he never started off well (+6, which is the same as Harriet Miers' +6 in 2005). The politics on Kavanaugh have already left the station. If you're Trump, the only reason to fight is on the process.
Who moved in our poll – and who didn't: Also from our new NBC/WSJ poll, look at these numbers by party and gender, which further explain how party identification shapes public opinion in our politics: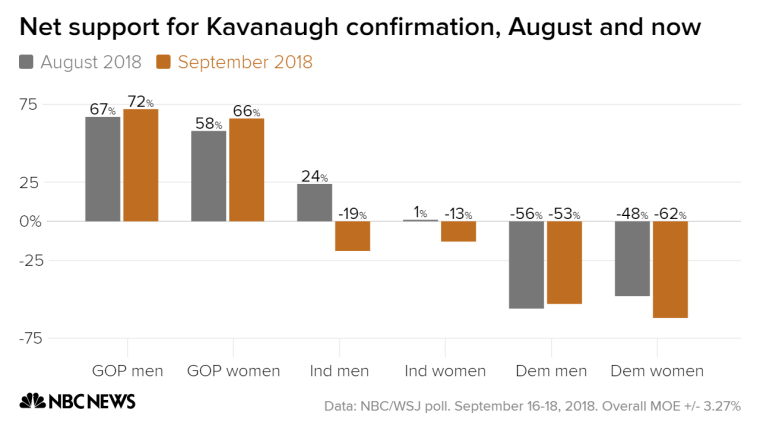 Bottom line: Independents are really the only group of Americans who move nowadays. Everyone else is pretty much locked in.
Trump admits allies "have a problem" with FISA document release
Look at the scoop that Fox News' Sean Hannity got from the president last night:
"We are moving along, we're working along. We are also dealing with foreign countries that do have a problem. I must tell you. I got called today from two very good allies saying 'Please, can we talk.' It is not as simple as all of that. We do have to respect their wishes. But it will all come out."
Yes, voting for the 2018 midterms begins today
As we noted earlier this week, actual voting for the 2018 midterms begins TODAY, when Minnesota, South Dakota, Vermont and Wyoming all start their absentee and early balloting. And New Jersey goes on Saturday. Here's a calendar for the rest of the month:
Friday, September 21
Minnesota: In-person absentee voting begins (Ends November 5)
South Dakota: In-person absentee voting begins (Ends November 5)
Vermont: In-person absentee voting begins (Ends November 5)
Wyoming: In-person absentee voting begins (Ends November 5)
Saturday, September 22
New Jersey: In-person absentee voting begins (Ends November 5)
Thursday, September 27
Illinois: Early voting begins (Ends November 5)