Hillary Clinton and her allies continue to dominate the presidential battleground-state airwaves, outspending Donald Trump and pro-Trump groups this month, $26 million to $0, according to ad-spending data from SMG Delta.
For the week, it's $7.5 million to $0 in the eight battlegrounds of Colorado, Florida, Iowa, North Carolina, New Hampshire, Nevada, Ohio and Virginia. And when you add future ad reservations, it's $140 million to $0.
In these battleground states, the Clinton campaign has spent nearly $9 million in ads this month, while affiliated outside groups like the pro-Clinton Super PAC Priorities USA have chipped in an additional $17 million.
The sole pro-Trump advertiser, Rebuilding America Now, has aired commercials on national cable TV, not in the battlegrounds – at a price tag of $1.2 million so far.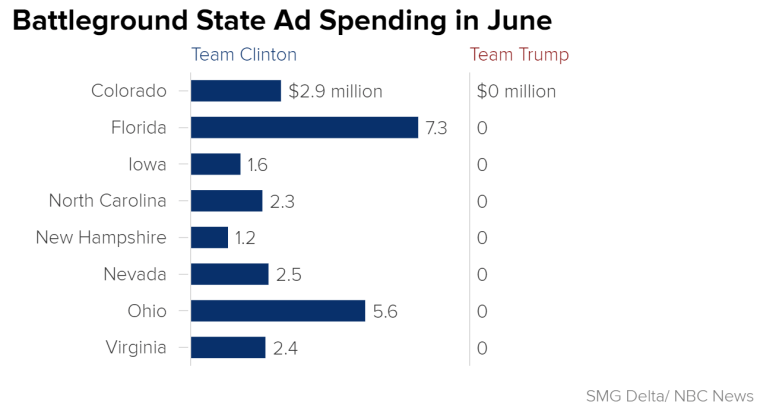 Total: Team Clinton $25.8 million, Team Trump $0
Battleground State Ad Spending (To Date + Reserved Time)
Total Team Clinton: $140 million
Total Team Trump: $0