In every election there is always a group of disgruntled voters who want to "throw the bums out," and poll numbers show they're back in 2018. An examination of the data, however, suggests this year's collection of angry voters looks different than it has in recent years – and it may hold an edge for the Democrats.
To get a measure of the group, Data Download looked at the percentage of people in this year's NBC News/Wall Street Journal poll numbers who said they had negative feelings about both the Democratic and Republican parties. So far this year, about 12 percent of all respondents fall into that surly segment. That's analogous to the 13 percent in that group in 2010, the last first-term, midterm election.
But that's where the similarities end. By age, race, and ideology, this year's "throw the bums out" coalition is remarkably different than it was eight years ago.
For starters, the group is much younger.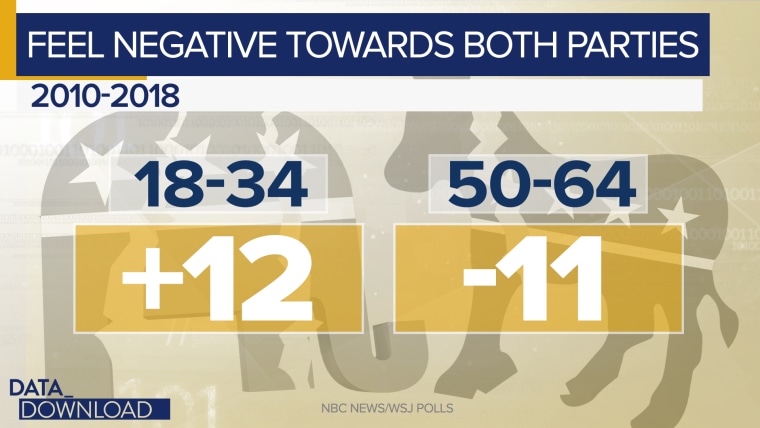 This year, 18- to 34-year-olds make up 30 percent of this fickle voting bloc, the largest percentage of any major age group. Back in 2010, those younger people only comprised 18 percent of it. That's a 12-point jump.
At the same time, there's been a decline in the number of older voters in the "throw the bums out" group. In 2018, 50- to 64-year-olds are only 27 percent of the group. In 2010, they were 38 percent of it – an 11-point drop.
Racially, this year's angry voters look different as well.
African-Americans make up 11 percent of 2018's edition of the group. That's up 6 points from 2010, when black voters made up only 5 percent of it.
Meanwhile, whites comprise 77 percent of the group that holds negative feelings about both parties this year. In 2010, they were 6 points higher at 83 percent of the whole.
And perhaps most telling, the ideology of the "throw the bums out" caucus has taken a sharp turn away from conservatism this year.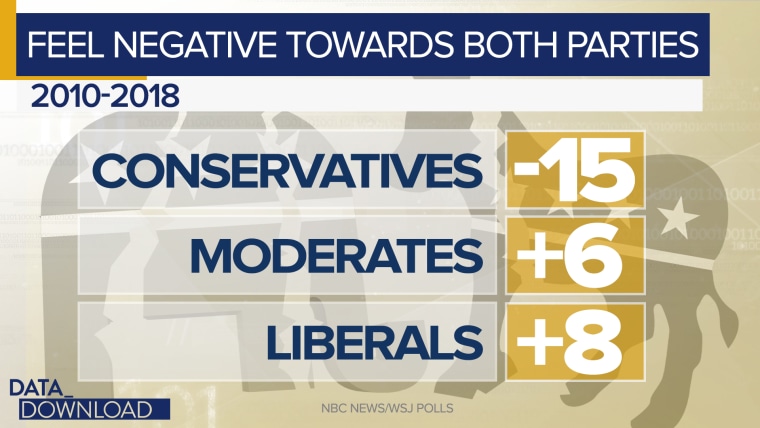 In 2018, the members of this group are much less likely to call themselves conservative than they were eight years ago – 29 percent this year versus 44 percent in 2010, a 15-point drop.
Meanwhile, they are more likely to label themselves as liberals, 23 percent this year versus 15 percent in 2010 – an 8-point jump. And in 2018 they are also more likely to call themselves moderates, 44 percent this year as compared to 38 percent in 2010 – a 6-point increase.
When you add up the differences among all those groups, the real impact is a sizable shift in what can also be thought of as the "change vote" – the vote that is unhappy with the status quo in Washington.
Young people, African-Americans, moderates and liberals are all voting groups that tend to lean Democratic in 2018, regardless of how they say they feel about both of the parties. And you can see the impact of that composition when you look at who those angry voters want to control Congress.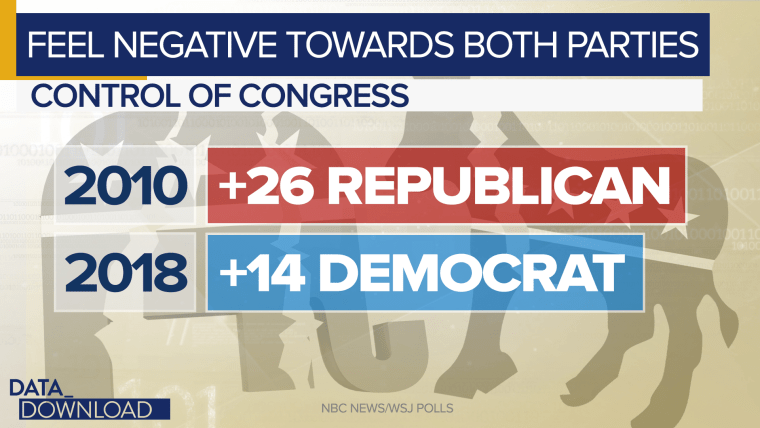 So far in 2018, the "throw the bums out" coalition favors Democratic control by 14 points – 50 percent would prefer the Democrats control the Hill, while 36 percent favor Republicans. That is a substantial shift from 2010, when this group of voters favored Republican control by some 26 points – 49 percent for Republicans and 23 percent for Democrats.
Overall, that is an enormous 40-point swing in the partisan preference of this vote in 2018 compared to 2010, in a direction that favors the Democrats.
To be clear, the numbers here don't necessarily suggest there is an enormous groundswell of support for Democratic policies or candidates. These voters are negative about both parties after all.
And in some sense, Republicans may see these numbers as a result of circumstances and successes. The party holds the presidency and both houses of Congress. The voters can only "throw you out" if you're already in office.
But if these numbers hold, those points may be cold consolation in the fall. Right now these numbers suggest the 2018's angry voter bloc looks different than it has in the past few elections and its ire is aimed squarely at the Republican majority in Washington.