A new NBC News/Wall Street Journal poll shows that both the Democratic and Republican parties, as well as both parties' presumptive presidential nominees, continue to be significantly unpopular with voters even as some of the country's more controversial institutions are above water.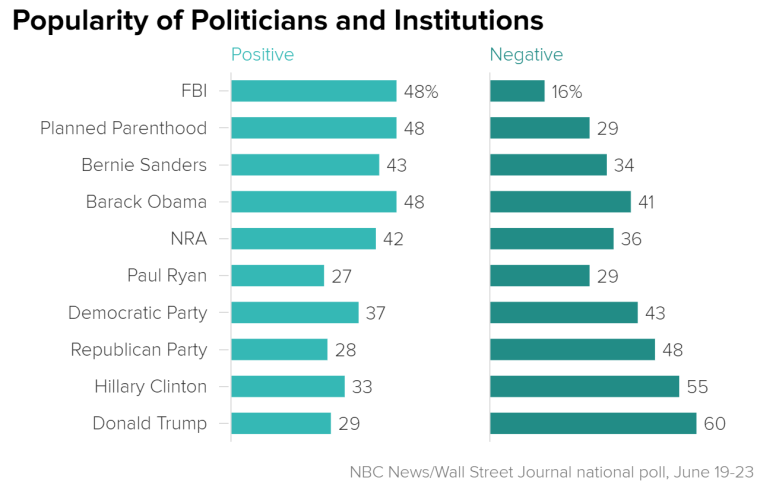 The most disliked of all is Republican presidential nominee Donald Trump, who is viewed unfavorably by a full 60 percent of the electorate, while only 29 percent offer a positive rating of the GOP standard-bearer (-31 rating). Hillary Clinton is not far behind, with 33 percent of voters giving her a favorable rating compared to 55 percent who give her a negative rating (-22).
For the Republican Party, it's 28 percent positive/ 48 percent negative (-20). The Democratic Party is slightly less unpopular at 37 percent positive and 43 percent negative (-6).
By comparison, about half — 48 percent — of Americans view Planned Parenthood favorably, while 29 percent give the women's health and abortion rights group poor ratings (+19).
Forty-two percent of voters see the National Rifle Association in a positive light, while 36 percent disagree (+6).
The most popular institution NBC News and the Wall Street polled was the FBI, which gets good marks from 48 percent of voters and poor marks from just 16 percent (+32).
Also relatively popular: President Barack Obama, whose favorability stands at 48 percent positive and 41 percent negative (+7). Vermont Sen. Bernie Sanders, who has declined to exit the Democrat race despite Hillary Clinton's crowning as the presumptive nominee, has a 43 percent positive rating and a 34 percent negative rating (+9).