First Read is your briefing from Meet the Press and the NBC Political Unit on the day's most important political stories and why they matter.
Trump once again downplays Russia's meddling in 2016 election
Here are four undeniable facts when it comes to President Trump and Russia: One, Trump is set to meet Friday with Russian President Vladimir at the G20 summit. Two, Russia interfered in the 2016 presidential election, according to U.S. intelligence agencies. ("Russia's goals were to undermine public faith in the US democratic process, denigrate Secretary Clinton, and harm her electability and potential presidency. We further assess Putin and the Russian Government developed a clear preference for President-elect Trump," the intel community said publicly back in January.) Three, Trump has taken little to no action to punish Russia or try to prevent future interference. And four, Trump continues to downplay what Russia did in last year's presidential election — as he did at a news conference in Poland earlier this morning.
NBC's Hallie Jackson: Mr. President, can you once and for all, yes or no, definitively say that Russia interfered in the 2016 election?Trump: Well, I think it was Russia, and I think it could have been other people in other countries. Could have been a lot of people interfered… [Barack Obama] did nothing about it. The reason is, he thought Hillary was going to win. If he thought I was going to win, he would have plenty about it. So that's the real question — why did he do nothing from August all the way to November 8th? His people said he choked. I don't think he choked.NBC's Jackson: You again said you *think* it was Russia. Your intelligence agencies have been far more definitive. They say it was Russia. Why won't you agree with them and say it was?Trump: I agree, I think it was Russia, but I think it was probably other people and/or countries, and I see nothing wrong with that statement. Nobody really knows for sure. I remember when I was sitting back listening about Iraq. Weapons of mass destruction. How everybody was 100 percent sure that Iraq had weapons of mass destruction. Guess what — that led to one big mess. They were wrong.
It's easy to become numb to Trump once again downplaying Russia's interference in the 2016 election (in Poland of all places!), criticizing the U.S intelligence community, and blasting the American news media following him. But this is more than being unpresidential and undignified — it's all against the interests of the United States of America, all ahead of tomorrow's meeting with Putin.
Here are six other times Trump denied — or downplayed — that Russia interfered in the 2016 race, despite his intelligence briefings as a candidate, president-elect, or president
1. "I don't think anybody knows it was Russia that broke into the DNC. [Hillary Clinton's] saying Russia, Russia, Russia, but I don't — maybe it was. I mean, it could be Russia, but it could also be China. It could also be lots of other people. It also could be somebody sitting on their bed that weighs 400 pounds, OK? You don't know who broke in to DNC." (First presidential debate, 9/26/2016)
2. "But I notice, anytime anything wrong happens, they like to say the Russians are — [Clinton] doesn't know if it's the Russians doing the hacking. Maybe there is no hacking. But they always blame Russia. And the reason they blame Russia because they think they're trying to tarnish me with Russia." (Second presidential debate, 10/9/2016)
3. "Unless you catch 'hackers' in the act, it is very hard to determine who was doing the hacking. Why wasn't this brought up before election? (Trump tweet, 12/12/06)
4. "As far as hacking, I think it was Russia," adding later: "it could have been others also." (Trump news conference, 1/11/2017)
5. "You can talk all you want about Russia, which was all a, you know, fake news, fabricated deal, to try and make up for the loss of the Democrats and the press plays right into it." (Trump news conference, 2/16/2017)
6. "FBI Director Comey was the best thing that ever happened to Hillary Clinton in that he gave her a free pass for many bad deeds! The phony … Trump/Russia story was an excuse used by the Democrats as justification for losing the election. (Trump tweets, 5/2/17)
By the way, our latest NBC/WSJ poll found a majority of Americans (53%) saying that Russia DID interfere in the 2016 election, while only a quarter of Republican respondents (26%) agreed -- with two-thirds of Republicans saying Russia did NOT interfere.

Fact-checking Trump: It's incorrect to say that Obama "did nothing" about Russia's interference
As for Trump's assertion in Poland that former President Barack Obama "did nothing" about Russia's interference, here are the facts: On Oct. 7, 2016, the Department of Homeland Security and Director of National Intelligence issued a statement explicitly saying that Russia was behind the election hacks. ("The U.S. Intelligence Community (USIC) is confident that the Russian Government directed the recent compromises of e-mails from US persons and institutions, including from US political organizations.") And two, the Obama administration sanctioned Russia for its interference. ("President Obama struck back at Russia on Thursday for its efforts to influence the 2016 election, ejecting 35 suspected Russian intelligence operatives from the United States and imposing sanctions on Russia's two leading intelligence services," the New York Times wrote on Dec. 29, 2016.) Now you can legitimately argue that Obama didn't do ENOUGH or EARLY ENOUGH against Russia. But you can't say he did nothing.
Trump on North Korea: "Something will have to be done"
Here's the other news from Trump's presser earlier this morning: "President Donald Trump promised Thursday to 'confront very strongly' the issue of North Korea's 'very, very bad behavior' in test-launching missiles," per NBC's Ali Vitali and Alastair Jamieson. "'I have some pretty severe things that we're thinking about," he told reporters in Poland, where he was making an official visit ahead of the G-20 summit in Hamburg, Germany, on Friday. North Korea test-fired its first intercontinental ballistic missile Tuesday, marking a significant step forward in its weapons program and an escalation of a nuclear standoff with the U.S. 'I think we'll just take a look at what happens over the coming weeks and months. It's a shame that they're behaving this way,' Trump said during his first overseas press conference. 'Something will have to be done.'"
Do-over: Trump explicitly endorses NATO's Article 5
In his speech in Poland after his news conference, Trump explicitly endorsed NATO's Article 5 mutual-defense provision — after failing to do so the last time he was in Europe. CNBC: "'To those who would criticize our tough stance, I would point out that the United States has demonstrated — not merely with its words but with its actions — that we stand firmly behind Article 5, the mutual defense commitment,' Trump said. 'Words are easy, but actions are what matters. And for its own protection, Europe — and you know this, everybody knows this, everybody has to know this — Europe must do more.'"
Pew study: Most of the world doesn't have confidence in Trump — with one big exception
With Trump in Poland and heading to Germany for the G20 meetings, here's a reminder how other countries view Trump versus Obama when on the question whether these citizens have confidence the U.S. president will do the right thing, per a recent Pew study: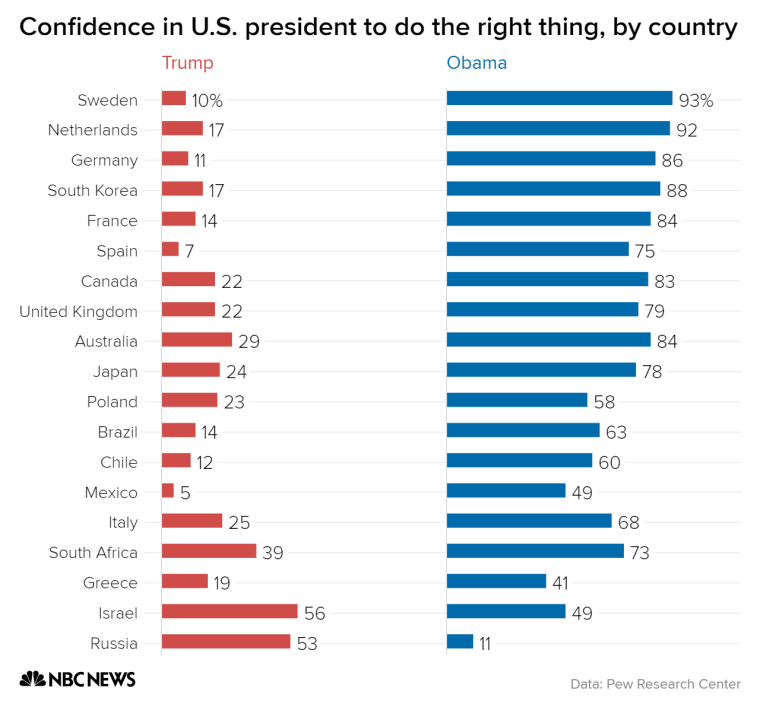 A bipartisan rebellion against Trump's vote-fraud commission
NBC's Dartunorro Clark: "Forty-four states and the District of Columbia are mounting a bipartisan rebellion against President Donald Trump's commission on vote fraud by either declining to release any of the requested data or by providing only limited information to the panel."