WASHINGTON — With five days to go until Election Day 2018, President Trump is doing everything he can to keep himself at the center of attention. On Wednesday alone, he:
So Trump is straining to demagogue on immigration; he's trying to Willie Horton Democrats; and he's picking fights with his own party. This is, well, an interesting way to close an election season, willing himself — and immigration — to the forefront.
Yet as we wrote yesterday, Trump making himself the focal point of this election is a striking departure from the final days of the 2016 campaign, when James Comey's letter, daily WikiLeaks disclosures and a disciplined Trump dominated the last two weeks of that race.
Maybe he thinks this is the best way to fire up his voters. Maybe it's the best way to change the subject after Pittsburgh and Caesar Sayoc. And maybe he knows of no other way to close.
But this isn't how 2016 ended…
Trump heads to Missouri
After campaigning last night in Florida, Trump heads to Columbia, Mo., where he stumps for Republican Josh Hawley in that competitive Senate race at 7:30 pm ET.
Per NBC's Geoff Bennett, Trump goes to West Virginia on Friday. And NBC's Monica Alba notes that the president hopes to make final blitzes in Florida, Missouri, West Virginia, Indiana, Ohio, Montana, Georgia and Tennessee.
NBC/Marist poll shows Indiana Senate race is essentially tied
As one of us wrote yesterday, "Democratic Sen. Joe Donnelly and Republican challenger Mike Braun are running neck-and-neck in Indiana's important Senate race, according to a new NBC News/Marist poll of the state. Donnelly gets support from 48 percent of likely voters, while Braun gets 46 percent; 7 percent are undecided or prefer someone else. Donnelly's narrow 2-point advantage over Braun — well within the poll's margin of error — is down from his 6-point lead in September, 49 percent to 43 percent."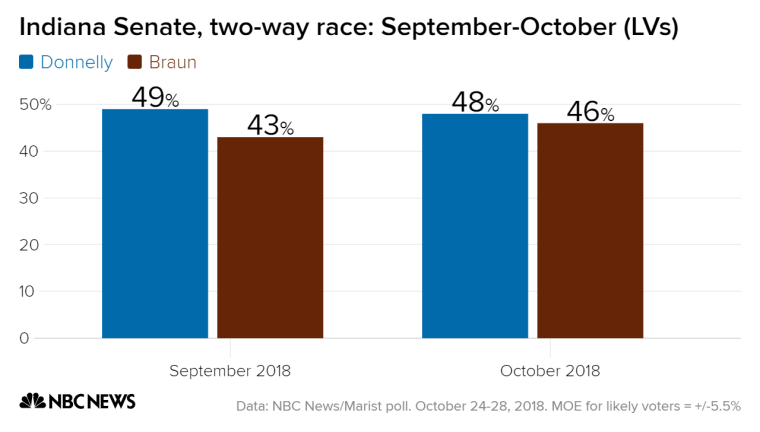 "When the ballot expands to include Libertarian Lucy Brenton, Donnelly holds a 3-point lead over Braun, 45 percent to 42, with Brenton receiving 7 percent. Donnelly's advantage last month in this three-way race was by the same margin — 3 points... Fifty percent of likely Indiana voters approve of President Donald Trump's job performance, while 42 percent disapprove."
Breaking down yesterday's other state polls
AZ-SEN
CNN: Sinema (D) 51%, McSally (R) 47%
Fox: Sinema (D) 46%, McSally (R) 46%
IN-SEN
NBC/Marist: Donnelly (D) 45%, Braun (R) 42%, Brenton (L) 7%
Fox: Donnelly (D) 45%, Braun (R) 38%, Brenton (L) 5%
MO-SEN
Fox: McCaskill (D) 43%, Hawley (R) 43%
NV-SEN
CNN: Rosen (D) 48%, Heller (R) 45% (likely voters)
ND-SEN
Fox: Cramer (R) 51%, Heitkamp (D) 42%
TN-SEN
Fox: Blackburn (R) 50%, Bredesen (D) 41%
WI-SEN
Marquette: Baldwin (D) 54%, Vukmir (R) 43%
WI-GOV
Marquette: Walker (R) 47%, Evers 47% (D)
WaPo poll: Dems hold slight lead in competitive House districts
"Across 69 congressional districts identified by the Cook Political Report and The Post as competitive in late August, the Post-Schar School poll finds 50 percent of likely voters support the Democratic candidate, while 46 percent support the Republican," the Washington Post writes.
"The Democrats' four-point edge represents a superficial advantage with Republicans, given the poll's 3.5-point margin of error. Still, the finding marks a sharp turn from 2016, when voters in these districts backed Republicans by a margin of 15 percentage points. With 63 of the battleground districts held by Republicans, that kind of shift in sentiment would be sufficient for Democrats to take control of the House. The party needs a net gain of 23 seats to win the majority."
Oprah stumps for Stacey Abrams in Georgia
Finally, in Georgia's competitive gubernatorial race, Oprah Winfrey is set to campaign today with Democrat Stacey Abrams, per NBC's Allan Smith and Ali Vitali. And GOP nominee Brian Kemp backed out of his debate with Abrams on Sunday, because Trump will be campaigning in Georgia an hour earlier that day.