Donald Trump starts his presidency Friday with the lowest-ever ratings for an incoming president, but also with some signs of increasing optimism for the country, according to results from a brand-new NBC News/Wall Street Journal poll.
A majority of Americans — 52 percent — say they disapprove of the way President-elect Trump has handled his transition and preparations for the presidency, versus just 44 percent who approve, which is down six points from only a month ago.
To put Trump's numbers into perspective, Barack Obama's approval rating was 71 percent before he took the oath of office in January 2009, and Bill Clinton's was 77 percent in December 1992.
(The NBC/WSJ poll didn't measure George W. Bush during his transition; his first job-approval rating, in March 2001, was 57 percent.)

In addition, just 38 percent of Americans have a positive view of Trump, while 48 percent have a negative one — making him the most unpopular incoming president in the history of the NBC/WSJ poll.
And just three-in-10 Americans have a high level of confidence that Trump has the right set of goals and priorities, as well as right set of personal characteristics, to be president.
"We find a nation that is seemingly as divided today as it was during the 2016 campaign with little change for a positive lift," says Democratic pollster Fred Yang of Hart Research Associates, who conducted this survey with Republican Bill McInturff and his firm Public Opinion Strategies.
"A majority of the American public starts the Donald Trump presidency in opposition," Yang adds.
Despite that opposition, however, a plurality of Americans — 43 percent — believe the United States will be better off five years from now, and the percentage of respondents who say the country is headed in the right direction has ticked up four points since last month to 37 percent.
Still, 52 percent of Americans think that the nation is on the wrong track, though that's down from the 60 percent-plus who said that during the 2016 general election.
Public backs many of Trump's individual policy goals
What's more, the public supports many of Trump's individual policy goals – even if they don't support him personally:
"Americans believe that Obama fell short in standing up to big business, special interests, and changing business as usual in Washington. These are areas where Americans believe Trump could make a positive difference," says McInturff, the GOP pollster.
"Trump's ability to deliver on his promise of change and to strengthen the economy for working Americans are two potential pillars of a successful presidency," he adds.
But the public doesn't support other policy Trump goals. Just 34 percent think cutting business taxes is a priority this year; only 30 percent believe it's an immediate priority to deport undocumented immigrants; just 21 percent say it's a priority to build a wall along the U.S.-Mexico border; and only 16 percent say it's a priority to pass legislation providing additional restrictions on abortion.
Trump's highest marks? Decisiveness. His lowest? Temperament
The NBC/WSJ poll also finds that Trump gets the highest marks on being firm and decisive (a combined 54 percent give him either a "4" or "5" here on a five-point scale), on being direct and straightforward in his communications (48 percent), on dealing with the economy (46 percent) and on changing business as usual in Washington (45 percent).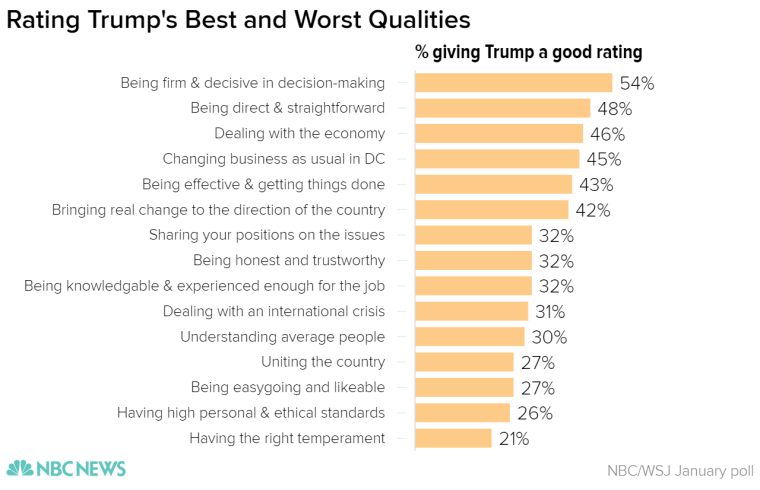 Trump received his worse marks for understanding average people (30 percent), uniting the country (27 percent), being easygoing and likable (27 percent), having high personal and ethical standards (26 percent) and having the right temperament (21 percent).
Obama's "second honeymoon" as he leaves office
While Trump is entering office with the worst numbers in the history of the NBC/WSJ poll, outgoing President Barack Obama is exiting with some of his highest numbers.
Fifty-six percent of Americans approve of Obama's job, which is his highest rating since the first few months of his presidency.
Moreover, 53 percent of Americans believe the country is better off than it was eight years ago, while 42 percent think it's worse off.
A similar 54 percent say Obama mostly brought the right kind of change.
And a combined 55 percent believe Obama – compared with the past several U.S. presidents – will either go down as one of the very best or be better than most.
That's compared with 20 percent who said the same of George W. Bush, 56 percent who said that about Bill Clinton, 55 percent who said that about George H.W. Bush, and 55 percent who said that about Ronald Reagan.
"If Donald Trump enters office on a down note, the current occupant is enjoying a second honeymoon of sorts," says Yang, the Democratic pollster.
The NBC/WSJ poll was conducted Jan. 12-15 of 1,000 adults – including nearly 500 reached via cell phone – and it has an overall margin of error of plus-minus 3.1 percentage points.
President-elect Donald Trump has taken to Twitter to criticize national polls that have found his approval rating to be near 40 percent as "rigged" and "phony," saying: "The same people who did the phony election polls, and were so wrong, are now doing approval rating polls."
Yet while the national polls weren't that far off – Hillary Clinton beat Trump by two points in the popular vote, 48 percent to 46 percent – this NBC/WSJ poll and other post-election surveys don't depend on pollsters' assumptions about which voters will come to the polls. Instead, they are measuring current public opinion among all Americans, not just voters or likely voters.