WASHINGTON — President Trump's latest White House moves — H.R. McMaster out as national security adviser, John Bolton in; personal lawyer John Dowd out, Joseph diGenova in — share at least three things in common.
One, Trump is hiring people who prefer confrontation. Bolton, for instance, has authored op-eds calling for taking pre-emptive action against North Korea ("The Legal Case for Striking North Korea First"), for ripping up the Iran nuclear deal ("No fix will remedy the diplomatic Waterloo Mr. Obama negotiated") and for bombing Iran ("To Stop Iran's Bomb, Bomb Iran"). DiGenova, meanwhile, has floated the conspiracy theory that a secret group of FBI agents created the Russia investigation as a way to keep Trump from becoming president.
Two, he's picking people who have A LOT of experience appearing on cable TV, especially Fox News. You can also throw in new top economic adviser Larry Kudlow, who's been a mainstay on CNBC.
When one of us, back in 2015, asked then-candidate Trump where he got his military advice, he replied, "Well, I watch the shows... I like [John] Bolton. I think he's a tough cookie; he knows what he is talking about."
And three — beyond their affinity for confrontation and cable TV green rooms — Bolton and diGenova are going to give Trump the advice he WANTS. Indeed, McMaster's sin appears to have been giving the president advice he DIDN'T WANT. "They had differed on policy … with General McMaster cautioning against ripping up the nuclear deal with Iran without a strategy for what would come next, and tangling with Mr. Trump over the strategy for American forces in Afghanistan," the New York Times writes.
So meet the new team — preferences for confrontation, for familiar faces on cable TV and for giving the president the advice he wants, not necessarily the advice he needs.
Trump humiliates those on the way out the door
There's also been a common theme among the recent and not-so-recent White House departures: Trump has humiliated these people out the door. He announced dumping McMaster via a tweet; he fired former Secretary of State Rex Tillerson by Twitter, too; and months ago, he got rid of former chief of staff Reince Priebus on the tarmac.
"I alone can rattle it"
Speaking of confrontation, just think of all of the ways that Trump is jolting Washington and world capitals. He's slapping tariffs on China (and China is planning to retaliating back); he's fixing to scrap the Iran nuclear deal; and he's even rattling Republicans on Capitol Hill about his talk regarding special counsel Robert Mueller.
In his 2016 convention speech, Trump announced, "I alone can fix it." Well, in 2018, you can update that to: "I alone can rattle it."
Poll: Nearly six-in-10 say gun ownership increases safety
Here are more poll results from our latest NBC/WSJ survey: "58 percent agree with the statement that gun ownership does more to increase safety by allowing law-abiding citizens to protect themselves. By contrast, 38 percent say that gun ownership reduces safety by giving too many people access to firearms, increasing the chances for accidental misuse," one of us writes.
"These findings represent a reversal from 1999, when a majority — 52 percent — said gun ownership reduces safety. And they come at a time when 47 percent of American adults say they have a firearm in the household, which is up from 44 percent in 1999."
"Still, gun-control organizations are one of the most popular organizations or movements that the NBC/WSJ poll measured. Forty-eight percent of Americans say they support gun-control organizations, including 34 percent who strongly support them. That's compared with 32 percent who oppose gun-control organizations."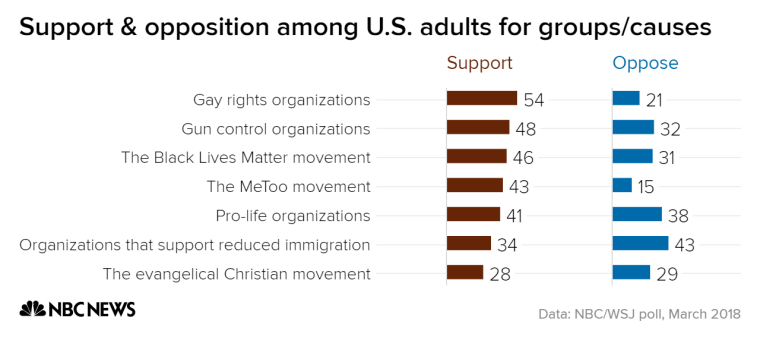 Workplace equality stalls for women
Even more numbers from our poll: "A new NBC News/Wall Street Journal poll finds that a majority — 52 percent — of Americans say that men do not accept and treat women as equals in the workplace, virtually unchanged since the poll asked the same question in 1999," another one of us writes. "Women are particularly pessimistic, with 61 percent saying that their male counterparts fail to treat them as equals, exactly the same share as 19 years ago. "And in June 2000 and now, exactly the same share of women — 44 percent — say they have personally experienced discrimination because of their gender."
"The stagnancy in how women view their treatment in the workplace comes as more of them have taken on a role as their household's primary wage earner. Nearly half of employed women — 49 percent — say that they work primarily because they are their family's main breadwinner, up from 37 percent in 2000. That includes 42 percent of working women with children."
Support for foreign trade reaches an all-time high
And here are still more numbers from the NBC/WSJ poll that were released on the same day that Trump slapped tariffs against China: Two-thirds of Americans – 66 percent – view foreign trade more as an opportunity for economic growth, versus just 20 percent who view it more as a threat to the economy. That 66 percent represents an all-time for a question that Gallup has been asking since 1992.
By the way, China has retaliated against Trump's tariffs, the Wall Street Journal says. "Measures the Chinese Commerce Ministry rolled out Friday target $3 billion in U.S. goods, from fruit and pork to recycled aluminum and steel pipes that would be subject to higher tariffs. The ministry said the penalties are being imposed in response to new U.S. tariffs on Chinese steel and aluminum products, which the Trump administration announced earlier and which took effect Friday."