WASHINGTON — In his nearly three years as president or a presidential candidate, Donald Trump has never been shy about openly criticizing others, including foreign leaders. He ripped into London's mayor. He fired back at British Prime Minister Theresa May (initially tweeting at the wrong Theresa May). And he's hurled insults at North Korea's Kim Jong-Un.
Which all makes Trump's reluctance to forcefully criticize Vladimir Putin — after the election interference in 2016, after the poisoning in Britain and after the voting irregularities in Russia — all the more striking. Even when the president is instructed NOT to congratulate Putin.
The Washington Post: "President Trump did not follow specific warnings from his national security advisers Tuesday when he congratulated Russian President Vladi­mir Putin on his reelection — including a section in his briefing materials in all-capital letters stating 'DO NOT CONGRATULATE,' according to officials familiar with the call."
More from the Post: "Trump also chose not to heed talking points from aides instructing him to condemn the recent poisoning of a former Russian spy in Britain with a powerful nerve agent, a case that both the British and U.S. governments have blamed on Moscow."
NBC's Ali Vitali adds, "The White House said Tuesday that President Donald Trump's congratulatory call to Russian President Vladimir Putin on his recent re-election wasn't focused on allegations that election meddling or fraud may have contributed to that victory because the United States should not 'get to dictate how other countries operate.'"
That White House objective not to dictate how other countries should operate might be a surprise to Vice President Pence, who's expected to criticize Venezuela in a speech today. "The White House says Pence will use his address to the Organization of American States to ask nations to increase pressure on Venezuelan President Nicolas Maduro to address the country's humanitarian crisis, release political prisoners and hold free and fair elections," the AP wrote.
Austin bomb suspect blows himself up as police close in
Here's your biggest news of the day so far: "The suspect in a spate of bombings that terrorized residents of Austin, Texas, died early Wednesday after detonating an explosive inside his vehicle as a SWAT team tried to apprehend him on the side of a highway, officials said," per NBC News. "Authorities had tracked the suspect — a 24-year-old white man — to a hotel in Round Rock, a city in the Austin metropolitan area, Austin Police Chief Brian Manley said at a news conference."
Endangered incumbents survive in Illinois — barely
The big storyline out of last night's Illinois primaries was that two vulnerable incumbents — Republican Gov. Bruce Rauner and Democratic Rep. Dan Lapinski — barely won their primaries. But barely was enough.
On Tuesday, we posed four questions. Well, here are the answers we got:
1. Is Gov. Bruce Rauner in trouble in his GOP primary?
It turned out that Rauner WAS in trouble, but he still held off Republican challenger Jeanne Ives, beating her 51.5 percent to 48.5 percent. The personally wealthy Rauner outspent Ives over the airwaves by a 6-to-1 margin, $16.4 million to $2.8 million.
2. Who wins the Dem primary for governor — the billionaire, the Kennedy or the former teacher?
Answer: The billionaire J.B. Pritzker, who received 45 percent of the vote, while former teacher Dan Biss got 27 percent and Chris Kennedy got 24 percent. Pritzker spent $33.5 million in ads. The Rauner-vs.-Pritzker general will likely set records in ad spending.
3. Does an incumbent Dem congressman go down to defeat?
No. Incumbent Rep. Dan Lapinski BARELY won, beating Dem challenger Marie Newman, 51 percent to 49 percent. The National Republican Congressional Committee released a statement last night trolling the Democratic Congressional Campaign Committee for not endorsing Lapinski. "If the DCCC fought Republicans half as hard as their own party, I'd be worried for 2018," the NRCC said.
But the NRCC might not want to celebrate too much: Their candidate in this IL-3 district is Holocaust denier and white supremacist Arthur Jones, who was unopposed on the GOP side. Bottom line after the Lapinski-vs-Newman race: The Dem base appears to be SLIGHTLY more forgiving than the GOP base of ideological heresy.
4. Which Democrat comes out ahead in the crowded race to face Peter Roskam in IL-6?
It's still unclear. With 86 percent of precincts reporting, planning commissioner Kelly Mazeski leads scientist Sean Casten by just 260 votes. But the outstanding vote appears to be favorable for Casten, and the Cook Political Report's David Wasserman gives him the edge.
By the way, while Illinois is a blue state, check out this difference in turnout: With 97 percent of precincts reporting, 1.2 million participated in the Dem gubernatorial primary, versus 680,000 in the GOP primary. That's almost a 2-to-1 margin. By contrast, in 2014 when Democrat Pat Quinn was governor, 820,000 took part in the GOP gubernatorial primary, versus 447,000 on the Dem side.
And in last night's competitive primaries in IL-12, which is represented by potentially vulnerable Rep. Mike Bost, 49,310 participated in the Democratic primary, while 37,742 participated in the GOP primary, where Bost had a challenger.
Tuesday was a day in Washington politics unlike any other
Your authors have seen A LOT of different stories in the two decades we've covered politics — the Monica Lewinsky scandal, the Chandra Levy murder, Mark Foley, the recent Dem/GOP retirements in the wake of the #MeToo Movement. But we've NEVER seen these back-to-back-to-back stories in the span of just hours involving the president of the United States:
"Lie detector test indicates Stormy Daniels truthful about Trump affair," per NBC News.
"Ex-Playboy Model Karen McDougal Sues to Speak on Alleged Trump Affair," the New York Times said.
"Judge rejects Trump bid to dismiss suit from woman alleging sexual advances," according to Politico.
Those are THREE different stories that broke in just the matter of hours in ONE day. The sheer volume of these kinds of stories involving Trump is stunning, especially for those of us who spent so much time covering that blue dress in the 1990s.
NRA's popularity takes a hit after Parkland shooting
Here's another striking finding from our most recent NBC/WSJ poll: The NRA's fav/unfav rating is underwater, with 37 percent viewing the organization positively and with 40 percent seeing it in a negative light (-3). That's a noticeable shift from April 2017, when it was 45 percent positive, 33 percent negative (+12).
In fact, it's the first time since before 2000 when the NRA has been viewed more negatively than positively in the NBC/WSJ poll.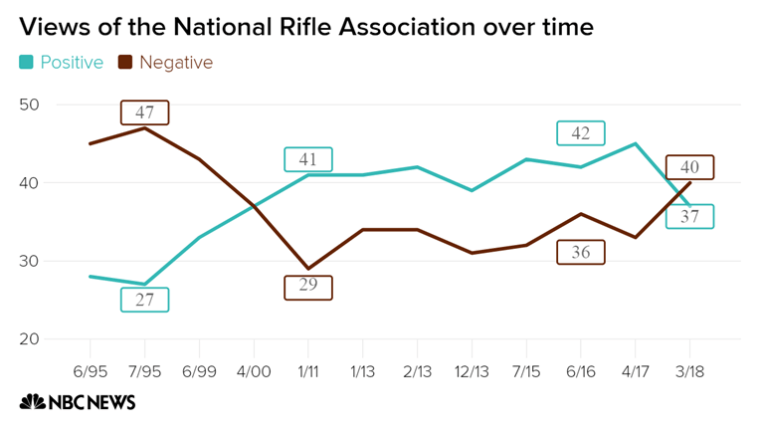 The biggest drops for the NRA came from white married women (50 percent positive in April 2017, 35 percent now), urban residents (43 percent positive in April, 28 percent now), white women (47 percent positive in April, 33 percent now) and moderate/soft Republicans (72 percent positive in April, 60 percent now).
Pew study: The Great New Sort in American Politics
Finally, here are some numbers that show how the gender/racial/education divides in our politics are only increasing, according to a new Pew study based on interviews with more than 10,000 registered voters in all of 2017.
Among women, 56 percent identify as Democrats versus 37 percent who identify as Republican. That 19-point Dem advantage is up 7 points since 2015.
Among men, 48 percent are GOP, 44 percent are Dem. That 4-point GOP advantage is down four points from 2015.
Among college graduates, 58 percent identify as Democrats versus 36 percent who are Republicans (D+22). Back in 2015, it was 50 percent Dem, 42 percent GOP (D+8)
Among whites, it's 51 percent GOP, 43 percent Dem. Among African Americans, 84 percent Dem, 8 percent GOP. Among Latinos, it's 63 percent Dem, 28 percent GOP. And among Asian Americans, it's 65 percent Dem, 27 percent GOP.
Among white college grads, 53 percent are Democrats and 42 percent are Republicans (D+11). Two years ago, white college grads were split 47 percent-47 percent (even).
But among whites with no more than a high school education, it's 58 percent GOP, 35 percent Dem.