WASHINGTON — After the discovery that pipe bombs were sent to prominent Democrats (including Barack Obama, Hillary Clinton and now Joe Biden) and to CNN, President Donald Trump talked about civility and unity yesterday.
"I just want to tell you that in these times, we have to unify. We have to come together and send one very clear, strong, unmistakable message, that acts or threats and political violence of any kind have no place in the United States of America," Trump said from the White House early Wednesday afternoon.
"There is much we can do to bring our nation together," he added at his rally in Wisconsin last night. "For example, those engaged in the political arena must stop treating political opponents as being morally defective. Have to do it. The language of moral condemnation and destructive routine — these are arguments and disagreements that have to stop."
Those are all great words of advice in our highly charged partisan times.
The one problem: The president doesn't practice it. Far from it.
At his Monday rally to support Sen. Ted Cruz, Trump talked about Hillary Clinton, one of the targets of the pipe bombs: "If you want the fake news to finally investigate Hillary Clinton, we'll just have ... [LOCK HER UP, LOCK HER UP, LOCK HER UP]."
Here was the president at the same rally talking about the news media: "If you want the fake news media to finally investigate ... By the way, by the way [CNN SUCKS, CNN SUCKS, CNN SUCKS]."
Here was Trump last week praising Rep. Greg Gianforte, R-Mont., for body-slamming a reporter: "Never wrestle him, any guy that can do a body slam, he's my kind of guy, he's my guy."
And here's what Trump tweeted about former CIA Director John Brennan, another target of the pipe bombs, back in August: "He will go down as easily the WORST in history & since getting out, he has become nothing less than a loudmouth, partisan, political hack who cannot be trusted with the secrets to our country!"
After his call for civility and unity while speaking in Wisconsin, Trump pointed his finger at the media, per NBC News' Jonathan Allen. "The media also has a responsibility to set a civil tone and to stop the endless hostility and constant negative and oftentimes false attacks and stories."
But he never once looked into the mirror.
The latest news: Robert De Niro, Joe Biden were also targets of pipe bombs
NBC News: "A suspicious package found at the building housing Robert De Niro's office in downtown Manhattan Thursday is similar to the pipe bombs found a day earlier sent to political and media figures, according to a law enforcement official briefed on the matter."
And at publication time, NBC's Pete Williams reports that law enforcement officials say a package — similar to the others — was found this morning at a postal facility in New Castle, Delaware. It was addressed to former Vice President Joe Biden. This brings the number of packages found so far to nine, Williams reports. The devices have been addressed to:
George Soros
Hillary Clinton
Barack Obama
Eric Holder
John Brennan
Maxine Waters (DC area)
Maxine Waters (Los Angeles)
Robert De Niro
Joe Biden
So who's to blame for America's divide? Here are the answers
Last week's NBC/WSJ poll found 80 percent of American voters believing that the United States is mostly divided. And a separate question asked these voters who is responsible for the division. Here's a word cloud of the top answers among all voters, with the top answers being "Donald Trump," "The Media," "Liberals," "The Democratic Party" and "The Republican Party."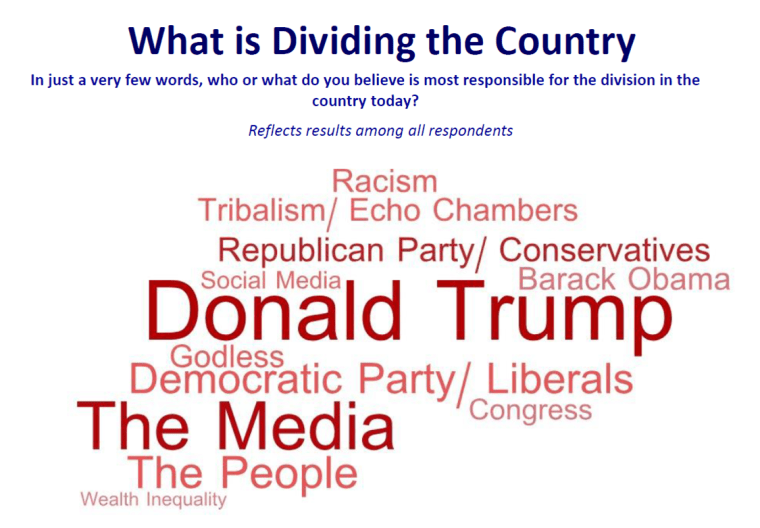 Here's a word cloud of the top answers from Democrats — "Donald Trump," "The Media," "The Republican Party," "Racism."
And here's a word cloud of the top answers from Republicans — "Democratic Party," "Barack Obama," "Liberals," "The Media," "Godless."
If Hillary Clinton's emails were a threat to national security, then what about Trump's phone?
"When President Trump calls old friends on one of his iPhones to gossip, gripe or solicit their latest take on how he is doing, American intelligence reports indicate that Chinese spies are often listening — and putting to use invaluable insights into how to best work the president and affect administration policy, current and former American officials said," per the New York Times.
"Mr. Trump's aides have repeatedly warned him that his cellphone calls are not secure, and they have told him that Russian spies are routinely eavesdropping on the calls, as well. But aides say the voluble president, who has been pressured into using his secure White House landline more often these days, has still refused to give up his iPhones. White House officials say they can only hope he refrains from discussing classified information when he is on them."
This morning, Trump tweeted that the story is inaccurate. "The so-called experts on Trump over at the New York Times wrote a long and boring article on my cellphone usage that is so incorrect I do not have time here to correct it. I only use Government Phones, and have only one seldom used government cell phone. Story is soooo wrong!"
Mueller has evidence suggesting that Roger Stone associate knew Clinton emails would be leaked
NBC's Ken Dilanian and Anna Schecter: "Special counsel Robert Mueller's office has obtained communications suggesting that a right-wing conspiracy theorist might have had advance knowledge that the emails of Hillary Clinton's campaign chairman had been stolen and handed to WikiLeaks, a source familiar with the investigation told NBC News. Mueller's team has spent months investigating whether the conspiracy theorist, Jerome Corsi, learned before the public did that WikiLeaks had obtained emails hacked by Russian intelligence officers — and whether he passed information about the stolen emails to Donald Trump associate Roger Stone, multiple sources said."
More: "Mueller's investigators have reviewed messages to members of the Trump team in which Stone and Corsi seem to take credit for the release of Democratic emails, said a person with direct knowledge of the emails."
And: "The source and other people familiar with the matter say they have seen no evidence suggesting either man played any role in the hacking or release of the emails. Stone adamantly denies doing anything but passing on information already in the public domain."
It's close in Georgia, per NBC/Marist poll
"The closely watched governor's race in Georgia is essentially tied, with a December runoff appearing possible if neither candidate surpasses 50 percent in the November contest, according to a new NBC News/Marist poll," one of us writes.
"In a head-to-head contest among registered voters in Georgia, both Democrat Stacey Abrams and Republican Brian Kemp receive 47 percent support. Among likely voters, Kemp gets 49 percent to Abrams' 47 percent, but that result is well within the poll's margin of error."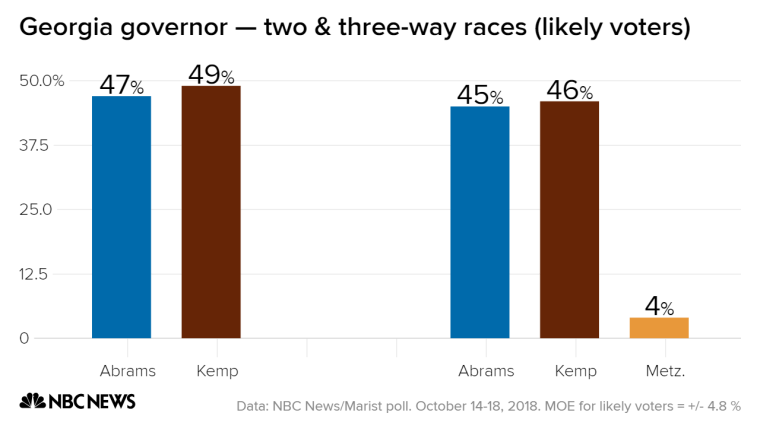 "When libertarian Ted Metz is included on the ballot, Kemp's lead shrinks to 1 point among likely voters — Kemp gets 46 percent, Abrams gets 45 percent and Metz gets 4 percent."
"Statewide, Trump has a 49 percent job approval rating among likely voters, with 45 percent disapproving. Among all registered voters, it's tied at 47 percent approving and 47 percent disapproving."