First Read is your briefing from Meet the Press and the NBC Political Unit on the day's most important political stories and why they matter.
Trump's approval rating ticks up — with the help of his bipartisan move
The newest NBC/WSJ poll has good news for President Trump: His job-approval rating has inched up to 43 percent, which is three points higher than where it was in August. What's more, 71 percent of Americans support his deal with Democrats Chuck Schumer and Nancy Pelosi on hurricane relief and keeping the government open for three months.
The bad news: The public gives Trump low marks on almost everything else. The NBC/WSJ poll — which was conducted Sept. 14-18 — asked respondents to approve or disapprove of Trump's handling of these 11 events and actions. Here are the results, from most popular to least popular: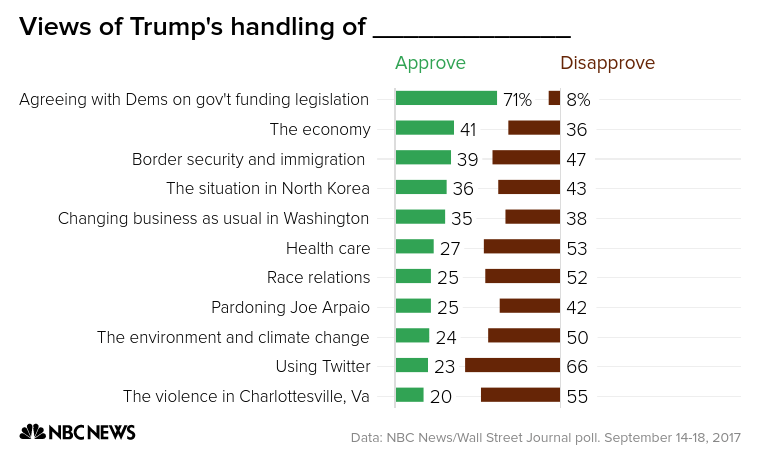 Just a combined 33 percent of Americans believe Trump has accomplished a "great deal" or a "fair amount" as president, versus 66 percent who say he has accomplished "only some" or "very little." (By comparison, in April 2009, our NBC/WSJ poll found 59 percent saying Obama had accomplished a great deal/fair amount, versus 40 percent who said he accomplished only some/very little.)
So our poll does find opportunity for Trump: Bipartisan deals are popular, and his base gives him some leeway to make those kinds of deals. The question is: Does he take advantage of that opportunity? Because at the moment, he's pursuing a partisan health care bill.
Republicans turn against McConnell, Ryan
As Trump has reached out across the aisle — as well as lashed out at members of his own party — the ratings of Republican leaders Mitch McConnell and Paul Ryan have fallen to new lows, the NBC/WSJ poll also finds. McConnell's fav/unfav rating is 11 percent positive, 41 percent negative (-30), and Ryan's is 24 percent positive, 40 percent negative (-16).

What's particularly striking are McConnell's numbers among GOP Trump supporters, who give the Senate majority leader a 13 percent positive, 34 percent negative score (-21). By comparison, non-Trump Republicans give McConnell a 36 percent positive, 14 percent negative score (+22). That is quite a divide.
Overall, just 36 percent of GOP voters say they are satisfied with their party's congressional leaders, while 59 percent are dissatisfied.
To cut taxes? Or not to cut taxes? That is the question
With Republicans set to release details of their tax reform proposal next week, a plurality of Americans — 42 percent — believe that Congress should not cut taxes, while 24 percent want to cut individuals' taxes and another 28 percent want to cut taxes for both individuals and businesses.
Thirty-seven percent say U.S. businesses pay less than their fair share in taxes, 34 percent say they pay the right amount and 20 percent say they pay more than their fair share.
And 55 percent of Americans say that they personally pay the right amount in taxes, while 40 percent say they pay more than their fair share. Only 4 percent say they pay less than their fair share.
Divided over single payer
Finally from the poll: The public is divided over a single-payer health care system, with 47 percent favoring such an approach and 46 percent opposing it.
But when supporters are told that all health care costs would be covered under a single-payer system — but that it would eliminate employer plans and that there would be only one government plan — the numbers move to 36 percent favor, 55 percent oppose.
Graham-Cassidy has no support from the health industry
Backers of the GOP Graham-Cassidy health-care bill — Sens. Lindsey Graham, R-S.C., and Bill Cassidy, R-La., plus President Trump via Twitter — maintain it doesn't touch protections for those with pre-existing conditions. And Cassidy also says the legislation will cover MORE people than current law does.
They all have one problem: No one from the health industry is backing them up. The health insurers are against Graham-Cassidy, with the Blue Cross Blue Shield Association saying that the legislation "contains provisions that would allow states to waive key consumer protections, as well as undermine safeguards for those with pre-existing medical condition." The American Medical Association is also against the bill. Ditto the American Hospital Association.
So if Graham/Cassidy/Trump claim that the legislation protects those with pre-existing conditions and expands coverage, the question follows: Which study or industry expert backs that up?
NBC News: Trump is leaning toward decertifying the Iran nuclear deal
Yesterday's scoop from NBC's Hallie Jackson, Carol Lee, Vivian Salama and Kristen Welker: "President Donald Trump is leaning toward decertifying the Iran nuclear deal and putting the decision of whether the United States withdraw from the accord in the hands of Congress, according to four sources — including a senior administration official — familiar with the White House deliberations."
More: "Such a move would come before an Oct. 15 deadline and would trigger a 60-day window for lawmakers to determine whether to re-impose sanctions related to Iran's nuclear program that were lifted as part of the 2015 agreement. The president's goal during that time is to prod America's European allies, who are part of the nuclear deal, to agree to renegotiate some provisions and pressure Iran back into talks. Still, several of the sources cautioned that the president could change his mind over the next three weeks as he faces pushback from allies internationally."
But if the United States pulls out of the Iran deal – when Iran has been complying with letter of the deal — then wouldn't that result in:
Iran keeping its money?
Iran rebuilding its nuke program?
Europe having no appetite for new sanctions against Iran?