WASHINGTON — President Donald Trump's job approval rating in the American counties that fueled his 2016 victory stands at 50 percent, according to a new NBC News/Wall Street Journal poll of these "Trump counties."
Fifty percent of adults in these counties — consisting of Republicans, Democrats and independents — approve of the president's job performance (including 29 percent who strongly approve), while 46 percent disapprove (including 35 percent who do so strongly).
By comparison, last month's national NBC/WSJ poll had Trump's overall approval rating at 40 percent.

The poll's sample was taken from 439 counties in 16 states — Colorado, Florida, Georgia, Indiana, Iowa, Maine, Michigan, Minnesota, Missouri, Nevada, New Hampshire, North Carolina, Ohio, Pennsylvania, Virginia and Wisconsin — that either flipped from Barack Obama to Trump, or where Trump greatly outpaced Mitt Romney's performance in 2012.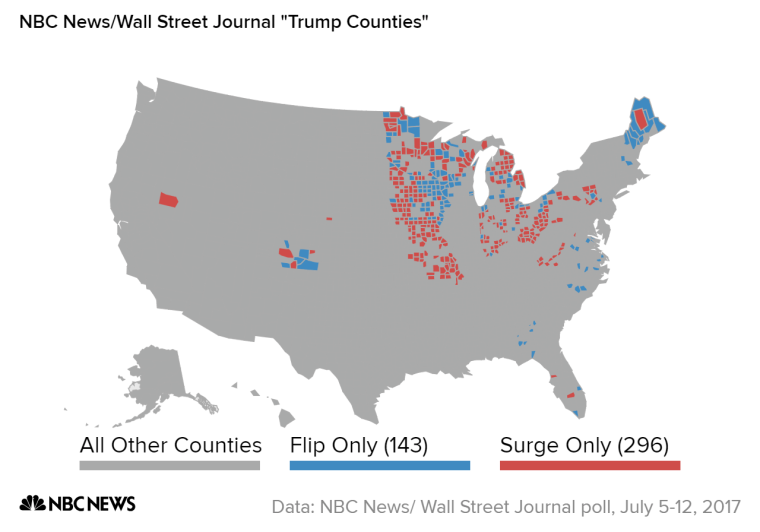 But there's a significant difference in Trump's approval rating in the these two kinds of Trump counties.
In the Trump "surge counties" (for example: Carbon, Pa., where Trump won 65 percent to 31 percent, versus Romney's 53-45 percent margin) — 56 percent of residents approve of the president's job performance.
Trump beat Hillary Clinton in these "surge" areas nationwide by a combined 65 percent-to-29 percent margin in 2016.
But in the "flip counties" (for example: Luzerne, Pa., where Obama won 52 percent to 47 percent, compared to Trump's 58-39 margin), Trump's job rating stands at just 44 percent.
Trump won these "flip" areas overall in 2016, 51 percent to 43 percent.
The rest of this NBC/WSJ poll — which was conducted July 8-12 of 600 adults in these counties, and has an overall margin of error of plus-minus 4.0 percentage points — will be released later in the week.
In "Flip" counties, 342 interviews were conducted, which has a margin of error of plus-minus 5.3 percentage points. And in "Surge" counties, 258 interviews were conducted, and the margin of error there is plus-minus 6.1 percentage points.