First Read is a morning briefing from Meet the Press and the NBC Political Unit on the day's most important political stories and why they matter
A budget — and presidency — that's still stuck in the mud
The budget that President Trump sent to Congress Thursday sums up his first eight weeks in office. It's bold, brash, boisterous -- and not going anywhere. As NBC's Ali Vitali writes, the budget boosts Defense Department spending by $54 billion (or by 10%); it cuts the State Department by 28% and the Environmental Protection Agency by 25%; it provides $1.5 billion for construction of Trump's wall; it eliminates funding for the Corporation for Public Broadcasting; and it all fails to balance the budget in the process. "If he said it on the campaign, it's in the budget," Office of Management and Budget Director Mick Mulvaney told reporters yesterday in previewing Trump's budget.
The problem? "It's dead on arrival," Sen. Lindsey Graham (R-SC) said last month, objecting to the cuts in State Department funding. What's more, Republicans will need 60 votes to erase the budget caps in military spending put in place by sequestration. And while all it takes are simple majorities to pass a budget resolution bill, the White House and the GOP Congress will need 60 votes to eventually spend/cut money through the appropriations process. Oh, and you could argue that this Trump budget outline might make it harder for Congress to pass ANY budget resolution -- which will be needed to get the reconciliation protection to pass the tax cuts that Trump and congressional Republicans want.
Revised travel ban? Blocked. Health-care overhaul? Unraveling. Obama tapped Trump Tower? Still no evidence
So this Trump budget is stuck in the mud. And that's maybe the best way to describe much of his remaining agenda. The travel ban, even in its revised form? A federal judge in Hawaii blocked it Wednesday, citing Trump's own words targeting Muslims. The health-care overhaul? It took Trump 25 minutes to mention it at his rally in Nashville, TN, per the Washington Post. ("I want to get to taxes, I want to cut the hell out of taxes," he said last night. "But before I can do that — I would have loved to have put it first, I'll be honest —there is one more very important thing that we have to do: We are going to repeal and replace the horrible, disastrous Obamacare.")
And what about presenting evidence to prove his claim that Barack Obama tapped Trump Tower? "Let's see whether or not I proved it," he said on Fox News last night. "You looked at some proof. I mean, let's see whether or not I prove it. I just don't choose to do it right now." In fact, the top Republican and Democrat on the House Intelligence Committee said there is no evidence that Obama did what Trump originally tweeted. "Are you going to take the tweets literally? And if you are, then clearly the president was wrong," Chairman Devin Nunes (R-CA) said.
Tillerson throws in the towel on State Department cuts
Here's the reporting from NBC's Andrea Mitchell covering Secretary of State Rex Tillerson's remarks at a Tokyo news conference: "Asked about the … cut in the Trump State Department budget, [Tillerson] said the current spending level is not sustainable and said they would manage because there will be fewer military conflicts -- allies will spend more on development aid -- and the State Department would be more efficient." As Mitchell concludes, "His decision not to fight the cuts will likely further demoralize the department."
Canadian Prime Minister Trudeau: Tearing up NAFTA could cost U.S. jobs
Per NBC's Alastair Jamieson: "Donald Trump's plan to tear up NAFTA could hit U.S. jobs, Canadian Prime Minister Justin Trudeau warned in an exclusive interview with NBC News. The president has begun moves to renegotiate what he called the "worst trade deal ever approved in this country." However, Trudeau said the Clinton-era agreement had 'led to a lot of great jobs for a whole lot of people on both sides of the border.' Trudeau spoke to NBC News' Tom Brokaw at the New York launch of "Come From Away," a Broadway musical about international friendships and the cross-border impact of 9/11."
Tom Perez begins overhauling DNC
NBC's Alex Seitz-Wald on new DNC chair Tom Perez's overhaul of the Democratic National Committee: "To guide his transition process, Perez on Wednesday tapped a wide range of Democrats for a transition advisory committee that will work over the next month or so to provide advice and recommendations. The 30 members of the committee were selected to represent and highlight the party's broad coalition, from former Alaska Sen. Mark Begich to Black Lives Matters activist Deray McKesson to former South Carolina Gov. and DNC Chair Don Fowler to undocumented immigrant activist Astrid Silva… And in a nod to Bernie Sanders allies, the committee includes freshman Rep. Pramila Jayapal, who won an election last year in Washington state with the backing of the Vermont senator."
Trump's Day
At 10:30 am ET, President Trump holds a bilateral meeting at the White House with Ireland's prime minister… At 12:05 pm ET, he makes remarks at "Friends of Ireland" lunch on Capitol Hill… And at 5:45 pm ET, he welcomes the Irish prime minister and his wife to the White House before a St. Patrick's Day reception.
What were other presidents doing on March 16?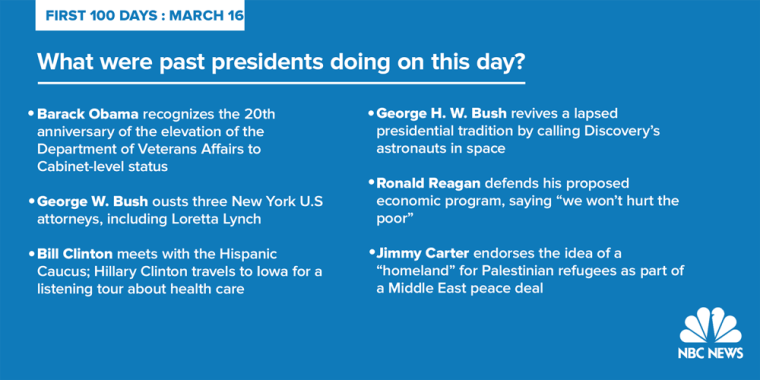 Paul Ryan appears on MTP Daily
Finally, NBC's Chuck Todd interviews House Speaker Paul Ryan on MSNBC's "MTP Daily" today.