President Donald Trump's job approval rating stands at just 44 percent — a record low for a newly inaugurated commander-in-chief — and half of Americans say that his early challenges suggest unique and systemic problems with his administration, according to a new poll from NBC News and the Wall Street Journal.
In the poll, conducted February 18-22, 48 percent of Americans said they disapprove of Trump's performance as president and 32 percent said that his first month in office demonstrates that he is not up to the job. Asked about early challenges in the first month of his presidency, 52 percent called the issues "real problems" that are specific to his administration, while 43 percent of Americans attributed them to typical "growing pains" for any new president.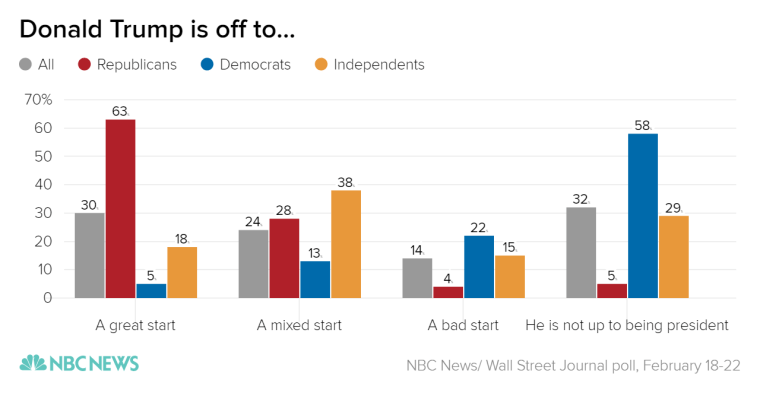 The new rating comes two days before Trump is set to address a joint session of Congress, a State of the Union-style speech in which new presidents typically lay out their vision for the country.
But Trump begins his tenure in a dramatically less popular position than any of his predecessors. He is the only president in the history of modern polling to begin his first term with a net negative approval rating — and it's not close. Compared to Trump's net negative rating of -4 percent, Barack Obama began his presidency with a net positive 34 percent; George W. Bush and Bill Clinton enjoyed a similar advantage, and George H.W. Bush's score of popular goodwill pushed even higher to a net positive of 45 percent.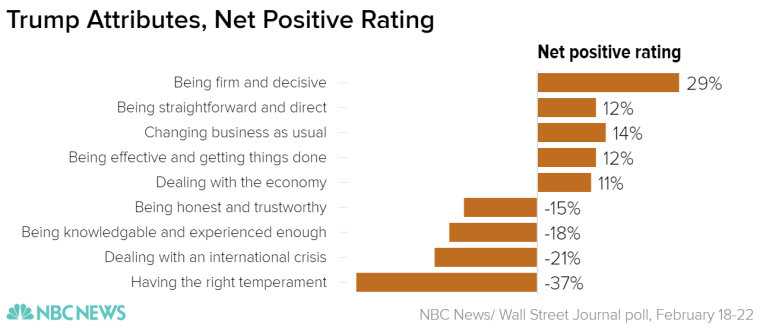 Trump also continues to register particularly dismal ratings when it comes to his temperament, with just 18 percent giving his demeanor a thumbs up compared to 55 percent who rank it as poor.
But despite his historically underwater public popularity, the survey also shows that his support from Republicans remains robust and that the public's overall views of him are relatively stable. He has maintained the loyalty of his party both on his policy proposals and on his ongoing warfare with the mainstream media, and a majority of Americans believe that he will follow through on his promises of change.
His personal favorability rating – 43 percent positive and 47 percent negative – is stable compared to previous polls, and a majority of Americans — 57 percent — said that he is performing about how they expected him to in the White House. That's compared to 19 percent who said he is doing better than they expected and 24 percent who said he is doing worse.
Trump retains net positive scores on his decisiveness (net positive 29 percent), his ability to "get things done," (net positive 12 percent) and his fitness to deal with the economy (net positive 11 percent).
Six-in-ten Americans said they are hopeful and optimistic about the future of the country, including an overwhelming 87 percent of Republicans (but just 37 percent of Democrats).
And a majority of respondents to the poll – 57 percent – also said that Trump is likely to "bring real change in the direction of the country." Among those who think Trump is likely to bring change, 63 percent believe those changes will be positive, while 30 percent disagree.
Huge Partisan Differences
The partisan divisions driven home by the famously contentious 2016 campaign appear to have continued seamlessly into Trump's presidency, the new data shows.
Trump's personal favorability rating stands at 85 percent positive among Republicans, compared to just 34 percent positive among independents and nine percent among Democrats.
While only 30 percent of those polled overall say that Trump is off to a "great start," 63 percent of Republicans agree. A similar share of Democrats – 58 percent – say that Trump's lack of policy knowledge and his temperament demonstrate that he is not up to the job of being president.
Divisions over Trump's moves to temporarily ban travel to the United States by people from seven majority-Muslim countries also reflect a profound partisan split. Overall, 44 percent say the policy is necessary, while 45 percent disagree. But among Republicans, 82 percent call the plan a necessary safeguard against terrorism, compared to just 11 percent of Democrats and 43 percent of independents who say the same.
Republicans are also fully on board with Trump's frequent accusations that the media is manufacturing "fake news" to undermine his presidency.
Asked if they believe that the news media is "exaggerating the problems with the Trump administration because they are uncomfortable and threatened with the kind of change Trump represents," a whopping 89 percent of Republicans agreed. On that measure, a majority of all Americans - 53 percent - also say the same, although that includes just 21 percent of Democrats.
Politics as usual on the Supreme Court
Despite the particularly rancorous first month of the Trump administration, the president has made one move that reflects a relatively routine breakdown of public opinion: His nomination of Neil Gorsuch to the Supreme Court.
Among all Americans, 32 percent say that they support Gorsuch's nomination, while 20 percent oppose him and 47 percent say they don't know enough about him to make a judgment.
Those numbers are nearly identical to the support and opposition expressed for Elena Kagan, Barack Obama's pick for the court in May 2010, and for Samuel Alito, George W. Bush's pick for the court in November 2005.
Anger at elites in Washington
One sentiment that unites the fractured nation is fury at the establishment in Washington. Fully 86 percent of those surveyed said they believe that a small group in D.C. has "reaped the rewards of government while the people have borne the cost."
That includes 88 percent of Republicans and 85 percent of Democrats.
But Trump's election has also buoyed the share of Americans who say that the economic and political systems of the United States are NOT stacked against them.
Before the 2016 election, 48 percent of the public said that they faced significant disadvantages because of the country's economic and political systems. That's down to 43 percent in the latest survey, largely because of a big swing in Republican views. Before the November election, 54 percent of Republicans expressed the view that the system was stacked against people like them. After the election of a president who pledged to lift up "the forgotten man," that share plummeted by 14 points.
The poll was conducted February 18-22. The margin of error for 1000 respondents is +/- 3.1 percent.