First Read is your briefing from Meet the Press and the NBC Political Unit on the day's most important political stories and why they matter.
For the second time in the last two months, President Trump divided the nation on the subject of race. And this time — after calling NFL players who take a knee in protest a "son of a bitch," and after disinviting Steph Curry and the Golden State Warriors from the White House — he pretty much united the sports world (players, teams, owners) against him.
"All day Sunday, players took a knee, sat down or raised fists," NBC's Craig Melvin reported on "Today" this morning. "Some teams chose to stay in the locker room during the ceremony. Still others locked arms in solidarity with each other, including Patriots quarterback Tom Brady, a friend of Mr. Trump's."
Race, after all, has been the overarching story of Trump's political career and controversies. Consider:
His birther crusade against Barack Obama
His remark that Mexico sends "rapists" across the border
His call for a Muslim ban during the 2016 campaign
His attack on federal judge Gonzalo Curiel
His dust-up with the Khan family
His response to last month's violence in Charlottesville, Va.
Speaking to reporters Sunday about his reaction to NFL players who take a knee during the National Anthem, Trump said, "This has nothing to do with race. I've never said anything about race. This has nothing to do with race or anything else. This has to do with respect for our country and respect for our flag." The president tweeted the same message Monday morning.
But it's hard to look at those taking a knee (and their reason for doing so), at the makeup of the Golden State Warriors, and at Trump's past controversies above and NOT conclude that this is about race.
A reminder: Only 25 percent of Americans approve of Trump's handling of race relations
Last week's NBC/WSJ poll asked Americans to approve or disapprove of Trump's handling of 11 different events and actions. As it turns out, his scores on races relations and Charlottesville were two of his worst on this question: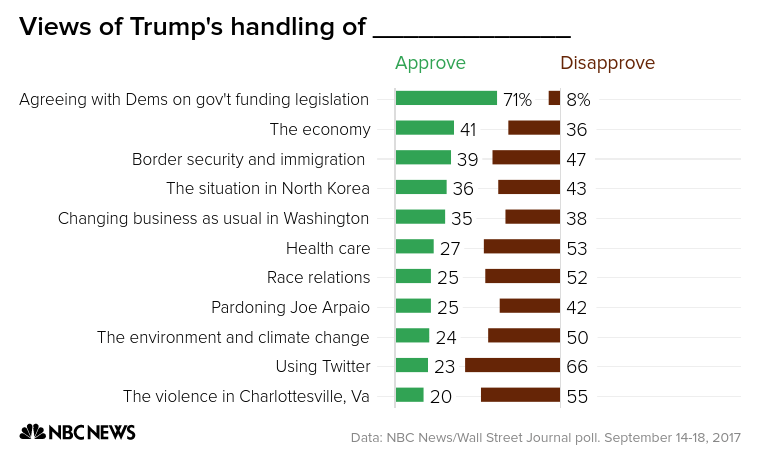 Alabama's Senate runoff is tomorrow, and Karl Rove worries that frontrunner Roy Moore is the 2017 version of Todd Akin
"The contest between [Luther] Strange and Roy Moore, a former State Supreme Court justice and evangelical firebrand, is the most significant test yet of the president's power to sway the party's conservative base," the New York Times' Jonathan Martin wrote over the weekend.
"If Mr. Moore wins the runoff on Tuesday, Republican leaders fear he will further widen the split in the party between populists and the establishment. That could embolden more lawmakers to defy the party leadership and encourage other insurgents to challenge Republican incumbents, no matter Mr. Trump's preference."
Also in the piece: "'Roy Moore would be the Todd Akin of 2017 and 2018 for every Republican on the ballot,' said Karl Rove, the Republican strategist, who is aligned with the Senate Leadership Fund. 'Republicans will be asked, "Do you agree homosexuality should be punished by death, do you believe 9/11 was a result of God's anger?" He'll say outrageous things, the media will play it up, and every Republican will be asked, "Do you agree with that?'"
"Locally, some Republicans are also uneasy about the prospect of Mr. Moore — whose lead in the polls over Mr. Strange, 64, is in the single digits — being their nominee. They worry that the Democratic candidate, Doug Jones, a former federal prosecutor, could run well among moderate voters and create a competitive race."
Kill Bill Vol. 3: Graham-Cassidy gets makeover to win over Murkowski and other holdouts
NBC's Leigh Ann Caldwell: "An updated version of the Graham-Cassidy health care bill circulating among lobbyists and on Capitol Hill on Sunday night has changed to provide more benefits to Alaska, a move to appeal to Republican Sen. Lisa Murkowski, who has been highly skeptical of efforts to repeal the Affordable Care Act. The new version would grandfather Native Alaskans into Medicaid so they wouldn't lose coverage after the expanded Medicaid program is rolled back in 2020, according to a section-by-section summary of the new legislation obtained by an industry lobbyist."
But here is the political reality of Graham-Cassidy's chances of passing: With opposition from Sens. Rand Paul, R-Ky., John McCain, R-Ariz., and (most likely) Susan Collins, R-Maine, this legislation is starting from a WORSE position than the "Skinny Repeal" bill that went down to defeat in July.
And Caldwell reports that protections for those with pre-existing conditions are weakened in this latest version of Graham-Cassidy. "While it says insurance companies must cover people with pre-existing conditions, it wouldn't limit the cost. It would also make it easier for states to stop ensuring that older people aren't charged more than younger people or that essential health benefits like maternity care and hospitalization are covered."
The Senate Finance Committee holds its one and only hearing on the Graham-Cassidy bill at 2:00 pm ET.
Jared Kushner used private email account in the White House
If you win the presidential election LARGELY on the issue of email handling, you better make sure all of your aides don't use private accounts for official work. And that's especially true for aides who might be related to you.
"President Donald Trump's son-in-law and top adviser, Jared Kushner, used his personal email account while communicating with White House colleagues, Kushner's lawyer said Sunday," per NBC News. In a statement, the lawyer, Abbe Lowell, said Kushner used the account in fewer than 100 emails during Trump's first eight months in office."
"'These usually forwarded news articles or political commentary and most often occurred when someone initiated the exchange by sending an email to his personal, rather than his White House, address,' Lowell said. 'All non-personal emails were forwarded to his official address and all have been preserved in any event.' The news was first reported by Politico."
Merkel wins in Germany, but far right makes gains
"German Chancellor Angela Merkel was on course to claim a fourth term in office Sunday even as the far right spoiled her victory party, surging into Parliament for the first time in more than half a century, according to projections based on exit polls and official results following a nationwide vote," The Washington Post says.
"The results represented at least a partial affirmation of Merkel's emphasis on Germany's stability and economic prosperity at a time of upheaval elsewhere around the globe. They clear the way for her to extend her 12-year stewardship to 16, which would tie the record for postwar Germany."
"But the groundswell of support for the far right upended any notion that Europe's largest economy and most important geopolitical player is immune to the populist currents roiling other democracies across the West."
Northam leads Gillespie by six points, per latest poll
According to a new poll from Christopher Newport University's Wason Center, Democrat Ralph Northam leads Republican Ed Gillespie by six points among likely voters in Virginia's gubernatorial contest, 47 percent to 41 percent. Libertarian Cliff Hyra gets 4 percent, and 8 percent are undecided.