Donald Trump ran for president on a promise to reshape America's economic relationship with nations around the globe.
In the process, he has upended partisan views of free trade and exposed a looming split in the Republican Party.
A new NBC News/Wall Street Journal poll finds that the share of Americans who say that free trade benefits the United States has jumped significantly in the past year. Forty-three percent of the public now says that free trade with foreign nations has helped America, while 34 percent disagree.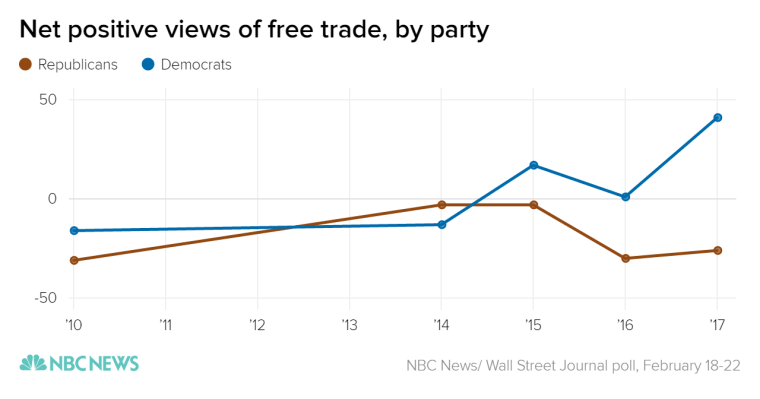 Those numbers were upside-down in March of 2016, with 43 percent of Americans saying that free trade hurts the country and only 27 percent seeing it as a boon.
At first glance, that flip may seem counterintuitive after the rise of Trump's brand of "economic populism" (and its echoes in the Bernie Sanders wing of the Democratic Party as well.)
But, like so much else in American politics in the Trump era, the switch is being driven by political polarization.
Looking back to 2010, many Democrats didn't sound unlike their Republican counterparts on the subject of free trade.
An NBC News/ Wall Street Journal poll taken that year showed that just 21 percent of Republicans and 27 percent of Democrats thought that free trade helped the country. Fifty-two percent of Republicans and 43 percent of Democrats considered it harmful.
Fast-forward to 2017, and a whopping 57 percent of Democrats say they root for free trade policies, while just 16 percent say that they are harmful.
Meanwhile, Republicans, after a burst of comparatively pro-trade sentiment in 2014 and 2015, are back to their 2010 levels.
The data about the GOP's views of trade also shows hints of a major rift between the Trump and the Republicans who make up the more traditional pro-business wing of his party.
Among those who say that they would trust Trump over Republicans in Congress if the two clashed on an issue, free trade is anathema, with a majority -- 56 percent -- calling it harmful to the United States.
Among those who side with Republicans in Congress over the president? Views of free trade are far more positive; forty-two percent call it helpful, while 35 percent say it hurts.