Immigration may have dominated the week's news cycle, but far from the southern border, the Trump Administration's trade war is starting to have real impacts on farmers who grow everything from corn to cotton. And one of the biggest stories for the 2018 midterms may be developing around China, a collection of Midwest states that voted for Donald Trump, and billions of bushels of soybeans.
Normally, the price of a bushel of soybeans is not a major political topic, but 2018 has not been a normal year. The soy story started in the spring when the White House proposed tariffs to hit at what it felt were unfair trade practices. China hit back by targeting a long list of agricultural products, including soybeans. If you go by the numbers, that's no small thing.
Soybeans were the nation's largest agricultural export in 2017 and China was the biggest buyer, purchasing 57 percent of the total. But since China announced the tariff, the price of soybeans has fallen by roughly 15 percent to a more than two-year low.
That kind of drop is bound to have economic impacts. (One story in the Des Moines Register estimated the tariffs could cost Iowa farmers some $624 million.) But more important, politically speaking, is where those effects will fall, which was also something China likely knew quite well.
The top 10 soybean-producing states have a distinctly red political cast to them. Trump won eight of them and came close in a ninth, Minnesota.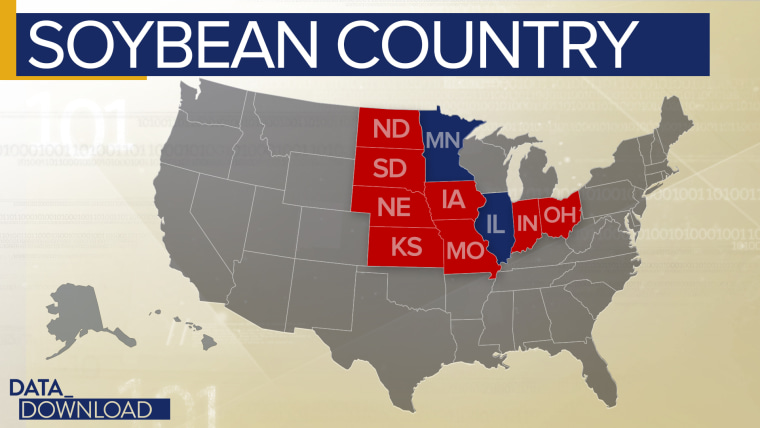 In fact, when you zoom in closer on those states, you can see how politically targeted the soybean tariff is. In those 10 states, there are some 700 counties that produce soybeans and 95 percent of those counties voted for Donald Trump in 2016.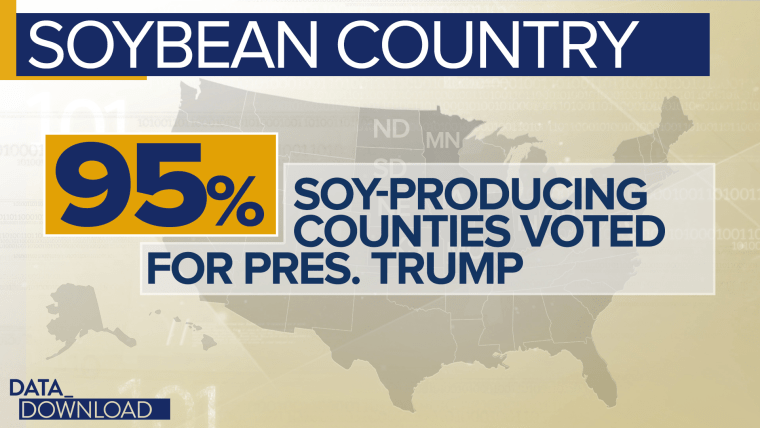 In other words, any tariff that hits at the price of a bushel of soybeans doesn't just target some broadly defined idea of Trump Country, it zeroes in specifically on areas that are Trump's base. And that can have special meaning as November approaches.
Midterms, in particular, are base elections. Doing well in them depends on bringing out your loyal supporters. Voters in these places may feel less enthusiastic about Trump and Republicans this fall if their crops and bank accounts are worth less than they were in 2017.
Furthermore, all of the 10 states listed here have important statewide elections on the ballot this fall. Each has a gubernatorial or senatorial race and three states — Minnesota, Ohio, and Nebraska — have both. Minnesota actually has two Senate seats up in the fall along with its race for governor.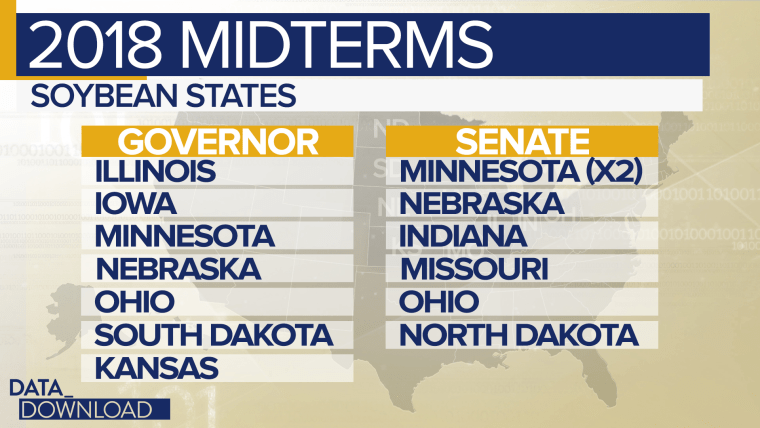 These are especially important races for the congressional balance of power.
Republicans hope to capture the Senate seats in Indiana, Missouri and North Dakota. All are currently held by Democrats but are listed as toss-ups by the Cook Political Report. And, of course, the governors in these states will be in office for the next congressional redistricting.
None of this means soybeans are going to dictate the course of the 2018 midterms, even in these states. Voters are complicated creatures, influenced by larger political and cultural factors. But pocketbook issues matter, especially when they get big enough, and the great soybean row of 2018 should be a cause for concern for Republicans in close races in these states.
Maybe more important, however, the soybean story is really just the leading edge of what a prolonged trade war could end up looking like in different locales all around the country. Agriculture with its shorter shelf life is tied more closely to the short-term ups and downs of the markets.
But the list of current (and potential) tariff targets is long — from corn to aluminum to automobiles. All of those items have constituencies scattered around the nation's states, counties and congressional districts, and as time goes by they are more likely to feel impacts as well.