First Read is a morning briefing from Meet the Press and the NBC Political Unit on the day's most important political stories and why they matter
Trump takes over CPAC
A year ago at the height of the Republican presidential primary, not only did Donald Trump skip the annual Conservative Political Action Conference (CPAC), he also received criticism from some of the speakers. "One of these candidates is not Tea Party at all. I know Donald Trump says he loves the Tea Party, but that's not what it takes to be Tea Party," said Jenny Beth Martin, co-founder of Tea Party Patriots. "You have to put freedom above your own interest." Well, things have certainly changed: Team Trump has taken over this year's CPAC, which begins today and lasts through Saturday. Indeed, as many as eight high-level Trump administration officials will address the conference over the next three days, including the president himself:
Kellyanne Conway (Thursday at 9:10 am ET)
Education Secretary Betsy DeVos (Thursday at 12:50 pm ET)
Reince Priebus and Steve Bannon (Thursday at 1:05 pm ET)
Vice President Mike Pence (Thursday at 7:30 pm ET)
President Trump (Friday at 10:20 am ET)
KT McFarland (Friday at 7:30 pm ET)
EPA Administrator Scott Pruitt (Saturday at 1:50 pm ET)
By contrast, just two members of George W. Bush's team spoke at CPAC in 2001 (Dick Cheney and Karl Rove), but President Reagan and about one-third of his cabinet attended the conference in 1981. Since we started covering politics, CPAC has always featured different strands of the conservative movement -- the Paul libertarians, the Ted Cruz-like social conservatives, the Tea Party crowd, and even pro-immigration-reform conservatives. But this year, and most likely through at least 2020, Trump-ism (with its stances on immigration, race, and trade) is dominating CPAC.
But does he take over conservatism?
The bigger question, however, is whether Trump's time in office actually takes over the conservative movement, too. The Never-Trump crowd isn't so sure. "It's going to take a lot more than what the Trump folks have managed to take conservatism over from Burke and Kirk, to say nothing of Thatcher or Goldwater or Reagan," GOP strategist Liz Mair tells First Read.
Conservative radio host Charlie Sykes adds, "I would say that conservatism is in temporary eclipse. It remains intellectually robust and has deep roots at the local and state level. But for the time being, personality politics has trumped principles. Trump World has exposed how few genuine principled conservative there really were. It turns out that even conservatives were not that into small government, free markets, etc."
Setting the CPAC stage
A divided conservative movement: NBC's Benjy Sarlin sets the stage for this year's CPAC. "Trump enjoys strong approval ratings among Republicans, but the rocky lead-up to the event this year is a reminder that the conservative movement is still divided over the president and the ideas raised by his campaign.
On Monday, CPAC dropped planned speaker Milo Yiannopoulos, a popular figure in so-called alt right circles who refers to Trump as "Daddy," after videos surfaced in which he discussed whether sex between young teenagers and adults might be considered consensual. Yiannopoulos also resigned from Breitbart News, which Bannon ran until leaving to oversee Trump's campaign last year. The outrage over the footage was amplified by prominent figures on the right who argued from the start that inviting Yiannopoulos was a mistake. 'The alt right is not part of the conservative movement,' ACU board member Ned Ryun said Tuesday on MSNBC's Hardball. 'I don't think we need to normalize them.'"
Trump administration rescinds Obama guidance on transgender protections
Meanwhile, in non-CPAC news… "In a complete reversal of the Obama administration's position, President Donald Trump's administration formally rescinded past guidance on transgender bathroom protections in public schools," per NBC News.
MORE: "Letters from the Justice and Education departments late Wednesday notified the Supreme Court and the nation's public schools that the administration is changing its position on the issue. Former President Barack Obama instructed public schools that they must allow transgender students to use bathrooms and locker rooms that align with a child's chosen gender identity. The guidance was issued as an interpretation of Title IX, which prohibits sex discrimination in education. Now, the administration is revoking key guidance on which that policy was based. The letter informs the court that the Justice Department's Civil Rights Division will no longer 'rely on the views expressed in that guidance, and instead will consider further and more completely the legal issues involved.'"
A sidelined secretary of state?
That's message from a pair of news articles out this morning. The Washington Post: "The Trump administration in its first month has largely benched the State Department from its long-standing role as the pre­eminent voice of U.S. foreign policy, curtailing public engagement and official travel and relegating Secretary of State Rex Tillerson to a mostly offstage role. Decisions on hiring, policy and scheduling are being driven by a White House often wary of the foreign policy establishment and struggling to set priorities and write policy on the fly."
And Politico: "Secretary of State Rex Tillerson has asked his aides to find ways to improve his media profile, a request that comes as U.S. diplomats increasingly worry about the direction of the State Department and whether their new boss has enough influence with President Donald Trump." NBC's Andrew Rafferty looks at Tillerson's trip to Mexico.
The big elephant in the room of the race for DNC chair
As DNC members travel to Atlanta to choose the party's next chair on Saturday, there's an elephant in the room that no one is talking about it — but that everyone is thinking about: Keith Ellison's Muslim faith.
Don't get us wrong, this isn't an issue among the 447 DNC members. As we've written, many/most voting members would be happy with either Ellison or Tom Perez. But some outside the party seem to be goading Democrats to pick Ellison, as David Duke did earlier this month. Even President Trump weighed in on Ellison yesterday, tweeting: "One thing I will say about Rep. Keith Ellison, in his fight to lead the DNC, is that he was the one who predicted early that I would win!"
Trump Cabinet watch
Secretary of State: Rex Tillerson CONFIRMED
Attorney General: Jeff Sessions CONFIRMED
Treasury: Steve Mnuchin CONFIRMED
Defense: JamesMattis CONFIRMED
Homeland: John Kelly CONFIRMED
Interior: Ryan Zinke NOMINATED
HHS: Tom Price CONFIRMED
HUD: Ben Carson NOMINATED
Education: Betsy DeVos CONFIRMED
Commerce: Wilbur Ross NOMINATED
Transportation: Elaine Chao CONFIRMED
Labor: Alexander Acosta NOMINATED
Agriculture: Sonny Perdue NOMINATED
Energy: Rick Perry NOMINATED
Veterans Affairs: David Shulkin CONFIRMED
OMB Director: Mick Mulvaney CONFIRMED
U.S Trade Representative: Robert Lighthizer NOMINATED
UN Ambassador: Nikki Haley CONFIRMED
Environmental Protection Agency: Scott Pruitt CONFIRMED
Small Business Administration: Linda McMahon CONFIRMED
CIA Director: Mike Pompeo CONFIRMED
What were other presidents doing on February 23?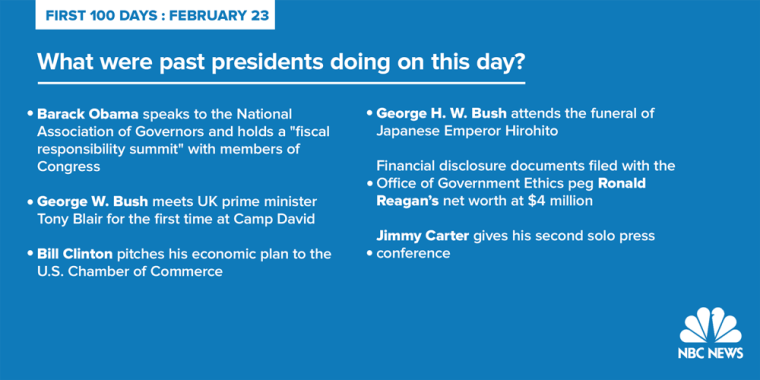 Heading to SXSW? So is Chuck!
Hear from him on March 14th at 5 p.m. CT as he explores if big data is destroying the U.S. political system. http://bit.ly/2l4Vwr4