First Read is your briefing from Meet the Press and the NBC Political Unit on the day's most important political stories and why they matter
Trump won the election. It's the electorate he's lost so far
In addition to President Trump's early struggles in his first 100 days, there's a longer-term problem for his administration and the GOP: Many of the issues he's championing aren't popular with the public — at all. Per the latest NBC/WSJ poll:
50% of Americans have little to no confidence that Republican efforts to repeal and replace Obamacare will make things better, versus just 21% who have some or a great deal of confidence.
57% agree with the statement that free trade is good, versus 37% who think it's bad.
60% believe immigration helps more than it hurts, versus 32% who think it hurts more than it helps
A combined 67% believe action is needed to global climate change, versus a combined 32% who disagree.
And 57% of Americans say that the government should do more — the highest percentage here on this question dating back to 1995 — while 39% say the government is doing too many things.
Now Trump does back more government involvement (on infrastructure, for example) than many of his Republican colleagues do, but he's also for smaller government on other matters (taxes, regulations). Still, on the other key issues above -- health care, trade, immigration, climate change — Trump's administration and policies are playing to the minority of Americans, not the majority. As NBC/WSJ co-pollster Fred Yang (D) puts it, "Trump may have won the election, but he is losing the electorate." If the border wall (more on that below) were popular, he'd get it, or at least have a much better chance of getting it. Ditto repeal and replace. But right now, a president with a 40% approval rating is playing to 40% of the country — or less than that.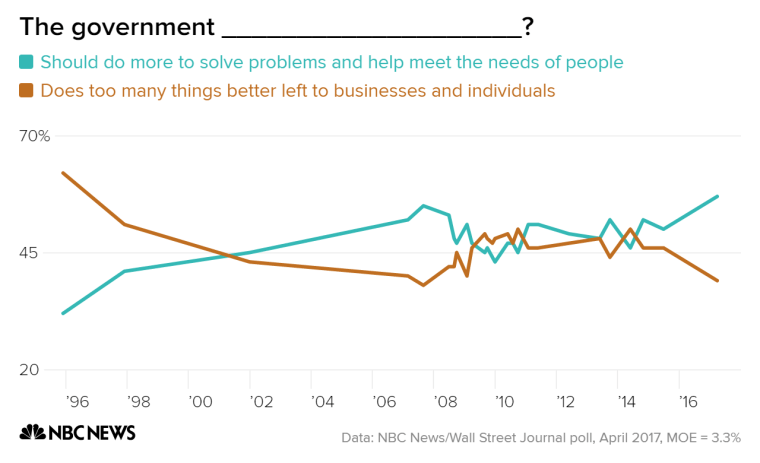 56% are satisfied with economy, but there's something going on inside of those numbers
Despite many of the rough numbers for Trump in the NBC/WSJ poll, there are two real bright spots. The first is Syria, with 62% supporting the recent military action there and 50% approving of his handling of the country. The second bright spot is the economy, with 56% of Americans saying they're satisfied about the current state of the economy -- the highest percentage on this question since 2001. But there's an interesting thing going on with those economic numbers: Republicans are MUCH MORE satisfied about the economy (going from 34% on this question in 2015 to 66% now), while Democrats are pretty much unchanged (from 52% in 2015 to 47% now). And it raises the question: Is the economy really different today than where it was two years ago? Or is the only real difference who's sitting in the White House?
Who's popular and who isn't
The NBC/WSJ poll measured the popularity of key politicians and institutions. Here is how they rank — from most popular to least popular:
Federal Bureau of Investigation: 47% positive, 18% negative (+29)
Planned Parenthood: 50% positive, 28% negative (+22)
Barack Obama: 52% positive, 33% negative (+19)
Neil Gorsuch: 30% positive, 17% negative (+13)
National Rifle Association: 45% positive, 33% negative (+12)
Ivanka Trump: 33% positive, 31% negative (+2)
Mike Pence: 38% positive, 39% negative (-1)
Democratic Party: 34% positive, 39% negative (-5)
Donald Trump: 39% positive, 50% negative (-11)
Republican Party: 31% positive, 47% negative (-16)
Paul Ryan: 22% positive, 40% negative (-18)
Two quick observations: One (and we've said this before), Planned Parenthood and the NRA are MUCH more popular than the Washington rhetoric from Republicans or Democrats would suggest. Two, 19% of Republicans and Trump voters have a negative view of Ryan, which helps explain his increased unpopularity in this survey.
Trump retreats on the border wall — at least for now
NBC's Leigh Ann Caldwell: "President Donald Trump has indicated that he's willing to back away from his demand that a government funding bill include money to build a wall on the Southern border, a move that could help clear the way for Congress to avoid a shutdown. A senior administration official tells NBC News that the president is open to obtaining funding for the border wall in the regular appropriations process for 2018 later this year instead of insisting it be included as part of the large spending bill to keep the government's lights on past this week. Such a development would be welcome news on Capitol Hill as congressional negotiators struggled to work past the administration's demands that few members wanted." Remember, White House Reince Priebus telegraphed this on "Meet the Press" Sunday, when he said the administration was looking for more border SECURITY funds, not necessarily border WALL funds.
Trump at 100 days
Be sure not to miss these two pieces on Trump's first 100 days in office. NBC's Benjy Sarlin: "[H]e has made no progress on major legislation, a development that's especially troubling for a White House with unified control of government. His one significant item on the Hill, health care reform, crashed and burned. Instead, the president's had to settle for more limited victories via executive orders, along with a successful Supreme Court pick that unified his party... But supporters say such judgments are premature, not to mention off base. They describe the White House as a work in progress that's made a number of less-heralded moves that could pay off down the line."
And here's Michael Kruse writing for Politico: "Trump has perfected a narrative style in which he doesn't merely obscure reality—he tries to change it with pronouncements that act like blaring, garish roadside billboards. Unrelenting in telling his own story, he has defined himself as a success no matter what—by talking the loudest and the longest, and by insisting on having the first word and also the last. And it's worked. Again and again, throughout his adult life, Trump in essence has managed to succeed without actually succeeding." Succeeding without actually succeeding…
Politico: Obama wasn't telling whole story on prisoner swap with Iran
"When President Barack Obama announced the 'one-time gesture' of releasing Iranian-born prisoners who "were not charged with terrorism or any violent offenses" last year, his administration presented the move as a modest trade-off for the greater good of the Iran nuclear agreement and Tehran's pledge to free five Americans," Politico writes. "But Obama, the senior official and other administration representatives weren't telling the whole story on Jan. 17, 2016, in their highly choreographed rollout of the prisoner swap and simultaneous implementation of the six-party nuclear deal, according to a POLITICO investigation... In reality, some of them were accused by Obama's own Justice Department of posing threats to national security."
Trump's day
At 11:20 am ET, President Trump gives remarks at the United States Holocaust Memorial Museum's National Days of Remembrance… And at 3:00 pm ET, he participates in a roundtable with farmers.
What were other presidents doing on April 25?