WASHINGTON — Three characteristics have defined Donald Trump's transition and presidency since his November 2016 election win a year ago: conservative celebrations, controversies and chaos.
The conservative celebrations include Trump's inauguration on Jan. 20; the confirmation of Supreme Court Justice Neil Gorsuch; the withdrawal from the Paris climate agreement; and the Republicans' special congressional victories in Georgia and Montana.
The controversies have been the Russia investigation; the indictment of former Trump campaign chairman Paul Manafort; the firing of James Comey as FBI director; Trump's response to the violence in Charlottesville, Virginia; and his charge that his predecessor, Barack Obama, wiretapped him.
And the chaos: the administration's implementation of its travel ban; the exit of Reince Priebus as chief of staff; the rise and fall of Anthony Scaramucci; the "fire and fury" rhetoric aimed at North Korea; Trump vs. Senate Majority Leader Mitch McConnell; Trump vs. Senate Foreign Relations Committee Chairman Bob Corker; and the president's Twitter account.
"Many presidents think in terms of one year, four years, eight years," said NBC News presidential historian Michael Beschloss. "Oftentimes, it seems as if Trump concentrates on the next few hours or the next news cycle."
All three descriptions — celebrations, controversies and chaos — have produced a presidency unlike any other in modern times.
Photos: Trump's First Year Strides and Stumbles
In the year since his surprise victory, Trump has overseen the unemployment rate dropping to 4.1 percent and the Dow Jones average climbing above 23,000. He's also consolidated his hold on the Republican Party, largely kept his base of supporters and reversed some of Obama's top policies.
"Over 50 legislation approvals, massive regulation cuts, energy freedom, pipelines, border security, 2nd Amendment, Strong Military, ISIS, historic VA improvement, Supreme Court Justice, Record Stock Market, lowest unemployment in 17 yrs!" Trump tweeted last month, boasting that "perhaps no administration has done more" in its first nine months than his had done.
But he also holds the lowest job-approval rating for a new president in modern times; he's attacked 87 different individuals and institutions by name via Twitter according to NBC News' count, including GOP leaders; he's seen eight high-profile exits from his administration; and he's yet to sign any landmark legislation into law.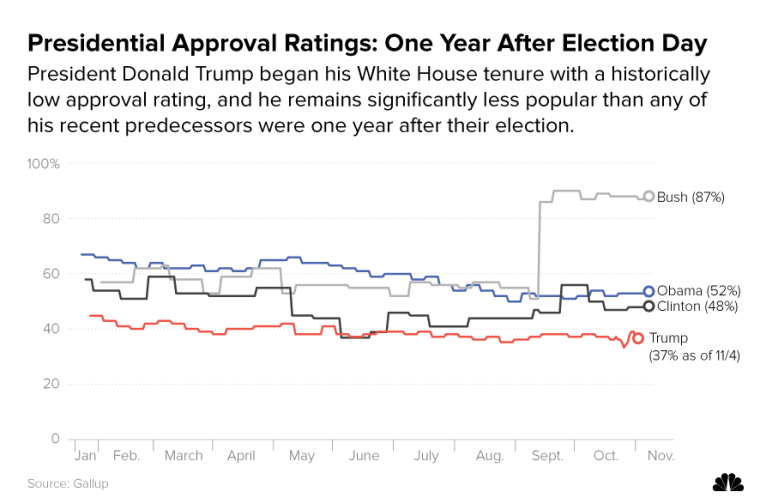 On top of it all, his administration has filled just about half of the Senate-confirmable positions that each of the previous two administrations filled at the same point in time.

What also sets Trump apart from his predecessors is his lack of outreach outside of his base of voters, says political scientist Jonathan Bernstein. "He's made virtually no effort at all to reach out to anyone but his strongest supporters, which would be risky even for presidents who were elected with strong majorities" — unlike Trump.
Amy Fried, a political scientist at the University of Maine, focuses on Trump's lack of major legislative victories. There hasn't been a modern president, she said, "who pays so little attention to what is needed to be effective at governing and has delivered so little legislatively."
And Beschloss, NBC's presidential historian, observes how little Trump has adapted over the last year. "We often see an evolution of a president's leadership skills as he learns the presidency. Look, for instance, at the first years of JFK and Clinton," he said.
"Hard to see much change in Trump's methods and approach."