WASHINGTON — Our new national NBC News/Wall Street Journal poll provides a "Choose Your Own Adventure" outlook for the midterm elections that are now just two weeks away.
The good news for Democrats suggesting a sizable blue wave: They continue to lead in congressional preference; they're doing better among likely voters than registered voters, which is unprecedented in our poll for a midterm cycle; they lead among female voters by a whopping 25 points for a second-straight NBC/WSJ poll; and they remain ahead among independents
The good news for Republicans indicating that they have a shot at retaining control of Congress: President Donald Trump's 47 percent approval rating is at his all-time high among registered voters (it's 45 percent among likely voters); they lead Democrats on the economy by a record amount; and GOP enthusiasm continues to grow.
And the signs point to a jump ball: In the most competitive House battlegrounds — many of which take place on Republican turf — congressional preference is essentially tied.
But there is one unmistakable finding in our poll: Turnout is going to be sky-high this midterm season, surpassing vote totals from previous midterm cycles. And that record turnout means that the eventual outcome in November is likely to be unpredictable.
Among all registered voters, 65 percent say they have high interest in November's elections — registering either a "nine" or "10" on a 10-point scale — the largest percentage for a midterm electorate dating back to 2006 in the NBC/WSJ poll.
By party, 72 percent of Democrats say they have high interest in the upcoming election, versus 68 percent of Republican respondents. "Midterms are about mobilization, and we are headed into the stretch run with unprecedented enthusiasm among both parties," says Democratic pollster Fred Yang, who co-conducted the NBC/WSJ poll with Republican pollster Bill McInturff.
What's more, the percentage of women, Latinos and young voters expressing high interest in the midterms has increased by double digits from their average in the past NBC/WSJ polls this year.
The turnout we'll see in two weeks will be unprecedented for a midterm. The money we're seeing — especially from Democratic candidates — is unprecedented. Also unprecedented is the fact that the sitting president is embracing that the midterms are a referendum on him.
And it all underscores that this election has no real historical comparison — not 2006, 2010 or 2014. Get ready to be surprised.
The NBC/WSJ poll on the issues: GOP leads on economy, Dems lead on health care
The NBC/WSJ poll finds Republicans with a 15-point advantage on the question of which party better deals with the economy — their biggest lead on this question in the poll's history. Forty-three percent of registered voters say the GOP better handles the economy, while 28 percent pick the Democrats; the GOP held a 14-point edge on this question in August.
Republicans also hold the advantage on trade (R+17), handling the Supreme Court nomination process (R+3) and changing how Washington works (R+1).
Democrats, meanwhile, have the advantage on looking out for women's interests (D+29), health care (D+18), looking out for the middle class (D+8) and immigration (D+4).
Asked which one or two issues would be the most important factor in deciding their vote, 38 percent said the economy and jobs; 31 percent said health care, 23 percent said changing how things work; and 22 percent each said looking out for the middle class and immigration. (Respondents were allowed up to two answers.)
Americans are divided over everything — except division itself
Also in the NBC/WSJ poll, 80 percent of registered voters believe that the United States is divided. That includes 85 percent of Democrats, 85 percent of Clinton voters, 73 percent of Republicans, 72 percent of Trump voters, 83 percent of rural residents, 80 percent of suburban dwellers and 78 percent of respondents living in Urban America.
Dante Chinni and Sally Bronston: "And the nation's political divides, in particular, have voters concerned. Nine out of 10 of those surveyed say the divisions between Democrats and Republicans are a serious problem. Beyond that, 61 percent say those divisions are a very serious problem."
Of course, Democrats and Republicans are divided over what is responsible for the division. Some of the top Republican responses: "Barack Obama," "Liberals," "Democrats" and "The Media."
Some of the top responses among Democrats were: "Donald Trump," "The Republican Party" and "The Media."
More from the NBC/WSJ poll: Public remains divided on Kavanaugh
And speaking of division, the NBC/WSJ poll finds that voters remain deeply divided along partisan lines over Brett Kavanaugh's ascension to the Supreme Court, one of us writes.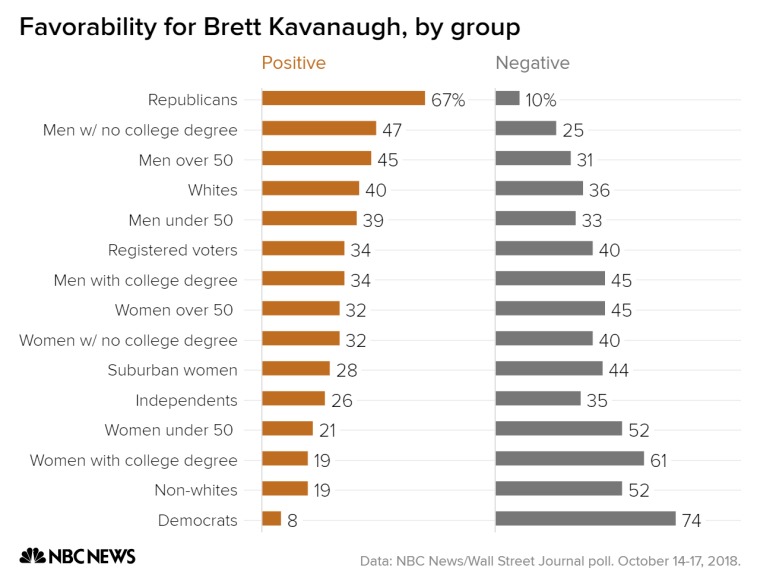 "Overall, Kavanaugh remains underwater on personal favorability, with 34 percent of voters reporting a positive view of him, while 40 percent have a negative one. Asked a different way, 40 percent of registered voters say they favor Kavanaugh's confirmation to the high court, while 36 percent oppose it. About one-in-five (21 percent) say they need to know more about him. But inside the numbers, partisanship reigns. Eighty percent of Republicans favor his confirmation to the high court, with just 6 percent opposing it. Just 7 percent of Democrats favor his addition to the court, while two-thirds of Democrats (66 percent) disagree."
Saudi Arabia's explanation for Khashoggi's death draws criticism
NBC News' Phil McCausland: "Saudi Arabia said Friday evening that 18 of its citizens are responsible for the killing of Saudi journalist Jamal Khashoggi at its Istanbul consulate, with the Saudi general prosecutor claiming that the writer's death was a result of a "quarrel and fighting by hand.' ... The Washington Post, the newspaper that Khashoggi wrote for, said that this is just the latest falsehood from a Saudi government that has lacked credibility since the journalist first disappeared."
"'The Government of Saudi Arabia has shamefully and repeatedly offered one lie after another in the nearly three weeks since Jamal Khashoggi disappeared in their Istanbul consulate,' the Washington Post said in a statement. 'Offering no proof, and contrary to all available evidence, they now expect the world to believe that Jamal died in a fight following a discussion. This is not an explanation; it is a coverup.'"
Notably, congressional Republicans aren't buying Saudi Arabia's story, either. "We've got to get to the bottom of it. In Saudi Arabia, you do not do something of this magnitude without having clearance from the top. We need to find out who that is and hold him accountable," Sen. Thom Tillis, R-N.C., said on "Meet the Press" yesterday.
Recapping last night's Gillum-versus-DeSantis debate
The dispatch from NBC's Ali Vitali: "All the chatter about Andrew Gillum and Ron DeSantis being on opposite sides of the political spectrum was proven right [last night]. The two men vying to become Florida's next governor didn't agree on much of anything … in Tampa during their first debate. Fun fact: it was also the first time these men ever met!"
One highlight, per Vitali: "Asked if he thought the president was a good role model … DeSantis couldn't have made a more obvious dodge. He acknowledged he and his wife were 'poking fun at ourselves' for the way the primary was going in that viral ad [tying his family to Trump], but pivoted quickly to praising [the president] for moving the U.S. embassy to Jerusalem from Tel Aviv. DeSantis said giving your word and keeping it as an elected official is a model of what we're supposed to do and that moving the embassy was the right move."
"When it came time for Gillum to answer the question he joked that he was "confused by the question" and had moderator Jake Tapper repeat it. "That's what I thought," he said to laughs, before saying Trump is "not" a good role model. "Donald Trump is weak and he performs as all weak people do – they become bullies. And Mr. DeSantis is his acolyte. He's trying out to be Trump's apprentice."
By the way, a CNN poll released before the debate showed Gillum ahead of DeSantis by double digits among likely voters, and it also showed Democrat Bill Nelson leading Republican Rick Scott by 5 points.
Trump campaigns for Ted Cruz in Texas
At 7:30 p.m. ET, Trump holds a rally in Houston for Sen. Ted Cruz, R-Texas.