WEST CHESTER, Penn. — In a country marked by deep political divides, higher education has become another partisan marker, with polls showing that Americans who have a college degree trending toward Democrats in their politics and less likely to support President Donald Trump.
The political shorthand that's evolved around education, however, misses a larger point.
For decades a college education has been held up as just one entry point for those seeking a bigger paycheck, broadened career choices and more opportunity.
But in the 21st century, it's become more about keeping up with the middle class than a path to the upper-middle — and the importance of that is growing.
In 2016, the median earnings figure for a high school graduate was $29,969, up about $4,000 from 2005, according to census data. But for those who had a bachelor's degree, the median earnings figure was $51,676, up nearly $8,000 from 2005. In other words, not only were the earnings of college-educated people higher, it was growing faster.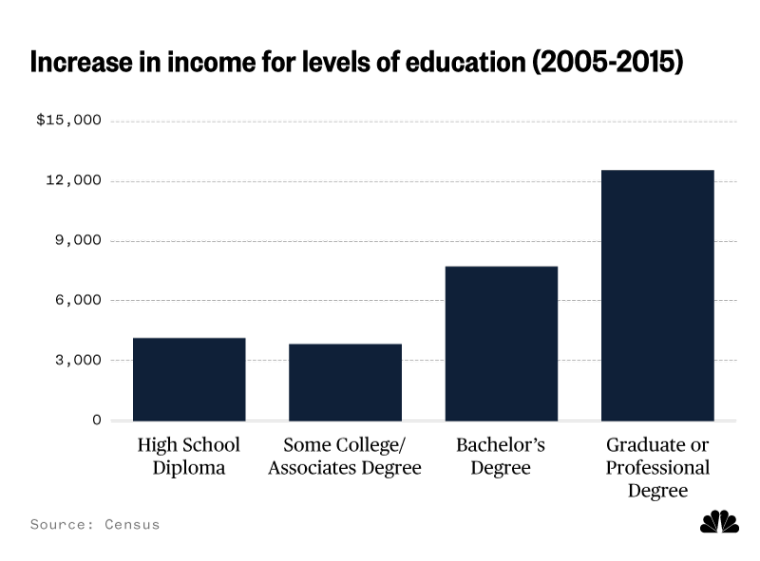 And income is only one measure. Data from a variety of sources shows that college-educated people are more likely to live in urban settings, to hold full-time jobs, own their homes and vote. In short, while a college education isn't necessarily a measure of intelligence, it is an increasingly important measure of economic prosperity and lifestyle.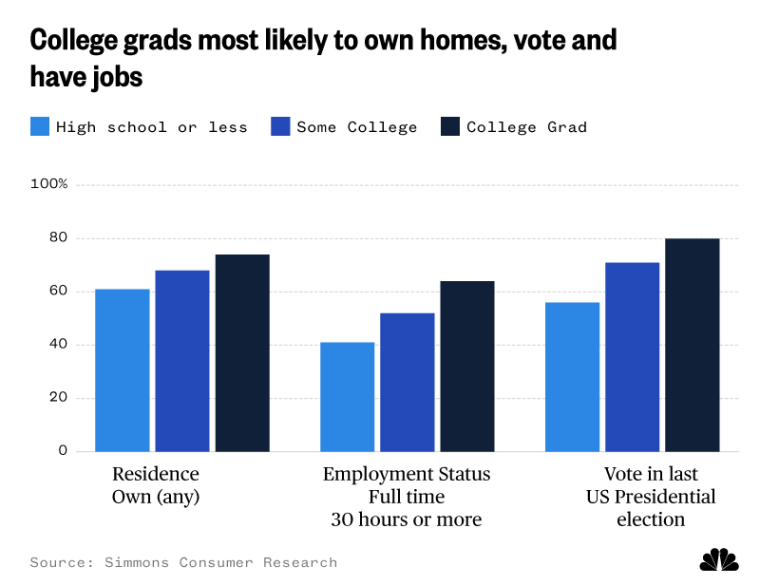 There are plenty of numbers demonstrating those differences, but to see it from the ground-level, NBC News examined two counties in Pennsylvania — Chester and Schuylkill.
The percentage of people with bachelor's degrees in those two areas looks very different — about 50 percent in Chester and roughly 15 percent in Schuylkill — and the presidential vote that came out of them looked nothing alike in 2016. But those facts only scratch the surface of the split between Chester and Schuylkill, two places that are 70 miles and a world away from each other.
Chester County — Mass transit, microbrews and gourmet toast
Just outside of Philadelphia, on the edge of the Main Line train, the borough of West Chester offers an example of what life is like in a place where college degrees are plentiful. About 53 percent of the people who live here hold at least a bachelor's degree, compared to the national average of about 30 percent, and life is marked by a lot of consumer options and higher costs. The average home listing in the county sits at just over $400,000, according to Zillow, and median household income is close to $90,000.
The commuters here show up at the Exton train station at 7:30 am with coffee cups in their hands that they could have gotten from one of the many Starbucks in the area. Or, perhaps, they stopped off to get some avocado toast at the nearby Famous Toastery.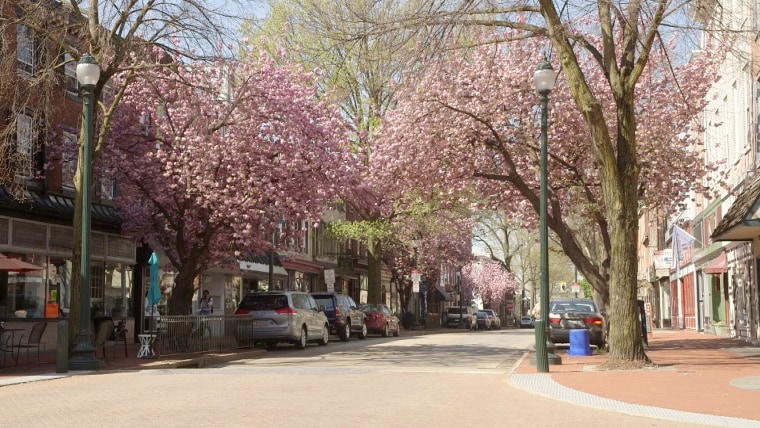 "This is home. It's incredibly beautiful," says John Young, who works at a website design firm in Philadelphia. "There's a tremendous amount of open space. Chester County is one of the most affluent counties in Pennsylvania, and the way that shows is in the amount of open space, in the educated population. If you've been in downtown West Chester, you know there's lots and lots of educated folks there."
And lots of ways to spend money at restaurants, boutiques and cafes. The downtown Starbucks sits across from a microbrewery and both are just down the street from an art-deco theater that was turned into a specialty hotel. There's a Barnes & Noble bookstore near the Exton train stop, but also smaller used book stores downtown and the massive Baldwin's Book Barn just outside of it — all economic activity that creates jobs.
These points are not empty details. Data from Simmons Research, a marketing and profiling firm, shows how much they are part of a larger cultural and economic narrative that comes with a college education. People with a four-year degree are much more likely to dine out, visit a museum or read a book.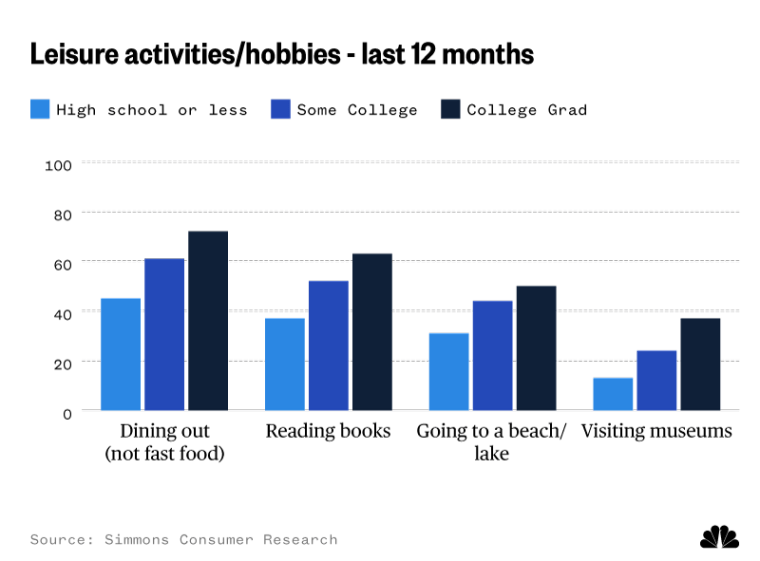 And Chester County is growing. Since 2010, the county has added about 20,000 people and seen the percentage of adults with a college degree climb by about 2.5 percentage points.
In part, that's because of what is expected in Chester. College-graduate parents tend to beget college-graduate children. And that is apparent talking to the guidance counselors at West Chester's Henderson High School which is ranked in the top 30 high schools in the state, according to U.S. News and World Report.
Somewhere between 80 percent and 90 percent of the 2018 class is headed off to a four-year college next fall, according to administrators, and by senior year they've been thinking about their next educational step for some time.
The expectations are often set by parents before the students' freshman year, says Assistant Principal Andrew Grear. "I think kids have that model, and they see that, and they see the life their parents have provided for them, working in these different jobs outside of West Chester. And that's a huge influence to where, you know, their thinking is starting to take shape, even in middle school."
Even for the students who would be the first to attend college in their family, the community's educational expectations weigh heavily, he says. "They look at, you know, a college degree's going to open more doors than without. And I don't want to, you know, be detailing cars or doing some lower-paying job, then I'm going to be in my mid-20s, wanting to start a family, where do I go?"
Politically speaking, Chester County flipped to Democrat Hillary Clinton in 2016 (she won it by nine points) after it voted for Republican Mitt Romney narrowly in 2012. And in some ways it is a prime example of why the Trump-era GOP is struggling with college-educated voters.
The president's message aimed at voters who feel "left behind" in the global economy is not well-designed for this community.
Schuylkill County — Manufacturing, Yuengling and a shrinking population
A bit more than an hour north of West Chester sits Pottsville, the county seat of Schuylkill and the birthplace of Yuengling Beer. The brewery, the oldest such concern in the United States, still brews the lager it has since 1829 behind the big green wooden doors on Mahantongo Street. But a downtown marked by empty storefronts indicates much about the city and its home county has changed in recent decades. Like much of this area of the state, declines in manufacturing employment have taken a toll.
The differences with Chester run deep. Commutes are measured by time driven on winding hillside roads rather than in traffic or on public transportation. The median household income in the county is about $47,000 and the median house listing sits at just under $75,000, according to Zillow.
And the consumer experience is markedly different. There aren't many boutiques here, but plenty of smoke shops. Beyond the local comic book store there isn't a bookseller in Pottsville and there isn't a Starbucks in the entire county.
But none of those facts mean Pottsville still can't have a bright future, says, Savas Logothetides, even if it looks different from Chester's posh exurban existence. Logothetides owns Wheel, a downtown restaurant that specializes in grilled cheese sandwiches and craft beer, and he's something of an exception in the town. He left Pottsville to get a bachelor's degree at the University of Pittsburgh and then came back home.
There was a strong draw. His family owns several buildings in the area, including the one that houses Wheel. Beyond that, when he looks around the town he sees potential — attractive old buildings and rolling scenery around them. The hopes, he says, lie in holding onto the area's young people and he doesn't see a college degree as crucial their future.
There are still good jobs to be had in town, he says, including at Wheel, where he believes he pays his staff a decent wage for the area. There's also Yuengling and other manufacturing jobs Schuylkill. "You need to do what you're passionate about," he says. "You need to do what you're good at, and college isn't necessarily the be-all, end-all."
That is a more common sentiment in Schuylkill County than is Chester. There is generally less pressure to get a bachelor's degree, says Audrey Lantz, a counselor at Schuylkill Haven High School.
About 65 percent of the school's graduates will head to a four-year college or university, another 10 percent will go to a two-year college or technical school, about 2 percent will join the military and the rest will join the workforce. Even without a college degree there are a lot of jobs available right now, Lantz says.
"There's a lot of manufacturing in this county, but those manufacturing companies also need HR people, they need salesmen, they need business managers." she told NBC News. "You know, a college degree is wonderful for certain things, but if you're somebody who's looking to get out there and start making money right away and make a living for yourself, there's so many jobs out there that you could do that."
Indeed, even with the losses in manufacturing jobs overall, an aging population has left the Schuylkill area with many jobs to fill. The unemployment rate in the county for March was 5.7 percent, still above the national average (4.1 percent), but below the 6.5 percent of last March. Things have gotten better here.
And in the long run it could be that college degrees are detrimental to the future in places like Pottsville. census data show that the higher your educational attainment, the more likely you are to live in a different state.
Figures from 2016 showed that 67 percent of high school grads lived in the state of their birth. The figure dropped to 60 percent for this with a some college or a two-year degree and to 50 percent among those with a bachelor's degree or higher.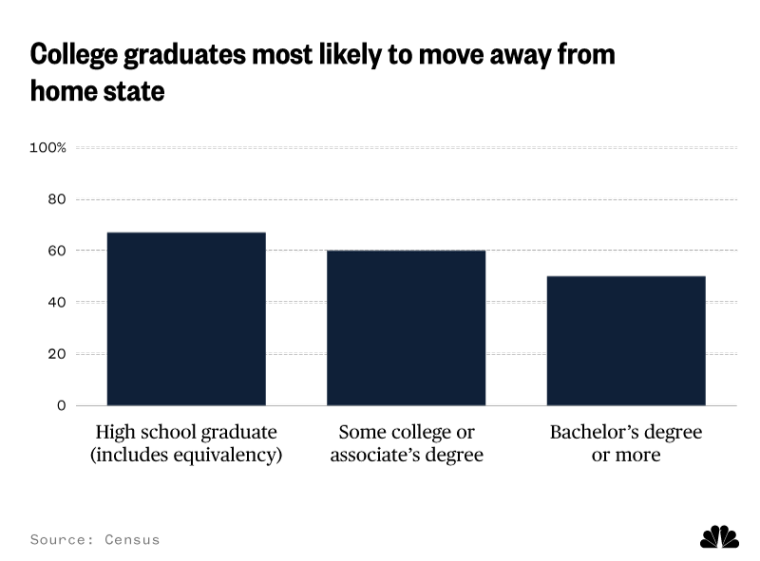 And the movement within a state for those with college degrees trends toward urban areas. Census data show that Centre County, the home of Pennsylvania State University, has added about 9,000 people since 2015. More than 800 of those people were from Schuylkill County, according to census estimates.
What does it all mean politically here? Those familiar with Trump's support from voters without a bachelor's degree won't be surprised to learn that he won Schuylkill by an enormous 43-point margin. Romney won here as well in 2012, but by only 14 points.
But the larger point is that a lot goes into the education divide that we see in the 2016 results and in the polling since Trump's inauguration. The split is about more than diplomas and degrees and it's much bigger than politics.
When you look closely, the people in Chester and Schuylkill counties don't just have different levels of educational attainment, they inhabit different worlds.