A majority of Hillary Clinton's 2016 voters believe that the Russian government interfered in the 2016 election, that Clinton would be president if not for the Russians' meddling, and that President-elect Donald Trump is too close to Russian leader Vladimir Putin.
A majority of Trump's voters are equally convinced of exactly the opposite.
A new NBC News/ Wall Street Journal poll shows that the country is starkly divided over perceptions of Russia, Putin and the U.S. intelligence community's assessment that the Kremlin worked to boost Trump's White House bid. Those perceptions, unsurprisingly, are strongly driven by partisanship.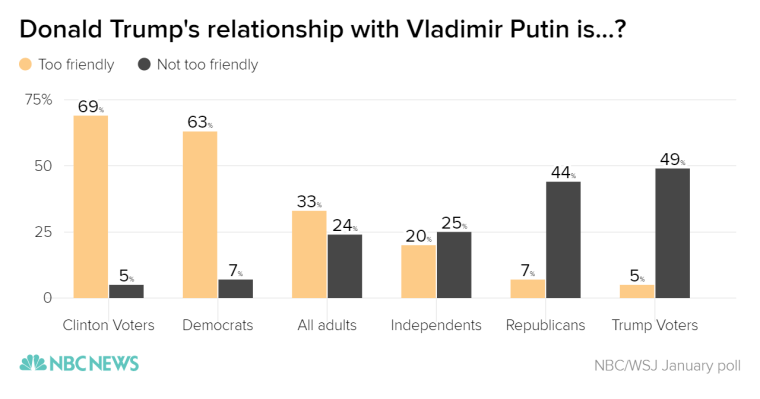 A third of Americans – 33 percent – say that Trump's relationship with Putin is "too friendly," while 24 percent disagree. But among Democrats, 63 percent deem the relationship "too friendly," while just seven percent of Republicans say the same.
The divide is even more stark specifically among Clinton and Trump voters. Sixty-nine percent of Clinton voters – but just five percent of Trump voters --- say that Trump is too cozy with Putin.
A similar split is mirrored in Americans' perceptions of Russian interference in the election.
Earlier this month, the U.S. intelligence community released an assessment stating that Russia aimed to affect the election's outcome, in part by launching a cyber operation targeting the Democratic National Committee. Trump has since warred with intelligence officials and suggested that they may have selectively leaked unverified speculation about the Russians' espionage efforts, but he also appeared to acknowledge in his January 11 press conference that Russia was the perpetrator of the DNC hack.
But his own voters apparently remain unconvinced.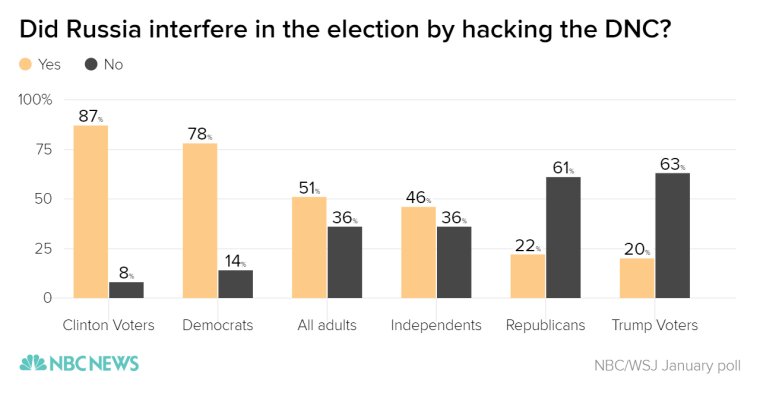 Overall, 51% of Americans in the new NBC/WSJ poll say they believe Russia interfered with the election by hacking into DNC computers. That includes 87 percent of Clinton voters but just 20 percent of Trump voters.
Clinton backers were also far more likely to say that Russia not only interfered but that it significantly affected the outcome of the election. Among Democrats who said Russia did interfere in the election through hacking, 84 percent said Russia's efforts did affect the election's outcome, while just 12 percent disagreed.
Among the (far fewer) Republicans who said they did believe that Russia engaged in hacking, 86% said the Kremlin's interference did NOT affect the election's outcome, while only 12% said that it did.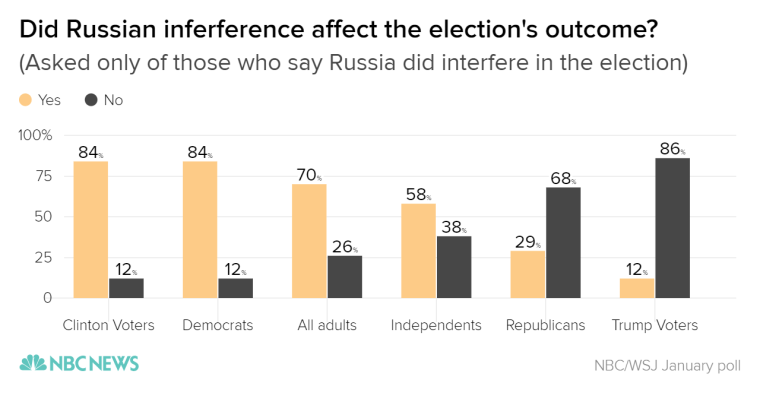 A significant proportion of Clinton fans also say that their candidate would have been elected if not for Russian meddling.
Overall, 54 percent of Clinton voters surveyed said that Trump would have lost the 2016 contest if Russian government hackers had not worked to influence the election.
The share of Trump voters who agreed? Less than one percent.