First Read is your briefing from Meet the Press and the NBC Political Unit on the day's most important political stories and why they matter
WASHINGTON — Not only is President Trump soon expected to approve release of that controversial memo alleging surveillance abuses, he's also now publicly attacking the top Justice and FBI leaders — including, we assume, the very people he nominated to serve in his administration.
"The top Leadership and Investigators of the FBI and the Justice Department have politicized the sacred investigative process in favor of Democrats and against Republicans - something which would have been unthinkable just a short time ago. Rank & File are great people!" Trump tweeted this morning.
The question everyone needs to be asking themselves this morning is: What is the bigger story — the Russia investigation itself, or the investigative practices that went into it?
Conservative Wall Street Journal columnist Kimberley Strassel, who appears to have a heads-up on what's in the memo, argues in favor of the investigative practices being the bigger story. And read her today to understand where the White House and Trump allies will likely say when the memo comes out:
"Did the FBI have cause to open a full-blown counterintelligence probe into an active presidential campaign?"
"If the FBI obtained permission from the Foreign Intelligence Surveillance Court to monitor Trump aide Carter Page based on information from the Christopher Steele dossier, that in itself is a monumental scandal. It means the FBI used a document commissioned by one presidential campaign as a justification to spy on another."
"The FBI may argue it had good cause to look into Mr. Page. But if months of wiretaps didn't turn up anything (and surely we'd have heard if they did), the FBI also had a duty to cease such a liberty-busting intrusion."
On the other hand, here is what we already know about the Russia investigation:
The U.S. intelligence community concluded that Russia interfered in the 2016 presidential election – to help Trump's campaign and hurt Hillary Clinton's. It included the hacking and release (via WikiLeaks) of Democratic emails.
Trump actively campaigned on the WikiLeaks disclosures in the final month of the presidential election. "Boy, I love reading those WikiLeaks," he said on Nov. 4, 2016.
In June of 2016, Donald Trump Jr., Jared Kushner, and Paul Manafort met with a Kremlin-connected lawyer at Trump Tower — after Trump Jr. was told by publicist Rob Goldstone that Russia had dirt on Hillary Clinton. ("This is obviously very high level and sensitive information but is part of Russia and its government's support for Mr. Trump.")
A month earlier, in May of 2016, Trump campaign adviser George Papadopoulos told Australia's top diplomat — during a night of heavy drinking — that Russia had dirt on Clinton. (Two months later, "when leaked Democratic emails began appearing online, Australian officials passed the information about Mr. Papadopoulos to their American counterparts," the New York Times writes.)
In the final months of the 2016 election, Donald Trump Jr. was exchanging direct messages with WikiLeaks, the Atlantic reported. ("'Hiya, it'd be great if you guys could comment on/push this story,' WikiLeaks suggested, attaching a quote from then-Democratic nominee Hillary Clinton about wanting to 'just drone' WikiLeaks founder, Julian Assange. 'Already did that earlier today,' Trump Jr. responded an hour-and-a-half later. 'It's amazing what she can get away with.'")
Trump fired FBI Director James Comey, and told NBC's Lester Holt it was because of Russia. ("When I decided to [fire Comey], I said to myself, I said you know, this Russia thing with Trump and Russia is a made up story.")
And in less than a year, the Mueller probe has resulted in the guilty pleas (for lying to the FBI) of Papadopoulos and former Trump national security adviser Michael Flynn. And it has produced two indictments — of former Trump campaign chairman Paul Manafort and campaign aide Rick Gates.
So ask yourself: What's the bigger story — the Russia investigation or the investigative practices?
And what's the bigger distraction?
Re-upping: The Nunes memo is about surveillance on Carter Page, so here's his story
We wrote this yesterday, but it bears repeating again:
Here's the reason why House Intel Committee Chairman Devin Nunes and the Trump White House want to release the memo: They believe "it makes the case that F.B.I. and Justice Department officials acted inappropriately when they sought the highly classified warrant in October 2016 on the campaign adviser, Carter Page," the New York Times writes. As Nunes said yesterday, "[I]t's clear that top officials used unverified information" — we assume he's talking about the Steele dossier — "in a court document to fuel a counter-intelligence investigation during an American political campaign."
In other words, Trump and Nunes apparently want to argue: The FBI used a Democratic-funded dossier to get a wiretap on a Trump campaign official during the 2016 campaign. And therefore, the entire Russia investigation is suspect.
The 2016 dossier claims that Page "met with Russians and discussed quid-pro-quo deals relating to sanctions and Russia's interference in the election," PolitiFact recounts.
But back in 2015, the U.S. government already knew that Page had passed documents to a Russian intelligence operative two years earlier. Buzzfeed: "A former campaign adviser for Donald Trump met with and passed documents to a Russian intelligence operative in New York City in 2013. The adviser, Carter Page, met with a Russian intelligence operative named Victor Podobnyy, who was later charged by the US government alongside two others for acting as unregistered agents of a foreign government. The charges, filed in January 2015, came after federal investigators busted a Russian spy ring that was seeking information on US sanctions as well as efforts to develop alternative energy. Page is an energy consultant."
"A court filing by the US government contains a transcript of a recorded conversation in which Podobnyy speaks with one of the other men busted in the spy ring, Igor Sporyshev, about trying to recruit someone identified as 'Male-1.' BuzzFeed News has confirmed that 'Male-1' is Page."
The central question to ask: Was the Steele dossier the only evidence supplied to get surveillance on Carter Page? Or was there other evidence, too?
NBC/WSJ poll: The percentage of Americans who say they closely follow pro football is down — and the drop has come from Trump's base
As one of us writes, "Just days before the Super Bowl, 48 percent of Americans say they'd encourage a child who wanted to play football to play a different sport due to concerns about concussions — up 8 points since the same question was asked four years ago, according to the latest national NBC News/Wall Street Journal poll."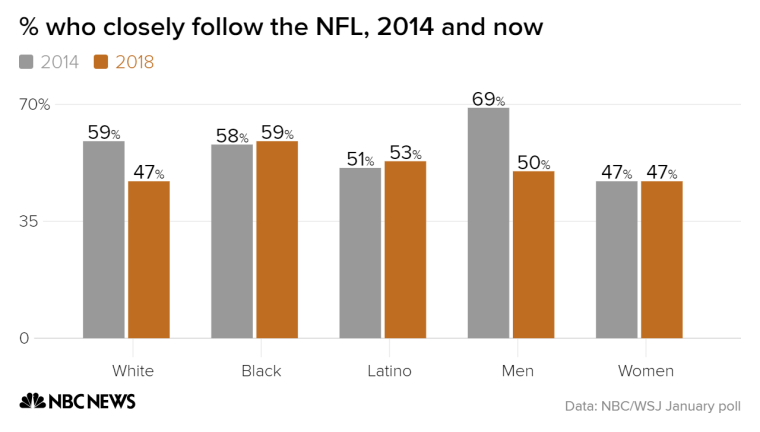 Also in the survey, "49 percent say they follow the NFL closely, down 9 points since 2014. By contrast, 51 percent say they don't follow it closely, which is up 9 points from four years ago. The biggest declines in close followers have come from demographic groups making up key parts of President Donald Trump's political base; Trump has criticized NFL players for taking a knee in protest at racial inequality before games. Those demographic groups include men ages 18-49 (a drop of 24 points), men without college degrees (-23 points) and white men (-22 points)."
"By contrast, there has been almost no change among African-Americans (59 percent of whom say they closely follow pro football, versus 58 percent in 2014); Latinos (53 percent are close followers now, versus 51 percent four years ago); or women (47 percent now, same as in 2014)."