First Read is your briefing from Meet the Press and the NBC Political Unit on the day's most important political stories and why they matter
WASHINGTON — Ahead of Tuesday's primaries in Texas, the early-vote numbers are stunning: Nearly 50,000 more Democrats than Republicans already have voted in the state's 15 largest counties, 465,235 to 420,329, according to data as of Friday.
What's more, the number of Democrats who have voted early is up 105 percent (!!!) compared with the last midterm cycle in 2014, while the GOP early vote number is up 15 percent from four years ago.
None of this is to say that Texas — especially the likely Senate contest between incumbent Sen. Ted Cruz, R-Texas, and Democrat Beto O'Rourke — will flip in 2018. After all, these totals don't include the more rural counties, which lean Republican. Despite the Dem improvement in Texas in 2016, Hillary Clinton still lost the state by 9 points (though that was slightly better than her losing margin in Iowa). And Latinos in the Lone Star State tend to vote at lower rates than whites do.
But looking at the actual vote totals on Tuesday could give us further confirmation that Democratic voters are fired up — even in states like Texas, which features three GOP-held House races (in Dallas, Houston and San Antonio) that the Cook Political Report puts in either the "Toss Up" or "Lean" category.
"One big question to watch Tuesday is whether the wave of Democratic enthusiasm that has emerged across the country in the last year — and in Texas's early vote tallies — seems big enough way to make a dent in [Democrats' historical disadvantages in places like Texas]," our colleague Dante Chinni writes.
So on Tuesday, one piece of advice: Count the vote numbers between Democrats and Republicans. They could tell quite a story.
$10 million spent on ads in a race for a congressional district that won't exist in November
Here are so more numbers to chew on… Democrats and Republicans already have spent nearly $10 million on ads in this month's upcoming special congressional election in Pennsylvania – a remarkable sum given that the state's new congressional map will fundamentally alter this district in November. And they're expected to spend an additional $2.5 million before the March 13 race.
According to ad-spending data from Advertising Analytics, Republicans as of last week had outspent Democrats by more than a 2-to-1 margin in this race between Democrat Conor Lamb and Republican Rick Saccone, $6.7 million to $3.1 million.
But Lamb had outspent Saccone over the airwaves by a 4-to-1 margin, $2.4 million to $660,000. And because campaigns get discounted ad rates – while outside groups typically pay more — the number of overall broadcast TV spots has been nearly even (3,130 GOP spots as of last week, versus 2,193 for Dems).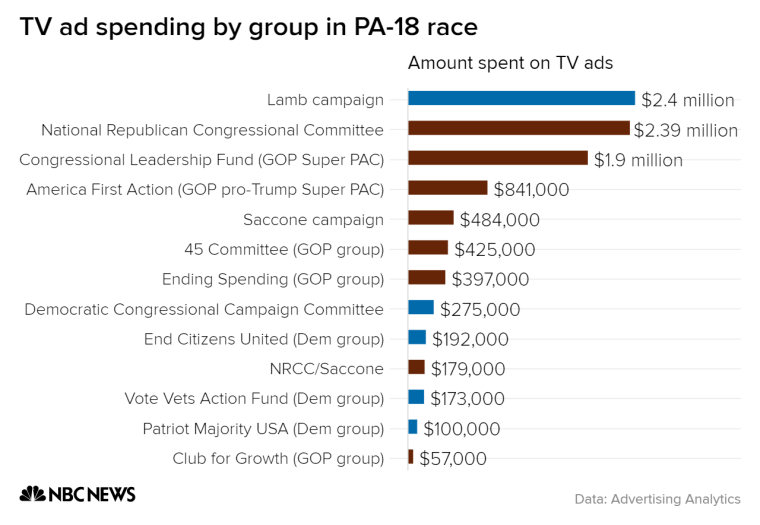 While the nearly $10 million spent on ads is a considerable sum for a single special congressional election in the Pittsburgh area, it pales in comparison to the some $40 million in ads in last year's special congressional election in Georgia.
Mueller wants documents on Trump and campaign associates
NBC's Katy Tur and Alex Johnson: "The grand jury investigating alleged collusion between Russia and Donald Trump's presidential campaign has sent a witness a subpoena seeking all documents involving the president and a host of his closest advisers, according to a copy of the subpoena reviewed by NBC News. According to the subpoena, which was sent to a witness by special counsel Robert Mueller, investigators want emails, text messages, work papers, telephone logs and other documents going back to Nov. 1, 2015, 4½ months after Trump launched his campaign."
"The witness shared details of the subpoena on condition of anonymity. The news site Axios reported Sunday that a subpoena was sent to a witness last month."
Trump meets with Netanyahu amid another bombshell development in the corruption allegations against the prime minister
Israeli Prime Minister Netanyahu visits with President Trump at the White House — and the meeting comes after another bombshell in the corruption allegations against Netanyahu. Haaretz: "Nir Hefetz, Prime Minister Benjamin Netanyahu's "spin doctor" and confidant, reached a deal with police to turn state's evidence in the bribery case involving the Bezeq telecom giant and the Walla news site. Netanyahu, currently in the U.S. for AIPAC and a meeting with Trump, received the news at the Blair House, where he was a guest of the White House."
More: "Hefetz is the third Netanyahu confidant to turn against the prime minister in the ongoing corruption cases. Hefetz is suspected of receiving bribes and obstructing justice as part of what is called Case 4000."
The DACA deadline was supposed to be today
MSNBC's Ari Melber reminds us: "This Monday, March 5 marks the proposed DACA 'deadline' Pres. Trump created for Congress – the date when he pledged to revoke DACA protections if Congress had not acted. Congress has not acted, but President Trump cannot legally end DACA on Monday."
More from Melber: "Two federal courts have blocked Trump from doing so, ruling the administration must keep DACA in force while challenges are heard in the courts. The Supreme Court rejected the Trump administration's request to overrule those courts while the cases are pending. That means President Trump cannot revoke DACA protections, at least while these cases are pending."
"What does this mean for immigrants? The 700,000 immigrants who already had permits may legally applying to renew them. That impacts current DACA recipients, not requests from new applicants."
"No reason" to think Trump will reverse his tariffs on steel and aluminum, per Commerce Secretary Ross
"Commerce Secretary Wilbur Ross said Sunday that he has no reason to believe President Donald Trump will reverse his controversial tariff announcement this week, but left room for the often unpredictable president to change his mind. 'Whatever his final decision is, is what will happen,' Ross said on NBC's 'Meet The Press,'" NBC's Kailani Koenig writes. "'What he has said he has said; if he says something different, it'll be something different.'"
"'The president has announced that this will happen this week. I have no reason to think otherwise,' Ross added."
Obama's former chief of staff accuses Mitch McConnell of watering down 2016 Russia warning
NBC's Koenig also writes up yesterday's "Meet the Press" interview with former Obama Chief of Staff Denis McDonough. "Former White House Chief of Staff Denis McDonough on Sunday said Senate Majority Leader Mitch McConnell 'watered down' a warning about Russia's attempts to interfere in the 2016 election and defended the Obama administration's response to foreign meddling in the campaign. The language in a September 2016 letter from congressional leaders to state election officials was drastically softened at McConnell's urging, McDonough said in an exclusive interview Sunday on NBC's 'Meet The Press.'"