First Read is a morning briefing from Meet the Press and the NBC Political Unit on the day's most important political stories and why they matter
Russia is back in the news, and the White House has three options
Well, that didn't take long. Twenty-four hours after President Trump's address to Congress, the Russia story roared back into the news last night in the form of three different stories, two of which involve Attorney General Jeff Sessions.
Washington Post: "Sessions met with Russian envoy twice last year, encounters he later did not disclose"
Wall Street Journal: "Investigators Probed Jeff Sessions' Contacts With Russian Officials"
The New York Times: "Obama Administration Rushed to Preserve Intelligence of Russian Election Hacking"
The stories about Sessions have led Democratic lawmakers either to call for Sessions to recuse himself from any investigation looking into Russia, or to resign because he misled Congress about his contacts with the Russian government. And now Sessions has three options — and all of them are bad.
One, he agrees to testify before the Senate Judiciary Committee to clean up what he said during his confirmation hearing, and to answer any and all questions about Russia. Two, Sessions bites the bullet and appoints a special prosecutor — to save himself from a committee grilling and delay the resignation calls. Or three, he digs in. But if Team Trump choose Door No. 2 and the special prosecutor, it needs to do so ASAP. Why? Because if the administration is truly clean here, it gives them time and space to be vindicated.
Here's what Sessions told the Senate Judiciary Committee on January 10:"I didn't have — did not have communications with the Russians"
So what exactly did Sessions tell Congress about Russia. Here's the transcript from his January 10 hearing before the Senate Judiciary Committee:
FRANKEN: OK. CNN has just published a story and I'm telling you this about a news story that's just been published. I'm not expecting you to know whether or not it's true or not. But CNN just published a story alleging that the intelligence community provided documents to the president-elect last week that included information that quote, "Russian operatives claimed to have compromising personal and financial information about Mr. Trump." These documents also allegedly say quote, "There was a continuing exchange of information during the campaign between Trump's surrogates and intermediaries for the Russian government."Now, again, I'm telling you this as it's coming out, so you know. But if it's true, it's obviously extremely serious and if there is any evidence that anyone affiliated with the Trump campaign communicated with the Russian government in the course of this campaign, what will you do?SESSIONS: Senator Franken, I'm not aware of any of those activities. I have been called a surrogate at a time or two in that campaign and I didn't have -- did not have communications with the Russians, and I'm unable to comment on it.
The key words here are: "I didn't have -- did not have communications with the Russians."
Sessions responds: He met with Russia's ambassador in his capacity as a U.S. senator, not as part of the Trump campaign
Justice Department spokesman Sarah Isgur Flores released this statement last night: "There was absolutely nothing misleading about his answer. Last year, the senator had over 25 conversations with foreign ambassadors as a senior member of the Armed Services Committee, including the British, Korean, Japanese, Polish, Indian, Chinese, Canadian, Australian, German and Russian ambassadors. He was asked during the hearing about communications between Russia and the Trump campaign--not about meetings he took as a senator and a member of the Armed Services Committee." And later last night, Sessions released his own statement: "I never met with any Russian officials to discuss issues of the campaign. I have no idea what this allegation is about. It is false." But as the Washington Post notes, "The Washington Post contacted all 26 members of the 2016 Senate Armed Services Committee to see whether any lawmakers besides Sessions met with [Russian ambassador] Kislyak in 2016. Of the 20 lawmakers who responded, every senator, including Chairman John McCain (R-Ariz.), said they did not meet with the Russian ambassador last year. The other lawmakers on the panel did not respond as of Wednesday evening."
Sessions to NBC News: "Whenever it's appropriate, I will recuse myself"
This morning, NBC News caught up with Sessions at his home. Here is the conversation:
SESSIONS: Hello, how are you this morning? Who are you with?REPORTER: We're NBC News. Comments on the nature of your meetings with Russia this summer?SESSIONS: Well, I have not met with any Russians at any time to discuss any political campaign. And those remarks are unbelievable to me and are false. And I don't have anything else to say about that.REPORTER: What about the calls to recuse yourself from your agency's probe of the—SESSIONS: Well I've said that whenever it's appropriate I will recuse myself. There's no doubt about that.
Still no significant intelligence from that Yemen SEAL raid, according to 10 current U.S. officials across government
Meanwhile, here is NBC News' reporting on the latest of that U.S. military raid in Yemen: "The Pentagon says Navy SEALs scooped up laptops, hard drives and cell phones in last month's Yemen raid, but multiple U.S. officials told NBC News that none of the intelligence gleaned from the operation so far has proven actionable or vital — contrary to what President Trump said in his speech to Congress Tuesday," per NBC's Cynthia McFadden, William M. Arkin, and Ken Dilanian. "No one questions Owens' heroism and sacrifice. Ten current U.S. officials across the government who have been briefed on the details of the raid told NBC News that so far, no truly significant intelligence has emerged from the haul. The Associated Press quoted a senior U.S. official as describing a three-page list of information gathered from the compound, including information on al Qaeda in the Arabian Peninsula's training techniques and targeting priorities. Pentagon officials confirmed that to NBC News, but other U.S. officials said the information on that list was neither actionable nor vital. One senior Pentagon official described the information gathered as 'de minimis,' and as material the U.S. already knew about."
How political opponents are going to go after millennial candidates -- by using their social-media accounts against them
Well, the gloves are already off in that special congressional election in Georgia to replace former Rep. Tom Price (R-GA), who is now Trump's HHS secretary. A GOP Super PAC is airing a TV ad against 29-year-old Democrat Jon Ossoff with video footage of him during his college days dressed up in Star Wars costumes. "He was in college playing dress-up with his drinking buddies," the ad's narrator says. So this is how political opponents are going to go after millennial candidates — by using their social-media accounts against them. Where would they be today if there was social media during Barack Obama's "Choom Gang" days, or George W. Bush's college years? The Onion, of all places, actually foresaw this development back in 2012: "Every Potential 2040 President Already Unelectable Due To Facebook."
What were other president's doing on March 2?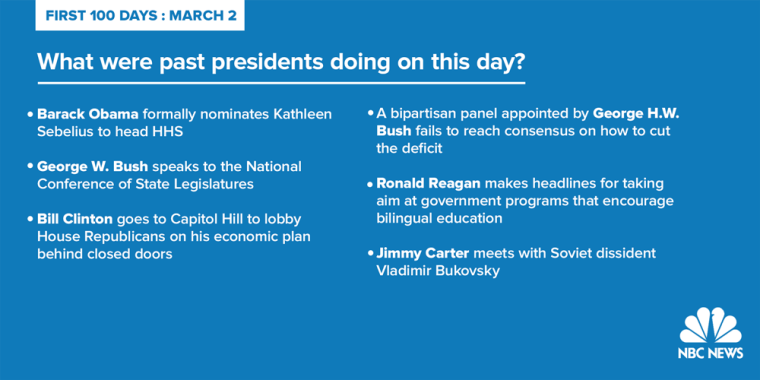 Heading to SXSW? So is Chuck!
Hear from him on March 14th at 5 p.m. CT as he explores if big data is destroying the U.S. political system. http://bit.ly/2l4Vwr4