WASHINGTON — When it comes to Michael Cohen's claim that he was directed by an unnamed candidate in 2016 — Donald Trump — to make payments to Stormy Daniels and Karen McDougal to influence the 2016 election, there's something important to remember.
Prosecutors say they have audio recordings, text messages and phone records about Cohen's payments — and the intent behind them.
As NBC's Tom Winter has highlighted, here are the prosecutors from Tuesday:
The proof on these [campaign-finance] counts at trial would establish that these payments were made in order to ensure that each recipient of the payments did not publicize their stories of alleged affairs with the candidate. This evidence would include:
Records obtained from an April 9, 2018 series of search warrants on Mr. Cohen's premises, including hard copy documents, seized electronic devices, and audio records made by Mr. Cohen.
We would also offer text messages, messages sent over encrypted applications, phone records, and emails.
So, lordy, there are tapes. And emails. And phone records. Of course, we already know of one tape — of Cohen apparently talking about one of the payments to Trump — which CNN reported on last month.
In his interview with Fox News, Trump was asked about Cohen's payments to Daniels and McDougal.
FOX NEWS: Did you direct him to make these payments?
TRUMP: He made the deal. He made the deals. By the way, he pled to two counts which aren't a crime which nobody understands. I watched a number of shows, sometimes you get some pretty good information by watching shows, those two counts aren't even a crime. They weren't campaign finance.
FOX NEWS: Did you know about the payments?
TRUMP: Later on I knew. Later on. But you have to understand, Ainsley, what he did - and they weren't taken out of campaign finance. That's a big thing. That's a much bigger thing. Did they come out of the campaign. They didn't come out of the campaign. They came from me.
Let's repeat those last two sentences: "They didn't come out of the campaign. They came from me." That is PRECISELY the allegation of illegal activity here — funds intended for a campaign are SUPPOSED to come from the campaign, not from another source.
The other important angle in the Trump-Cohen story: The National Enquirer
Meanwhile, the Washington Post writes about the other angle here. "According to the documents, [David] Pecker assured Cohen that he would help deal with rumors related to Trump's relationships with women by essentially turning his tabloid operation into a research arm of the Trump campaign, identifying potentially damaging stories and, when necessary, buying the silence of the women who wanted to tell them."
"The charging documents allege that Pecker and his company, American Media Inc., owner of the National Enquirer, were more deeply and deliberately involved in the effort to help the Trump campaign than was previously known. AMI also played a key role in the effort to silence adult-film star Stormy Daniels, prosecutors allege. Pecker and AMI did not respond to requests for comment Wednesday. Nor did Cohen or his attorney."
Trump's strange South Africa tweet
Late last night, President Trump fired off this tweet: "I have asked Secretary of State @SecPompeo to closely study the South Africa land and farm seizures and expropriations and the large scale killing of farmers. 'South African Government is now seizing land from white farmers.' @TuckerCarlson @FoxNews."
The government of South Africa responded, "South Africa totally rejects this narrow perception which only seeks to divide our nation and reminds us of our colonial past. #landexpropriation @realDonaldTrump @PresidencyZA."
"Land reform is a highly divisive issue in South Africa, where white residents, who make up 8 percent of the population, own 72 percent of land, according to official figures," the New York Times writes. "While there have been some land grabs by private groups — not sanctioned by the government — some right-wing groups have been pushing the false narrative that there have been numerous seizures of white-owned farms and killings of white farmers. In fact, research by one farmers' organization, published in July, found that the number of killings of farmers was at a 20-year low."
Juror who supports Trump tells Fox News that Manafort was guilty
"Special Counsel Robert Mueller's team was one holdout juror away from winning a conviction against Paul Manafort on all 18 counts of bank and tax fraud, juror Paula Duncan told Fox News in an exclusive interview Wednesday," Fox reports. "'It was one person who kept the verdict from being guilty on all 18 counts,' Duncan, 52, said."
"'Finding Mr. Manafort guilty was hard for me. I wanted him to be innocent, I really wanted him to be innocent, but he wasn't,' Duncan said. 'That's the part of a juror, you have to have due diligence and deliberate and look at the evidence and come up with an informed and intelligent decision, which I did.'"
And: "'Every day when I drove, I had my Make America Great Again hat in the backseat,' said Duncan, who said she plans to vote for Trump again in 2020. 'Just as a reminder.'"
NBC/Marist poll: O'Rourke trails Cruz in Texas by just 4 points
"As Texas Democrats attempt to win a major statewide contest for the first time in almost three decades, a new NBC News/Marist poll finds Democrat Beto O'Rourke trailing Republican Sen. Ted Cruz by just 4 percentage points," one of us writes. "O'Rourke, a congressman from El Paso who has ignited Democratic hopes with his impressive fundraising, has 45 percent support among registered voters compared with Cruz's 49 percent. Six percent of voters remain undecided."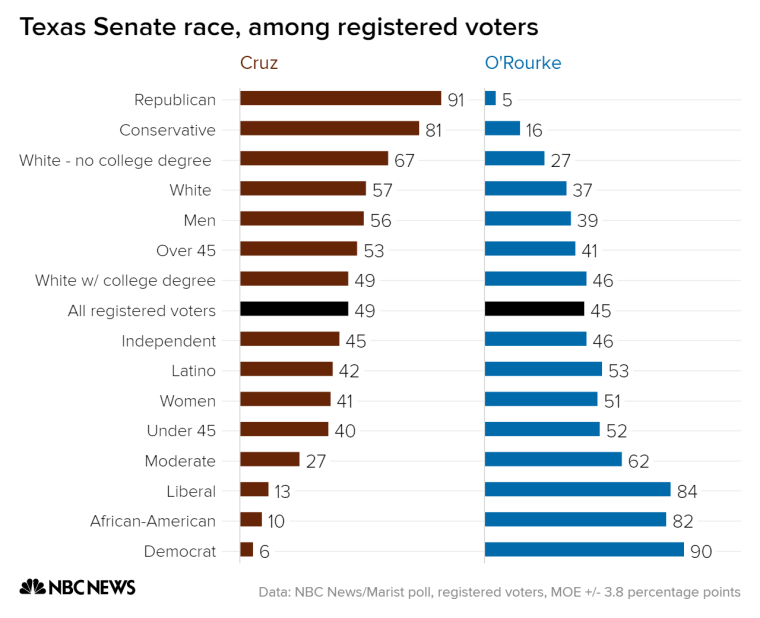 And this is key when looking at the competitive congressional races in TX-7 (Houston area), TX-23 (Austin-San Antonio area) and TX-32 (Dallas area): "Cruz has majority support by about a 2-1 margin in both the more rural eastern and western parts of the state. But O'Rourke is holding steady with Cruz in Dallas/Fort Worth (both at 48 percent) and besting him in Houston (51 percent to 42 percent)."
Also, "O'Rourke's relative strength against Cruz ... is in contrast to Republican Gov. Greg Abbott's whopping 19 point lead over Democratic challenger Lupe Valdez."
By the way, there's one more state poll we'll be releasing later today…