First Read is your briefing from Meet the Press and the NBC Political Unit on the day's most important political stories and why they matter.
Why Trump's low poll numbers matter for the 2018 midterms
WASHINGTON — In the last 12 hours, CNN and CBS have released polls showing President Trump's job-approval rating below 40 percent — 38 percent for CNN, and 36 percent for CBS.
Here's why those numbers matter as we get closer to the 2018 midterms: There's a direct correlation between a president's approval numbers and the number of seats his party loses in his first midterm election.
On average, since the Truman Era, a president's party loses more than 28 House seats in his first midterm election. (In 2018, Democrats need to pick up 24 seats to win back the House.)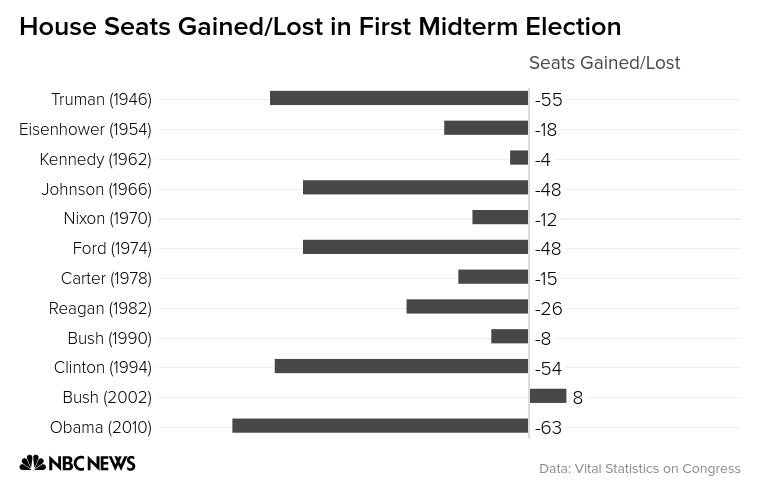 Notes: Ford's first midterm election came right after he succeeded Richard Nixon in 1974; LBJ's came in 1966 three years after succeeding Kennedy; and Truman's came in 1946 after succeeding Roosevelt.
But in the six times when that president's job-approval rating was below 50 percent, his party lost an average of 43.5 House seats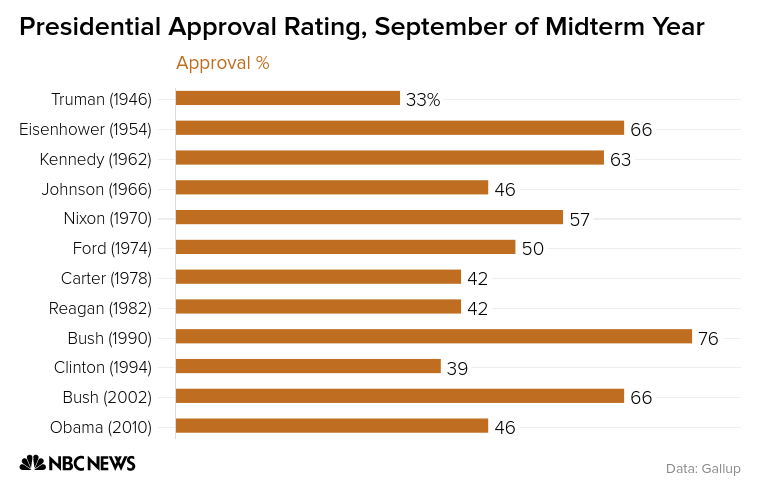 Here's what those charts look like side-by-side: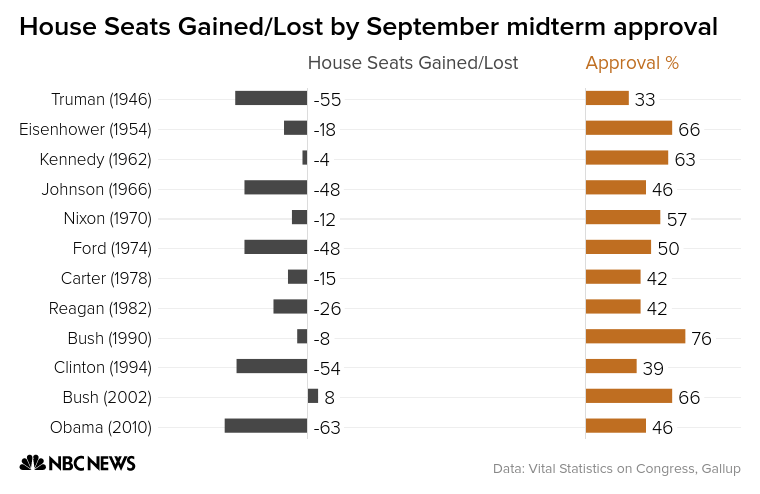 Yes, it's still early until the 2018 midterms. And, yes, plenty can change between now and the fall of 2018. But there's an important reason why we follow these job-approval numbers: The lower the approval rating, the worse that party typically performs in the midterms.
Strikingly, Trump's low job numbers are coming during fairly good economic times
What's especially striking about Trump's low approval numbers (in the CNN, CBS, Quinnipiac, and Gallup polls) is that they're coming during relatively good economic times.
Indeed, in the same CNN poll showing Trump's approval rating at 38 percent, 53 percent of Americans say things are going very well/fairly well in the country. And that raises the question: What happens to Trump's numbers if/when the unemployment rate creeps up? Because right now, most Americans aren't judging Trump on his stewardship of the economy.
The Democrats' geographical disadvantage in 2018 and beyond
But if Democrats' midterm advantage is Trump's approval numbers, the GOP's advantage is … geography.
Here's David Wasserman writing for FiveThirtyEight.com: "In the last few decades, Democrats have expanded their advantages in California and New York — states with huge urban centers that combined to give Clinton a 6 million vote edge, more than twice her national margin.
"But those two states elect only 4 percent of the Senate. Meanwhile, Republicans have made huge advances in small rural states — think Arkansas, North and South Dakota, Iowa, Louisiana, Montana and West Virginia — that wield disproportionate power in the upper chamber compared to their populations."
In other words, Republicans have a built-in advantage, especially when it comes to Senate contests, because Democratic voters are concentrated in states like California and New York.
More Wasserman: "The GOP's current 52-seat majority makes the Senate look tantalizingly competitive. But a look at the map reveals that the Democrats hold far more seats on borrowed time than Republicans do.
"The GOP doesn't hold a single Senate seat in those 14 states that are more Democratic-leaning than the country overall. Meanwhile, Democrats hold six seats in the 26 more-Republican-than-average states, and all six are at risk in 2018."
At this time four years ago — right after Barack Obama's re-election — the political focus was on the Republican Party's demographic problems. Now, after Trump's 2016 victory, the conversation has turned back to the Democrats' geography problems.
Trump's Day
At 3:00 pm ET from Bedminster, N.J., President Trump participates in a briefing on the opioid crisis. This briefing comes after last week's revelation that he referred to swing state New Hampshire as a "drug-infested den" in his leaked conversation with Mexico's president.
Dean Heller has a GOP primary challenger in Nevada — with a famous last name
Danny Tarkanian, the son of UNLV coaching legend Jerry Tarkanian, announced this morning that he's launching a GOP primary challenge against Sen. Dean Heller, R-Nev.
"Over the past several weeks, I have been inundated with text, emails, and phone calls from people of all walks of life across the state of Nevada who are upset with Dean Heller for campaigning one way in Nevada and voting the exact opposite in Washington DC. The refrain is the same: he turned his back on us," Tarkanian said in a statement.
He added, "I will join Senator Lee, Senator Cruz, and Senator Paul fighting for real reforms against the liberals in our party."
Heller already has a credible general-election opponent in Democrat Jacky Rosen.