WASHINGTON — One finding from this month's NBC/WSJ poll that didn't get as much attention as it deserved was this number: 59 percent of voters said they wanted to see a "great deal" or "quite a bit" of change from the way President Trump has been leading the country. By contrast, 40 percent said they wanted no change/not that much change/just some change.
That 59 percent wanting change was almost identical to the 62 percent who said this on the same question in November 1994 (when Republicans won control of Congress), and the 63 percent who said this in October 2010 (when the GOP won the House and picked up six Senate seats).
What's more, voters who said they wanted change in our September 2018 poll included: 61 percent of independents, 65 percent living in competitive House districts, 59 percent of suburban residents and even 32 percent of Republicans (!).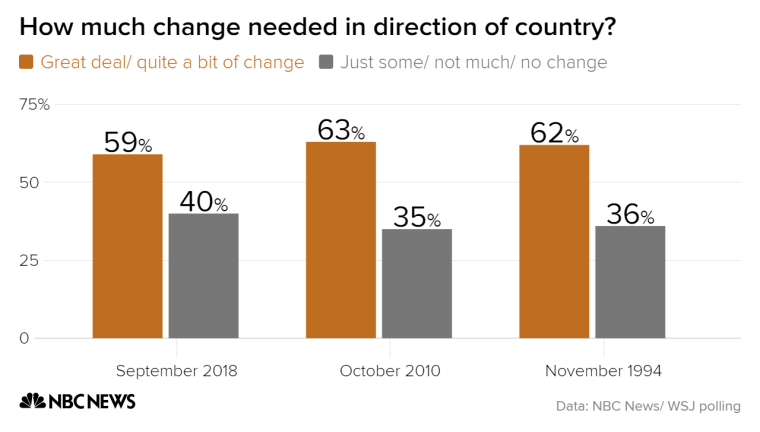 We've written before that since the Iraq war and the aftermath of the Great Recession, we've seen three-straight "change" elections in midterm years: in 2006 (when Democrats won control of Congress), in 2010 (when the GOP won the House) and 2014 (when the GOP won the Senate).
And the numbers above suggest that — five weeks before November's contest — we could be in store for a fourth-straight change election in 2018.
But for Democrats, here is where 2018 doesn't feel like 2006
Yet nearly six-in-10 voters wanting change doesn't guarantee Democratic success in November. Indeed, our same NBC/WSJ poll — which showed Dems holding the midterm advantage — also found some numbers suggesting how 2018 doesn't exactly feel like 2006.
For one thing, the Democratic-versus-Republican gap in enthusiasm in our September 2018 poll (D+4) is lower than it was in 2006 (D+13), underscoring that the party in control of the White House is almost as fired up as the opposition.
In addition, independents (who appear to be breaking the Dems' way — more on that below) aren't as enthusiastic about the upcoming election as they were in 2006, with 37 percent showing a high level of interest about the midterms (compared with 50 percent in our October 2006 poll). Ditto Latinos, who were at 62 percent high interest in 2006, versus 49 percent now.
Pay attention to the independent voters
Here are some final numbers to geek out on before we turn to Brett Kavanaugh's confirmation fight: Independents are breaking Democrats way, according to the trio of NBC/Marist polls of Arizona, Florida and Ohio we released last week.
Trump approval rating (likely voters)
AZ: 44 percent
FL: 46 percent
OH: 44 percent
Trump approval among independents
AZ: 36 percent
FL: 42 percent
OH: 40 percent
Party identification
AZ: R+4
FL: Even
OH: D+6
Congressional preference
AZ: D+3
FL: D+3
OH: D+6
Congressional preference among independents
AZ: D+13
FL: D+11
OH: D+16
Check and balance vs. pass Trump agenda
AZ: 52 percent check and balance, 38 percent pass agenda (+14)
FL: 52 percent check and balance, 40 percent pass agenda (+12)
OH: 53 percent check and balance, 39 percent pass agenda (+14)
Check and balance among independents
AZ: 55 percent check and balance, 28 percent pass agenda (+27)
FL: 57 percent check and balance, 30 percent pass agenda (+27)
OH: 54 percent check and balance, 34 percent pass agenda (+20)
The latest on the Kavanaugh investigation
On Friday, a handful of moderate senators — Jeff Flake, Lisa Murkowski and Susan Collins — demanded a weeklong FBI investigation into Brett Kavanaugh before moving on his confirmation to serve on the Supreme Court. And here are some of the latest developments regarding the investigation:
On Sunday, the FBI spoke with Deborah Ramirez, Kavanaugh's accuser from his college days at Yale, NBC's Peter Alexander reported on "Today" Monday morning. But the FBI witness list is limited, per NBC's Ken Dilanian, Geoff Bennett and Kristen Welker: "According to the sources, the president's Saturday night tweet saying he wants the FBI to interview whoever agents deem appropriate has not changed the limits imposed by the White House counsel's office on the FBI investigation — including a specific witness list that does not include Julie Swetnick, who has accused Kavanaugh of sexual misconduct in high school" … And an online CBS/YouGov poll — conducted after Thursday's hearing — shows more Americans opposing Kavanaugh confirmation (37 percent) than supporting it (35 percent); it was 32 percent confirm, 30 percent do not confirm in the same poll last week.
Fact-checking Kavanaugh
Over the weekend, the New York Times fact-checked Kavanaugh's answers from Thursday's hearing. "What emerges is the image of a skilled lawyer who, when pressed on difficult subjects, sometimes crafted responses that were misleading, disputed or off point. When asked about his alcohol consumption in high school, he said his classmates were "legal to drink" in their senior year, even though the legality of the drinking was not the issue (and, in fact, he could not legally drink because the age was raised to 21 before he even turned 18)," the paper writes.
Kavanaugh's problematic statements:
1. "Judge Kavanaugh repeatedly testified that three people had exonerated him of Christine Blasey Ford's allegations that he sexually assaulted her during a gathering of teenagers outside Washington in the summer of 1982 ... While it is true that the three people did not corroborate Dr. Blasey's account, they did not 'refute' it either."
2. "Judge Kavanaugh portrayed himself in his testimony as enjoying a beer or two as a high school and college student, but not as someone who often drank to excess during those years... His statements are at odds with how some of his classmates remembered him."
3. "Judge Kavanaugh's yearbook page included the entries 'Judge — Have You Boofed Yet?' and 'Devil's Triangle.' On Thursday, he said that 'boofed' meant 'flatulence' and that 'Devil's Triangle' was a drinking game in which three glasses were arranged in a triangle... 'Boofed' in the 1980s was a term that often referred to anal sex ... Similarly, they said that they had never heard of a drinking game called Devil's Triangle, but that the phrase was regularly used to describe sex between two men and a woman."
4. "Asked about the intersection of his and Ms. Blasey's friend groups, Judge Kavanaugh said: 'When my friends and I spent time together at parties on weekends, it was usually with friends from nearby Catholic all-girls high schools — Stone Ridge, Holy Child, Visitation, Immaculata, Holy Cross. Dr. Blasey did not attend one of those schools. She attended an independent private school named Holton-Arms, and she was a year behind me.'... Judge Kavanaugh's implication is that students at Holton-Arms, an all-girls school, didn't mingle much those who attended Georgetown Prep. Two of Judge Kavanaugh's former schoolmates said on Friday that this was not true and that Holton-Arms students were routinely present at parties with Georgetown Prep boys."
U.S. and Canada reach NAFTA deal
Reuters: "The United States and Canada reached a deal on Sunday to salvage NAFTA as a trilateral pact with Mexico, beating a midnight deadline with agreements to substantially boost American access to Canada's dairy market and protect Canada from possible U.S. auto tariffs, sources with direct knowledge of the talks said."
"President Donald Trump had threatened to splinter the nearly 25-year-old North American Free Trade Agreement into a bilateral pact with Mexico and tax Canadian vehicle exports to the United States if Ottawa had failed to sign on before a midnight Sunday deadline."
Trump will make remarks on the agreement at 11:00 am ET, the White House announced.
Trump holds rally in Tennessee
Finally, Trump today heads to Johnson City, Tenn., where he holds a rally at 7:20 p.m. ET. Tennessee, of course, is home to one of the most competitive Senate races in the country — Democrat Phil Bredesen versus Republican Marsha Blackburn.