WASHINGTON — The takeaway from the trio of NBC/Marist polls we released this week is that, yes, Democrats do have a legitimate path to retaking the Senate in November. Given the Senate map, it's probably not the most likely outcome. But it's a real possibility — more than most people might think.
With the GOP controlling the Senate by a slim 51-to-49 margin — after the Dems' surprising win in Alabama late last year — Democrats must gain a net of two Senate seats to take back the chamber (since Vice President Mike Pence can break a 50-50 tie). And their path to gaining those two Senate seats is: 1) by winning the GOP-held seats of Arizona and Nevada and holding on to ALL of their vulnerable seats in Florida, Indiana, Missouri, North Dakota and West Virginia, or 2) by winning Arizona, Nevada AND Tennessee, and losing just one of their vulnerable states. (FYI: If Democrats somehow win Texas, they're definitely winning the Senate.)
So what do our NBC/Marist polls show? Well, Democrats lead in Indiana and Tennessee (although within the margin of error), while it's tied in Missouri.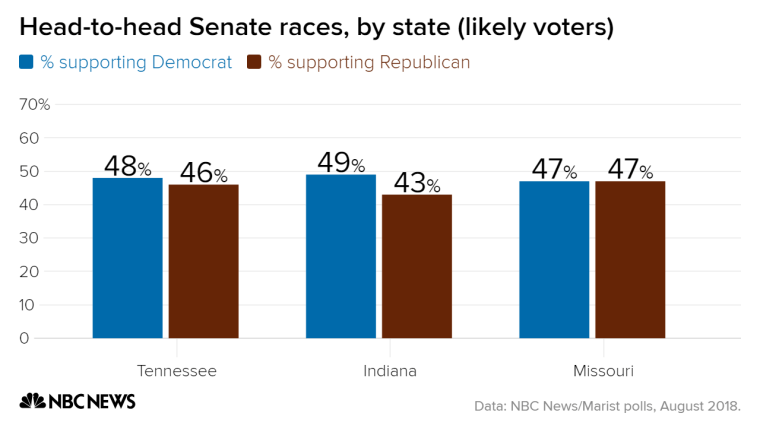 Here's another way to look at the battle for Senate control: The Cook Political Report identifies eight total toss-up races — five held by Democrats (Florida, Indiana, Missouri, North Dakota and West Virginia) and three held by Republicans (Arizona, Nevada and Tennessee). To win control, Democrats will need to win seven of these eight toss-up races.
Is it the most likely outcome? Probably not. But is it more in play than most think? Yes, especially since toss-up races traditionally do break one way.
And do note: Democrats winning the Senate could have a bigger impact on President Donald Trump and 2020 than if Democrats just win the House. Why? Because it would mean that the GOP lost states that Trump won in 2016, including places he won by SIGNIFICANT margins two years ago.
Looking at more data from Indiana, Missouri and Tennessee
It's also instructive to look at our three polls side by side by side.
Here's a look at Trump's approval rating: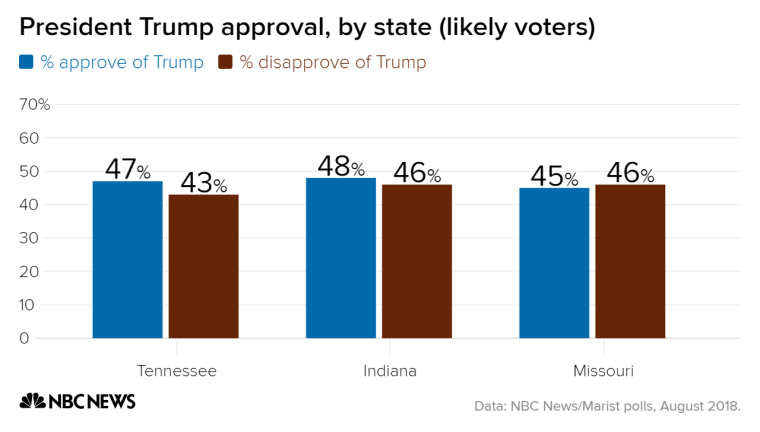 And here's a look at candidate favorability:
By the way, take a look at the candidate-favorability numbers. Candidates matter — both your incumbents and challengers.
Trump invokes impeachment to fire up his voters
At his rally in Montana last night, per NBC's Jonathan Allen and Monica Alba, Trump said it would be his voters fault if he gets impeached because Republicans lose control of Congress.
TRUMP: Maxine Waters says it doesn't matter! We will impeach him. How do you impeach somebody who hasn't done anything wrong? Economy is great. How do you do it? How do you do it?
We will impeach him! But he's doing a great job. Doesn't matter. Remember that line. It is a hell of a place in Washington
I was thinking, if that happened, any time anyone Republican or Democrat gets elected, let's say Democrat. Republican House, we will impeach that Democrat, right? We won by a lot, hell of a margin.
So ridiculous, don't worry about that. If it does happen, it will be your fault. Because you didn't go out to vote. Only president in history, we'll impeach him, done a great job.
On Friday, Trump raises money in North Dakota.
Former president hits the campaign trail
"[Former President Barack] Obama will preview the overarching message of the midterm push Friday with a major address in downstate Illinois, less than 100 miles from where he launched his bid for the White House more than a decade ago," NBC's Mike Memoli, Kristen Welker and Peter Alexander report.
"'America has always been a story of progress, but also of backlash to that progress. We're in one of those moments of backlash. And we didn't get here overnight,' [an Obama] aide said [in previewing the former president's remarks]. 'People in power want us to believe that the rest of us are powerless to solve our problems through democracy. And when people stop showing up, like in 2010 and 2014 where fewer people voted, a vacuum forms, and a politics of fear and resentment fills that void.'"
More: "Obama will follow his speech Friday with a campaign rally Saturday in southern California, where Democrats are targeting a half-dozen congressional seats that could put them back in the majority for the first time since 2011. Next week he'll campaign for Ohio gubernatorial candidate Richard Cordray, who previously served as the head of the Consumer Financial Protection Bureau that was created as part of the Dodd-Frank legislation Obama signed as president."
Kavanaugh's confirmation hearing, continued
"The disclosure on Thursday of dozens of previously secret emails involving Judge Brett M. Kavanaugh provoked pointed new questions on the third day of his Supreme Court confirmation hearings, as Democrats pressed him to explain fresh disclosures on abortion rights, affirmative action and previous testimony to the Senate," the New York Times writes. "Much of the tumult surrounded one quotation from an email that Judge Kavanaugh wrote as a lawyer in George W. Bush's White House concerning the landmark abortion decision Roe v. Wade: 'I am not sure that all legal scholars refer to Roe as the settled law of the land at the Supreme Court level since Court can always overrule its precedent, and three current Justices on the Court would do so.'"
Republicans are running on tax cuts. Just not Trump's.
Finally, NBC's Benjy Sarlin writes that Republicans are running on tax cuts — but they're focused on matters at the state level, rather than Trump's.
"In race after race [in California], GOP candidates and their allies are backing an upcoming state referendum, Proposition 6, that would repeal a 12-cent hike in the gas tax and 20 cents for diesel that state legislators passed to help finance infrastructure projects. By comparison, talk of Trump's and the congressional GOP's $1.9 trillion Tax Cuts and Jobs Act has been muted," he wrote.
More: "Rep. Cathy McMorris-Rodgers, R-Wash., has run at least three ads attacking her Democratic opponent Lisa Brown, a former state Senate leader, on state tax policy. But none have focused on the tax bill in Congress, despite her own high-ranking position in House GOP leadership. Republicans are looking to state initiatives on taxes to help them in November. In Florida, governor and Senate candidate Rick Scott is backing a referendum that would require a two-thirds supermajority of the state legislature to raise taxes."