Hillary Clinton remains the overwhelming front-runner among Democrats for the 2016 presidential race, but the American public at large is equally divided about voting for her, according to a new NBC/Wall Street Journal poll.
"It's not surprising that, as she moves from being secretary of state to being the 2016 candidate, she's going through a different filter in how she's being viewed," said Republican pollster Bill McInturff, who conducted the poll along with Democratic pollster Fred Yang and Hart Research Associates. "And how she's being viewed is through an increasingly partisan lens."
Asked how likely they would be to vote for the former secretary of state if she makes a White House run in 2016, 38 percent of registered voters told pollsters that they would "probably" or be "almost certain to" vote for her, while a similar 37 percent said they'd definitely oppose her.
The poll also showed that Clinton's approval ratings have dipped slightly amid her nationwide book tour -- widely seen as a launch pad for her reentry into presidential politics.
Still, they still remain fairly robust in a political environment in which popularity is generally defined as NOT being underwater with potential voters. Now, 44 percent view her positively versus 37 percent negatively.
That's compared with April of this year, when 48 percent of those polled gave Clinton a thumbs up and 32 percent gave her a thumbs down.
She is perceived to be such a massively skilled politician. Voters worry that – if she's really such a political animal, can you really trust her?
A deeper look into the numbers indicates that voters' ideas about Clinton are deeply entrenched along partisan lines.
She enjoys overwhelming support from the Democratic base -- with three-quarters of Democrats suggesting they're likely to check her name on their 2016 ballot. But 70 percent of Republicans and a sizable 40 percent of independents say there's "no chance" they will vote for her.
Clinton also continues to get good marks from women (51 percent positive / 32 percent negative), African Americans (82 percent positive / 5 percent negative) and young voters (43 percent positive / 28 percent negative). Just 7 percent of self-identified Democrats say they have a negative view of her.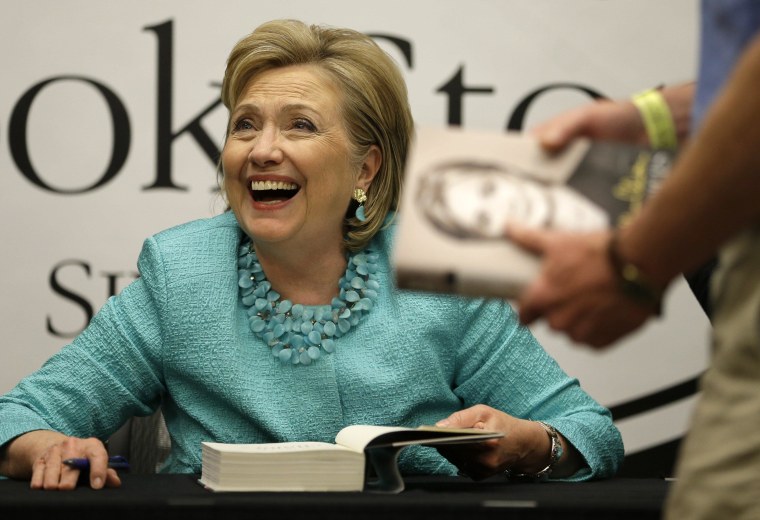 In contrast, only about one in 10 Republicans see her in a positive light, roughly comparable to their dislike of President Barack Obama.
Clinton also gets kudos for her experience and preparedness for the job. Fifty-five percent of respondents give her high marks for "being knowledgeable and experienced enough to handle the presidency," the poll found.
"Nobody doubts her competence or her experience or knowledge. She has proved that," says Democratic pollster Peter Hart of Hart Research Associates.
But her perceived experience – and her many decades in the public eye – could have a flip side that's less positive for the onetime first lady, pollsters said, pointing out that just 38 percent say she deserves a top grade for "being honest and straightforward."
"She is perceived to be such a massively skilled politician. Voters worry that – if she's really such a political animal, can you really trust her?" said McInturff.