Hunter Biden's legal team sent letters to Rudy Giuliani, Roger Stone, Steve Bannon and 11 others on Wednesday asking them to preserve potential evidence for future lawsuits related to the alleged theft of personal data that may include information from his laptop, according to documents obtained by NBC News.
The move is the latest in a new legal strategy by lawyers for President Joe Biden's son, who plan to pursue a wide range of litigation against allies of Donald Trump and others involved in obtaining and disseminating data that they say is or may be the private property of their client. 
Besides Bannon, Stone and Giuliani, those who were sent near-identical "litigation hold" letters include John Paul Mac Isaac, the computer repairman who first obtained the laptop when Hunter Biden allegedly left it at his Wilmington, Delaware, shop; lawyer Robert Costello, who has represented both Bannon and Giuliani; ex-Trump aide Garrett M. Ziegler; and former Biden business partner Tony Bobulinski.
Each of the letters begins, "You have made various statements and engaged in certain activities by your own admission, or that have been publicly reported in the media, concerning our client, Robert Hunter Biden ("Mr. Biden"). This letter ("Notice") constitutes notice that a litigation hold should be in effect for the preservation and retention of all records and documents related to Mr. Biden."
A spokesperson for Biden's legal team told NBC News, "We are going back to 2008 to ensure we capture the extensive — and sustained — attacks on the Biden family." This time frame goes back to his father's unsuccessful 2008 campaign for president. 
"Hunter Biden has spent the last several years being the subject of investigations and exhaustive media scrutiny, while also telling his story in a detailed memoir — he has nothing to hide. The people who have yet to be held accountable for their wrongdoing are the recipients of these letters."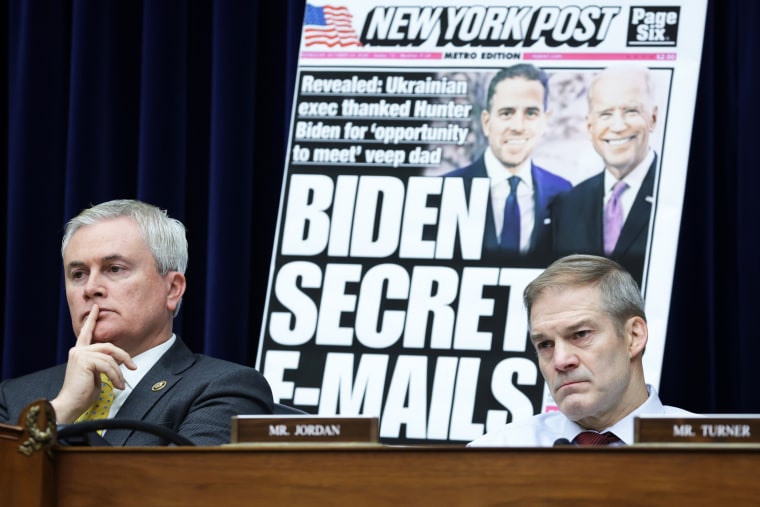 Ted Goodman, a political adviser to Giuliani, said that Abbe Lowell, one of Biden's attorneys, "should focus on the facts because the facts don't support his allegations. This is yet another failed attempt by Mr. Lowell to silence and intimidate Mayor Giuliani and Mr. Costello."
Via Twitter, Roger Stone said he has "No 'EVIDENCE' to preserve — everything I know about Hunter Biden's laptop I read in the @NYPost."
On Feb. 1, after years of GOP attacks, Biden's lawyers sent letters requesting investigations into allies of former President Donald Trump who they say trafficked in stolen information that may be from his laptop.
Among the letters, which were obtained by NBC News, was one that asked the Justice Department's National Security Division for an investigation into "individuals for whom there is considerable reason to believe violated various federal laws in accessing, copying, manipulating, and/or disseminating Mr. Biden's personal computer data," including Giuliani, who was Trump's lawyer at the time.
Hunter Biden's lawyers wrote a similar letter to the Delaware attorney general's office, requesting a probe into the same people, alleging they violated "various Delaware laws" in accessing Biden's information from what Trump has called "the laptop from hell."
The Justice Department declined to comment. A spokesperson for the Delaware Attorney's General Office did not immediately respond to a request for comment.
Information allegedly obtained from the laptop has raised questions about Hunter Biden's finances, which have been separately under investigation by federal prosecutors in Delaware since 2018. It has also been the source of several salacious stories from conservative media outlets, many focused on his drug use.