The Trump administration has begun immigration raids as part of an operation expected to target 2,000 immigrants over the few days, a senior U.S. official told NBC News on Sunday.
So far, the pace has started slow; the official confirmed a handful of arrests had taken place, but the exact number was not immediately clear. The raids are expected to take place in as many as 10 cities.
Earlier Sunday afternoon, there was little evidence of massive immigration enforcement operations, as immigrant communities prepared for their arrival.
Two senior Department of Homeland Security officials told NBC News last week that the raids, which had been postponed several weeks ago, were scheduled to take place on Sunday. But the administration altered its plans from a large-scale sweep to a smaller set of arrests over the coming week after news reports informed immigrant communities about the raids, The New York Times reported Sunday, citing several current and former Department of Homeland Security officials familiar with the operation.
Ruthie Epstein, the deputy director for immigration policy at the American Civil Liberties Union, told NBC News that the group had not heard anything from its networks as of Sunday afternoon, but were closely monitoring the situation.
In New York City, Mayor Bill de Blasio said Sunday afternoon that there was "literally no activity yet today" on the expected raids.
"At this moment, nothing," he said.
There were three confirmed situations involving Immigration and Customs Enforcement agents on Saturday, he said. It was unclear if those incidents were part of the planned nationwide raids.
"We're convinced that's what it was," de Blasio said, adding that the agents did not find the individuals they were seeking.
De Blasio tweeted Saturday that his office received reports of "reportedly unsuccessful ICE enforcement actions" in the neighborhoods of Harlem and Sunset Park. Volunteers also handed out flyers in those neighborhoods explaining immigrants' rights.
Melissa Chua, associate director of immigrant protection at the New York Legal Assistance Group, said Sunday that her group and its partners had not heard any reported raids in New York City as of the early afternoon.
Trump administration defends raids
Trump administration officials earlier Sunday defended the need for planned immigration raids even as they remained tight-lipped about details of the enforcement action.
Ken Cuccinelli, acting director of U.S. Citizenship and Immigration Services, said Sunday on CNN's "State of the Union" that he would not divulge any operational details of the Immigration and Customs Enforcement raids, additionally choosing not to answer a question about whether immigrant families will be separated.
"In the same way I wasn't willing to talk about operational details, that would be an operational detail that I'm not going to comment on," he said. "There are a million people, including families, with removal orders. They're — the priority remains for ICE to get at criminals."
Cuccinelli emphasized that the agency was prioritizing violent criminals, as opposed to the undocumented immigrant population in general.
ICE did not respond to requests for comment about the expected raids.
Acting ICE Director Matt Albence told Fox News on Sunday that while he would not discuss the specifics of the raids, the agency is "doing targeted enforcement actions against specific individuals who have had their day in immigration court and have been ordered to be removed by an immigration judge."
Asked on "Fox News Sunday" how many people ICE is targeting, White House counselor Kellyanne Conway also said she wouldn't "discuss operational details" and added that ICE "does this every single day; it's called enforcement action."
Communities brace for enforcement action
Meanwhile, community organizations began to make preparations for the expected raids. In Houston, a string of churches, a number of them African American, opened their doors for anyone wanting to take refuge. The churches also assembled supplies to deliver to families too afraid to leave their residences for groceries or other necessities.
R.C. Stearns, a pastor at Living Water International Apostolic Ministries, said Saturday that he and other church leaders are offering the refuge because "it's what Christ would do."
Stearns said he and others were praying that the president would have a change of heart.
In the weeks since Trump announced planned raids, and then delayed them, Congress passed a $4.6 billion emergency spending bill to provide resources and support for the influx of asylum-seekers on the southern border.
"We're in the midst of food, water, baby supplies, household utensils and a place of refuge," Rep. Sheila Jackson Lee, D-Texas, said at a news conference Saturday announcing the churches' preparations. "We are standing with pastors who have committed to opening their doors if there are people who are in jeopardy where they are."
"This order of mass deportation is being used as a political toy," she said.
Meanwhile, at flea markets on Airline Drive in Houston, vendors and immigrant advocates who stopped in to distribute leaflets said the crowd was markedly thinner than on most weekends.
At the markets, vendors sell clothing, electronics, religious items and other goods, and along with restaurants and taquerias, draw immigrants, legal residents and citizens and who are overwhelmingly Latino.
Cesar Espinosa, executive director of the immigrant rights group FIEL Houston, said, "This place is usually really, really full. This is a place where family comes to just hang out and have Sunday funday with their kids. Parking today was a breeze … We got in here really quickly, it's an indicator that many people are not here today."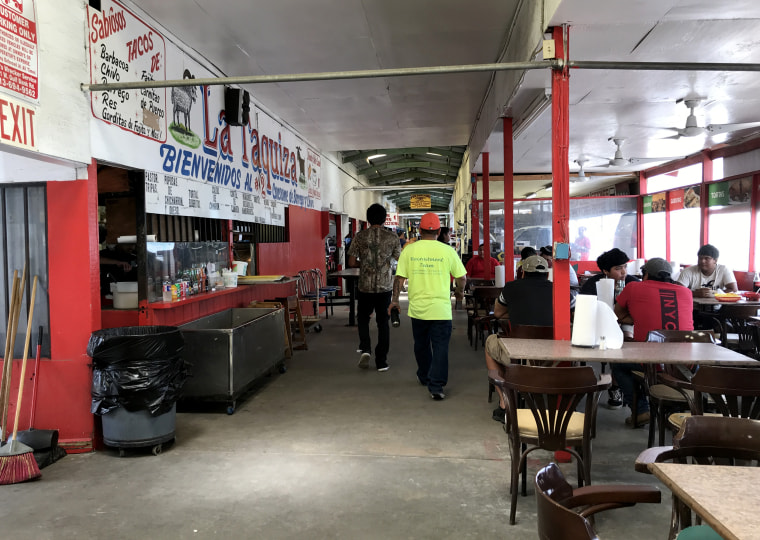 A vendor who did not want to give her name said the traffic had been slower than usual since Saturday.
"Some of the young girls who work in the restaurants, they had asked me if I thought it was possible if immigration would come," she said. "I told them now with this order, it's possible because in past years it happened, and they took the people who had false documents."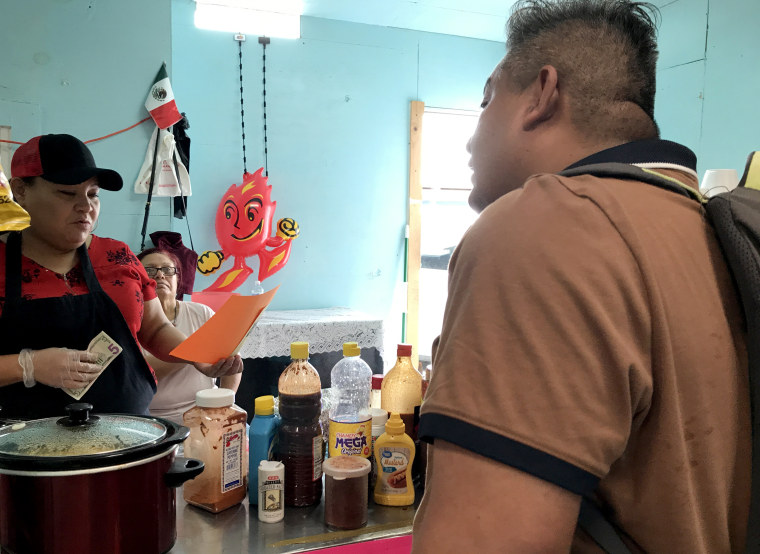 She said some of the young women who had asked her about possible raids were not working Sunday.
"I think it's possible people are not coming because they don't know what is going to happen," she said.
CORRECTION (July 14, 2019, 7:20 p.m. ET): A previous version of this article misidentified the agency led by Ken Cuccinelli. It is U.S. Citizenship and Immigration Services, not U.S. Customs and Immigration Services.