The Roman Catholic Church criticized President Donald Trump's decision to end DACA because it relies on "illegal aliens to fill the churches," Steve Bannon, the former White House strategist, said in an interview airing Thursday.
Bannon, who returned as chairman of Breitbart News after being ousted as one of Trump's top aides last month, added that the Catholic Church had "an economic interest in unlimited immigration."
"The bishops have been terrible about this. By the way, you know why? You know why? Because unable to come to grips with the problems in the church, they need illegal aliens," Bannon told CBS' "60 Minutes."
"They need illegal aliens to fill the churches. That's — it's obvious on the face of it," Bannon, who is Catholic, continued. "They have an economic interest. They have an economic interest in unlimited immigration, unlimited illegal immigration."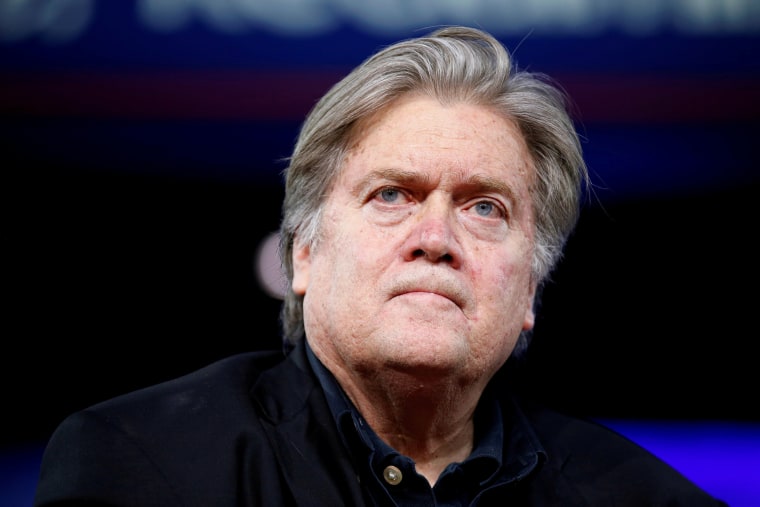 Bannon was responding to questions about Trump's decision, announced Tuesday, to wind down Deferred Action for Childhood Arrivals, the Obama-era program that allowed undocumented immigrants who came to the U.S. as children before 2007 to remain in the country. A portion of his interview aired Thursday morning on "CBS This Morning."
Trump's announcement, delivered on behalf of the administration by Attorney General Jeff Sessions, was met with widespread criticism, including from prominent members of the Catholic Church.
The U.S. Conference of Catholic Bishops called ending DACA "reprehensible," while Cardinal Timothy Dolan, the archbishop of New York, called it "contrary to the spirit of the Bible and of our country, and a turning away from the ideals upon which our beloved country was founded."
Bannon told CBS that he respected Dolan, and the church, but maintained that their reaction to Trump's decision was "not about doctrine."
"This is about the sovereignty of a nation. And in that regard, they're just another guy with an opinion," Bannon said.
Dolan, in an interview that aired on SiriusXM's "The Catholic Channel," said he had seen a transcript of Bannon's comments and found them "insulting."
"I don't really care to go into what I think is a preposterous and rather insulting statement that the only reason we Bishops care for immigrants is for the economic because we want to fill our churches and get more money," Dolan said.
The U.S. Conference of Catholic Bishops on Care for Migrants and Refugees, meanwhile, called Bannon's claim "preposterous."
"This isn't Catholic partisanship. The Bible is clear: welcoming immigrants is indispensable to our faith, James Rogers, chief communications officer, said in a statement.
"Our pro-immigration stance is based on fidelity to God's word and honors the American dream. For anyone to suggest that it is out of sordid motives of statistics or financial gain is outrageous and insulting," he added.
Bannon also said he didn't agree with Trump's decision — and that "the guys in the far-right" and "on the conservative side" were "not happy" with it either — but understood "how [Trump] struggled with it."
His remarks about the church come just weeks after a close confidant of Pope Francis, writing in a Vatican-approved magazine, named Bannon as a proponent of "apocalyptic geopolitics."
Bannon's comments was also just his second prominent interview, and his first televised one, since leaving the White House last month, an exit that capped a rocky tenure in which he was a central figure in a power struggle over influencing an often unpredictable president.
Critics saw Bannon as the driving force behind Trump's more nationalistic policies and rhetoric, most recently the president's comments on a white supremacist attack in Charlottesville, Virginia.
But in his interview with CBS, Bannon called "neo-Nazis and neo-Confederates" and the Ku Klux Klan "absolutely awful" and said "there's no room in American society for" them.
He also, however, took aim at Gary Cohn, Trump's chief economic adviser who after Charlottesville said the "administration can and must do better in consistently and unequivocally condemning" hate groups.
Bannon said that Cohn "and some other people" should have quit if they found Trump's remarks "unacceptable."
"If you don't like what he's doing and you don't agree with it, you have an obligation to resign," Bannon said.