The Border Patrol has processed and released more than 6,413 migrants into the U.S. without court dates or the ability to track them since early Thursday, and 2,576 of those were released after a judge ordered it to stop the practice the next day, court documents filed Monday say.
In a sworn declaration, David BeMiller, chief of law enforcement operations for the Border Patrol, said the agency was aware the judge had blocked it from releasing migrants under a new policy known as "parole with conditions" that would allow border agents to release migrants without a court date and without the ability to track them if their facilities became overcrowded.
But, he said, it was hard to reverse course because, by the time of the court order, 2,576 migrants who had been fully processed under the policy were awaiting release. They were therefore released under those provisions.
When the court issued its temporary restraining order, "all sectors had ceased releases for the day for any noncitizens who were fully processed," BeMiller said in his declaration. Consequently, Border Patrol released on Friday "these noncitizens who had been fully processed prior to the time the TRO took effect."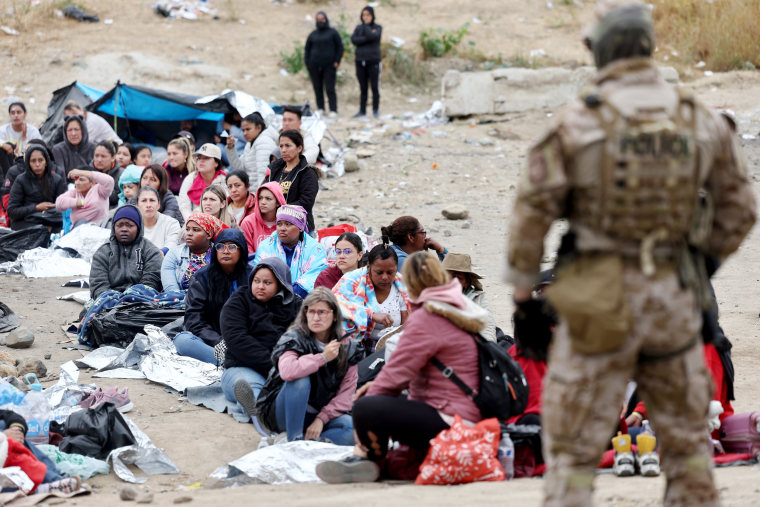 In addition to those released inside the U.S. under "parole with conditions," other migrants have been released into the country to pursue asylum claims with court dates. An administration official said those released to pursue asylum claims have been thoroughly vetted through security screenings.
NBC News was the first to report on the Biden administration's policy of "parole with conditions," which it launched just before Thursday's end of the Title 42 Covid ban. Florida cited the article in its lawsuit to block the policy from taking effect. 
The Florida attorney general's office incorrectly characterized the reporting in its suit, saying the article indicated migrants would be released "en masse." NBC News did not say migrants would be released en masse.
Border crossings continue to decline
By the time Title 42 expired, it had blocked more than 2.5 million border crossings since its imposition in 2020. In the days before it was lifted, the number of migrants crossing the border began to surge, and experts predicted the number crossing per day could hit 13,000 to 14,000 after Title 42's official end. The Biden administration began applying "parole with conditions" Thursday morning. 
Despite those dire predictions, the number of migrants crossing the southern border declined Monday for the fourth straight day since the end of Title 42. A little more than 3,700 undocumented migrants were apprehended by Border Patrol on Monday, according to a Department of Homeland Security official.
The number of migrants in Customs and Border Protection processing centers has also declined, from more than 28,000 last Wednesday to just more than 18,000 late Friday, according to an administration official.
Blas Nuñez-Neto, assistant secretary of border policy and immigration at Homeland Security, said 2,400 Mexicans have been sent back to Mexico, along with hundreds of Venezuelans, Cubans and Nicaraguans since the lifting of Title 42. He also said the department has sent thousands of migrants back to their home countries since the Covid ban's end.