Less than five months ago, Alexandria Ocasio-Cortez, promising a bold progressive agenda — including calls to abolish ICE — won a stunning upset in a House Democratic primary. Days later, fellow New York Democrats Sen. Kirsten Gillibrand and Mayor Bill de Blasio joined her, demanding an end to the federal agency tasked with immigration enforcement. Others quickly linked themselves to the movement.
But now? With just days to go before the midterm elections, the "Abolish ICE" issue has all but vanished from the radar.
The topic, which had initially been forecast by some politicos as a hot new issue for Democrats, and a possible litmus test for candidates seeking support from the progressive wing of the party for 2020, is largely gone from rallies and speeches. That's due to what experts say is its failure to resonate with mainstream Democratic voters, a misplacing of blame for the nation's immigration crisis and a successful counter-attack from Republicans, including President Donald Trump.
The biggest factor in the Democrats' abandonment of the issue, Democratic strategists said, was that it deflected blame from those who they believe are responsible for creating a wave of new, harsh and divisive immigration policies. That includes the speeding up of deportation proceedings, an increasing number of arrests by ICE agents of undocumented immigrants, and the Trump administration's "zero tolerance" policy, which had resulted in the separation of families at the U.S. border.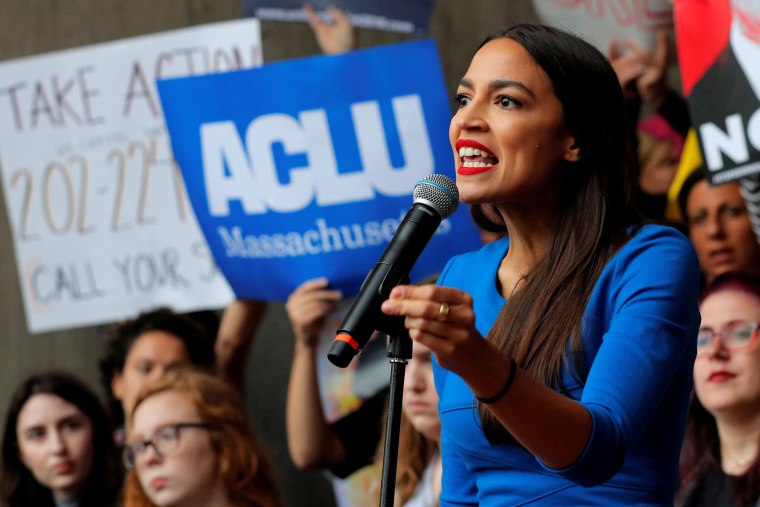 "It let off the hook those who are truly responsible for the nation's immigration policies: President Trump, Attorney General Jeff Sessions and DHS Secretary Kirstjen Nielsen," Rodell Mollineau, a Democratic strategist at Rokk Solutions, told NBC News. "A lot of voters just kind of understand that ICE officers are following new orders."
Matt Angle, director of the progressive PAC the Lone Star Project, said: "Democratic voters realized that ICE itself was not the problem. The problem was the policy and the officials behind it."
In June, as reports emerged that families were being separated at the U.S.-Mexico border, progressive Democrats began widely calling to "abolish" U.S. Customs and Immigration Enforcement (known as ICE) — a 15-year-old federal agency under the jurisdiction of the Department of Homeland Security that was given broader authority by the Trump administration to arrest and deport undocumented immigrants.
One of the first was Ocasio-Cortez, a 28-year-old Democratic Socialist who knocked off Rep. Joe Crowley, D-Queens, the No. 4 Democrat in the House, in a June Democratic primary. She was quickly followed by Gillibrand, de Blasio, Sen. Elizabeth Warren, D-Mass., Reps. Mark Pocan, D-Wis., Pramila Jayapal, D-Wash., Earl Blumenauer, D-Ore., Jim McGovern, D-Mass., Raul Grijalva, D-Ariz., Mike Capuano, D-Mass. and others.
But, amid attacks from Trump and crafty dares from congressional Republicans, most sprinted away from what had been initially seen as a robust rallying cry.
Trump quickly went on the offense, tweeting over several summer days that "the radical left Dems" wanted to get rid of ICE. "We will NOT stand for these vile Democrat smears in law enforcement," the president said. "If you get rid of ICE, you're going to have a country that you're going to be afraid to walk out of your house."
It had an effect.
Pocan, for his part, initially said he'd planned to introduce a House bill that would abolish the agency within one year. But when GOP leaders, predicting the legislation would be a disaster for Democrats, threatened to schedule an immediate vote on it, Pocan and others supporting the bill retreated, saying they would have voted against their own legislation.
Gillibrand — who in June told CNN that Congress should "get rid of" ICE and "start over" — said at a debate against her Republican opponent Chele Farley in October that she only wanted to "fix the broken system" of ICE. Warren, who in late June had called for ICE to be abolished, echoed that in a debate against her own general election opponent last month, saying only, "I want to see this agency reformed."
A spokesman for Gillibrand said the senator's position on the issue "hasn't changed." A spokeswoman for Warren said her position "has remained consistent."
Even Ocasio-Cortez, despite making "Abolish ICE" a major part of her campaign over the summer, has tweeted about the topic just twice since Sept. 1. A campaign spokesman told NBC News she was unavailable for comment about the issue.
Politics watchers said they weren't shocked to see most Democrats step back on the issue and noted that it was, perhaps, always a doomed message for any candidate not representing an exceedingly liberal district or state.
"It got attention initially because Democrats are not that often so blunt in their messaging and I think that stood out," Basil Smikle, the former executive director of the New York state Democratic Party, told NBC News. "But it doesn't translate to a winning general election message in most parts of the country."