The internal watchdog for the Department of Homeland Security found the agency has a limited ability to track migrants once they are released inside the United States, noting that during a 17-month period 177,000 address records for new arrivals were either blank or contained nonexistent or nonresidential locations.
More than 1 million migrants were released inside the U.S. pending their immigration hearings from March 2021 to August 2022, according to a new report from the DHS Office of Inspector General. Of those migrants' records, more than 54,000 were blank, while the rest were either invalid or not legitimate residential locations.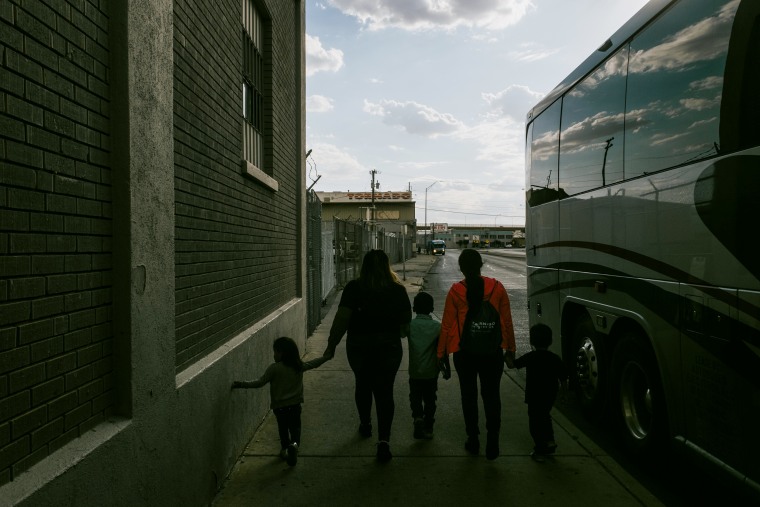 Some of the locations that were used more than 50 times during a six-month period included a restaurant in Maryland, a bus station in Georgia, a car dealership in New Jersey and a church in Illinois. 
Without a real address, DHS had no way to track the whereabouts of migrants or to send them notifications about their pending asylum claims and court dates. If they don't file an asylum claim with immigration courts within a year of arrival, they could miss the opportunity to seek legal residency and work authorization. 
The inspector general's report said valid addresses are needed for Immigration and Customs Enforcement to locate and deport migrants who are illegally in the country.
"ICE must be able to locate migrants to enforce immigration laws, including to arrest or remove individuals who are considered potential threats to national security," the report said. "The notable percentage of missing, invalid for delivery or duplicate addresses on file means DHS may not be able to locate migrants following their release into the United States."
U.S. Border Patrol and ICE personnel told the inspector general's office that migrants "commonly share addresses and may reuse addresses based on extended family all going to the same location or based on information from potential smugglers."
Previous administrations of both parties have released migrants with pending immigration court dates into the U.S. because of overcrowding in immigration detention facilities and policies limiting the detention of children. 
To further reduce crowding in Border Patrol processing centers, the Biden administration began to release migrants in March 2021 without court dates, but with a notice to report to an ICE office within 60 days. The inspector general's investigation found that more than 25,000 of almost 100,000 migrants released with only a notice to report to ICE were missing addresses in their files. 
The inspector general found in a previous report that 29% of migrants released with a notice to report to ICE did not report to the agency within the 60-day period required by the terms of their release. 
NBC News previously reported on the number of migrants released into the U.S. without court dates, which totaled more than 600,000 as of February.
In 2022, DHS began to place migrants released without court dates in a program known as Alternatives to Detention, which allows ICE to monitor their whereabouts through an ankle monitor or mobile app. In May, when numbers at the border were expected to surge with the ending of the Covid restrictions known as Title 42, the administration considered allowing border agents to release migrants into the U.S. without a court date or the ability to track them. 
But a federal judge in Florida issued a ruling just before that policy went into effect blocking it.
In response to the inspector general's report and recommendations, DHS said it had no need to implement a program to validate addresses on migrant intake forms. "The burden is on the noncitizen to provide a valid address," the report said in summarizing DHS' response.
In a statement to NBC News, a DHS spokesperson said, "Our immigration system is broken and outdated and Congress needs to fix it. Even under those outdated laws, the Department has improved how noncitizens are processed and vetted. Individuals seeking to come to the United States are screened by DHS and our intelligence and counterterror partners to prevent anyone who poses a threat from entering the country."
"The IG ignores legal and operational constraints that make it impossible for the Department to implement its recommendations. The report also excludes several recent DHS improvements to how we track and update noncitizen addresses across agencies."