The House passed a GOP-backed bill to address immigration at the U.S.-Mexico border Thursday, the day Covid restrictions at the border are set to be lifted.
The measure passed in a 219-213 vote. Two Republicans — John Duarte of California and Thomas Massie of Kentucky — joined all Democrats in opposing the measure.
The legislation, known as the Secure the Border Act of 2023, would mandate that Customs and Border Protection hire enough Border Patrol agents to maintain a staff of 22,000 and develop a plan to upgrade existing technology to make sure agents are well-equipped. It also would require the homeland security secretary to resume construction of the border wall, a centerpiece of former President Donald Trump's administration.
The bill is unlikely to become law. Democrats, who oppose it, hold a slim majority in the Senate, and the White House issued a veto threat this week.
In a joint statement after the bill passed, House GOP leaders said Republicans "are taking action to address the chaos at our nation's borders by delivering legislation that will support our Border Patrol agents, block the flow of fentanyl into our country and put an end to the Biden Border Crisis."
Follow along for live updates on the end of Title 42
In floor remarks Thursday, House Majority Leader Steve Scalise, R-La., criticized President Joe Biden and Homeland Security Secretary Alejandro Mayorkas.
"They're derelict in their duty," Scalise said. "We are actually a nation of laws and a nation of immigrants. We can do both."
A White House statement of administration policy this week said that while the Biden administration supports productive efforts to reform the country's immigration system, it opposes the GOP-sponsored bill, which it said would make "elements of our immigration system worse."
The legislation "does nothing to address the root causes of migration, reduces humanitarian protections, and restricts lawful pathways, which are critical alternatives to unlawful entry," it said.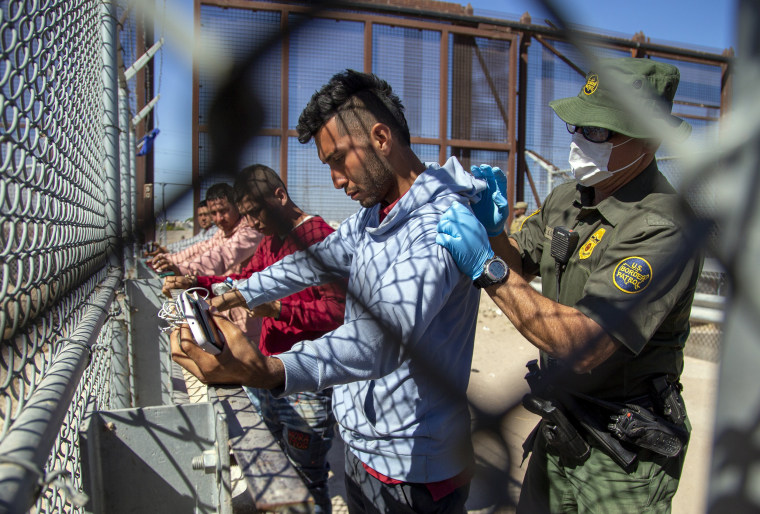 The U.S. is set to lift Title 42, the pandemic-era restriction that expelled migrants immediately without asylum hearings, at just before midnight Thursday. The expiration is expected to draw more migrants and slow processing times for migrants in Border Patrol custody.
More than 11,000 migrants crossed the southern border Tuesday — exceeding expectations of 10,000 a day that Department of Homeland Security officials predicted when Covid restrictions lift.
Congressional Democrats sharply criticized the bill when House Republicans announced it at the end of April, saying it would go beyond the scope of border security and punish all noncitizens, including legal residents, trafficking victims and refugees.
Reached for comment before Thursday's vote, the office of House Minority Leader Hakeem Jeffries, D-N.Y., pointed to his comments at a news conference Wednesday, when he called the bill the "Child Deportation Act" and characterized it as "one of the extreme MAGA Republicans' top priorities."
"How do they propose to address our broken, fragile immigration system? Well, they want to waste billions and billions of taxpayer dollars on a medieval border wall, a 14th century solution that will not work to a 21st century challenge," Jeffries said. "They continue to bend the knee to the former twice-impeached president of the United States of America in terms of their policy proposals.
"The Republican approach is anchored in xenophobia and fanning the flames of hatred and distrust and of irresponsible policies that will do nothing to solve the problem," he added.
Rep. Nanette Barragán, D-Calif., the chair of the Congressional Hispanic Caucus, on Thursday echoed her Democratic colleagues' criticism of the bill by casting it as a "product of extreme Republicans' cruel, unworkable immigration policy."
"This bill is an adoption of the failed Trump-era policies that call for the criminalization of the right to seek asylum," Barragán said at a news conference.
"It's anti-immigrant. It's anti-Latino, and it's anti-American," she said. "It's time for a comprehensive immigration reform that's humane, that expands legal pathways for migration, protects your Dreamers and addresses the root causes of migration."