TORNILLO, Texas — Thirty miles from El Paso in this small dusty border town, teenage boys can be seen playing soccer behind barbed wire fences in front of a backdrop of hundreds of white-topped tents.
Here, the Trump administration has vastly expanded its capabilities to hold immigrant children in temporary tent shelters before they are united with parents, other relatives or sponsors.
Children between 13 and 17 were brought here from more than 100 other Health and Human Service facilities across 17 states now at capacity.
Tornillo's so-called "tent city" was designed to temporarily house 450 children under the care of Health and Human Services in June, when Trump's zero tolerance policy separated over 2,500 migrant children from their parents. Now, after the vast majority of those children have been reunited, the facility still holds 1,500 children, all of whom crossed without parents. Tornillo's tent city can now hold 3,800 children and plans to stay open until the end of the year or longer if necessary.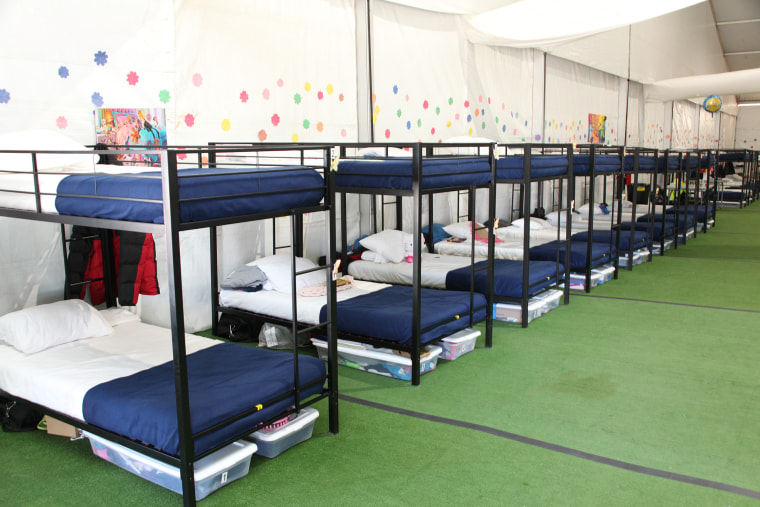 The Department of Homeland Security and HHS say the expansion was necessary to deal with the surge of immigrant children arriving at the border without guardians to care for them. But border crossings by unaccompanied alien children, known as UACs to immigration agents, are not at record levels.
The incident commander in charge of Tornillo's facility told reporters on Friday "there is no question whatsoever" that the rise in migrant children being detained by the U.S. government is due to the "extra precautions" the Trump administration is now taking to match children to suitable guardians, including their biological parents.
Under the new standards, everyone in the household where a child may be placed must now submit fingerprints to be run against FBI criminal background databases. Previously, those who could show documentation proving to be a biological parent and household members were excluded from background checks.
The incident commander said that as of Friday, 826 out of the 1,500 children in Tornillo were awaiting the completion of those background checks before they could go to a home.
The average length of stay for children at Tornillo is now 59 days, up from roughly 30 days under the Obama administration, according to HHS. Children at Tornillo stay an average of 25 days, according to HHS, but many have waited longer at other facilities.
One 16-year-old Guatemalan girl, whose name will not be disclosed for privacy reasons, told NBC News that she has spent one month in Tornillo after spending two-and-a-half months in a HHS facility in Miami. She is waiting to be reunited with her adult brother, who is living in Texas, and said she fears being sent back to Guatemala where her parents live.
Lawyers from the ACLU have argued subjecting parents to fingerprinting and background checks is burdensome and separates families over small crimes that would otherwise not be the grounds for taking a child from a home of a U.S. citizen.
Because Tornillo is on federal land, it is not subject to state inspections, something that many child welfare advocates are quick to point out as a potential for danger and mismanagement. The incident commander, however, said Tornillo exceeds state standards when it comes to ratios for childcare, medical and mental health workers.
Life in Tornillo
While children live in this limbo — first waiting for their sponsor, and then waiting to find out whether they will be allowed to stay in the United States — HHS follows a strict schedule to occupy their time.
Children spend most of the day in fully enclosed air-conditioned tents, where they receive schooling, meals, and recreational activities. Three workers are assigned to sleeping tents of 20 children each. Until recently, children were given optional workbooks rather than mandatory lessons taught by teachers.
The favorite activity by far, according to care workers, is soccer. Children have three hours of recreational time each day and usually flock to the turf for soccer games.
Touring the sleeping tents, one finds birthday balloons, art projects and toys made of yarn dangling from the bunks. Some have Bible verses and hand-drawn pictures of home with the words like "Honduras" spelled across them.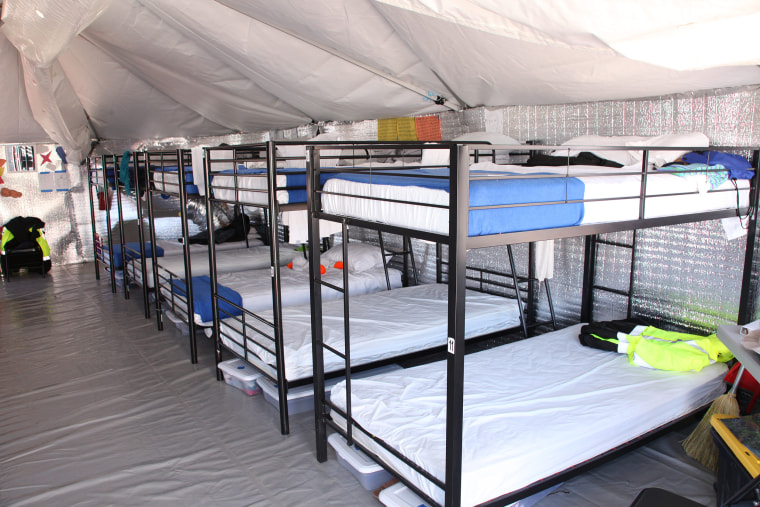 Lining the soccer field are trailers labeled for the services they offer the children. One trailer devoted to haircuts has a "BARBER" sign on the door. A group of boys were lined up around the trailer, waiting for a trim. Four other boys sitting in the back, all age 14, said they've been treated well inside the facility.
One of the nearby tents features a form at the entrance, allowing the boys to request to meet with medical professionals, mental health workers, case managers or legal services. The staff have 12 hours to respond to the requests, according to the incident commander.
On the opposite side of Tornillo, more than 300 girls live in the largest tent in the camp. Beds line one side and on the other sit the tables and chairs that the girls use to eat their meals and have classes. "It's like a house party," the incident commander said.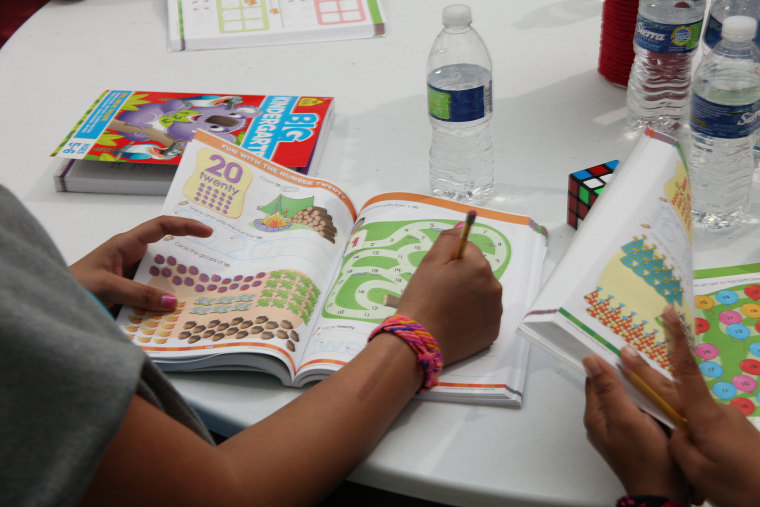 On Friday afternoon, a 15-year-old girl from Honduras was sitting on her bed, pulling her dark hair into a ponytail. She said she had recently celebrated her birthday in Tornillo.
Children are allowed to make two phone calls per week to their family members or sponsors. But the teen girl said on her birthday she wasn't able to contact her relative living in Virginia. She didn't know the phone number.