Homeland Security Secretary Alejandro Mayorkas said Sunday that the number of encounters along the southern U.S. border has dropped by half since Covid restrictions were lifted last week.
"Over the past two days, the United States Border Patrol has experienced a 50% drop in the number of encounters versus what we were experiencing earlier in the week before Title 42 ended at midnight on Thursday," Mayorkas said on CNN's "State of the Union."
Still, he cautioned that it's "too early" to tell whether the migrant surge has peaked.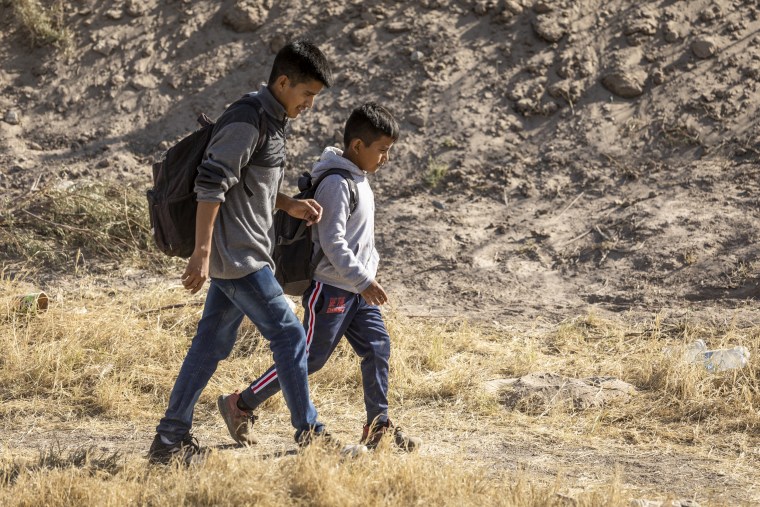 "It is still early. We are in day three, but we have been planning for this transition for months and months. And we have been executing on our plan. And we will continue to do so," Mayorkas said. "It is too early. But the numbers that we have experienced over the past two days are markedly down over what they were prior to the end of Title 42."
On Monday, Blas Nuñez-Neto, the assistant secretary for border and immigration policy at DHS, told reporters that despite the drop in numbers he was mindful that smugglers would still look for ways "to take advantage of the change in border policies."
Nuñez-Neto also said more than 2400 Mexican migrants have been sent back into Mexico since the lifting of Title 42. 
Since Friday, he said, hundreds of other non-citizens including Venezuelans, Cubans and Nicaraguans have been returned to Mexico and DHS has sent thousands of migrants, including single adults and families, back to their home countries. 
He also noted that actions by some Latin American countries may have contributed to the decline in numbers. "In recent days," said Nuñez-Neto, "we have seen Mexico and Guatemala have deployed large numbers of law enforcement and military personnel to their southern borders and Panama and Colombia undertaking an unprecedented joint effort to attack smuggling networks operating in the Darien [Gap]."
Two DHS officials told NBC News that there are over 21,000 migrants in CBP border processing facilities, putting the centers just over capacity. 
The number is down from 27,000 reported right before the lifting of Title 42, but still over the 18,500 capacity for border processing centers. The officials say CBP continues to "rapidly release" migrants into the U.S. with notices to appear in court. 
Blas Nuñez-Neto today told reporters that so far no one been released without a court date, pursuant to a Florida court order. 
The end of Title 42
The Covid border restrictions known as Title 42 were implemented by the Trump administration in 2020 and continued into the Biden administration until they expired late Thursday. The restriction allowed both administrations to expedite expelling migrants without asylum hearings.
The Biden administration had tried three times to lift the restrictions in recent years, but it was thwarted by legal challenges from Republicans, who argued that lifting Title 42 would increase the flow of migrants, strain the immigration system and pose national security risks.
In the weeks leading up to the lifting of Title 42, the Biden administration braced for what was widely expected to be a record influx of migrants across the U.S.-Mexico border.
Mayorkas said Sunday that Border Patrol had about 6,300 encounters along the border Friday and about 4,200 on Saturday — a significant reduction compared to the number of undocumented migrant crossings that were stopped before Title 42 ended.
Two DHS officials also indicated Saturday that daily migrant crossings had roughly halved since the pandemic restrictions ended. There were roughly 11,000 on Tuesday and Wednesday and 10,000 on Thursday, the officials said.
Before Title 42 was lifted, some Democrats expressed skepticism about whether the administration was prepared for an increase in the number of asylum-seekers.
Sen. Chris Murphy, D-Conn., said Sunday that Title 42 had to be lifted by law because the pandemic is over: "The president doesn't have discretion to keep Title 42 in place."
In an interview on NBC News' "Meet the Press," Murphy also defended President Joe Biden's handling of the border issue and criticized Republicans who had complained that he didn't do enough to manage it.
"The only Covid restriction Republicans seem to want to keep in place is the one that keeps people that don't look like them from coming into the United States," Murphy said.
Mayorkas last month called for congressional support to fix the "broken immigration system" before Title 42 was lifted, demanding legislative reform to assist the administration's efforts to secure the border.
"We need resources for it all. Remember, the resources will enable us to move more quickly, more efficiently, within a broken immigration system," he said.
The House passed a GOP-backed bill to address immigration at the border last week, the day Covid restrictions at the border were lifted.
The legislation, known as the Secure the Border Act of 2023, would mandate that Customs and Border Protection hire enough Border Patrol agents to maintain a staff of 22,000 and develop a plan to upgrade technology to make sure agents are well-equipped. It also would require the homeland security secretary to resume construction of the border wall, a centerpiece of former President Donald Trump's administration.
The bill is unlikely to become law. Democrats, who oppose it, hold a slim majority in the Senate, and the White House issued a veto threat this month.
Democrats argued that it would go beyond the scope of border security and punish all noncitizens, including legal residents, trafficking victims and refugees.