Rudy Zamora, an immigrant from Mexico and a resident of Las Vegas, followed all the rules.
He has lived in the U.S. since he was two years old and for years watched others cast votes that would directly impact his life. After submitting his naturalization paperwork the day he was first legally able, Zamora thought he would be able to participate in the Nevada caucuses on Feb. 20.
But he saw that day and the state convention pass without hearing from the immigration agency.
"I understand that a lot of people have also applied and that it could cause a backup. I keep thinking, as long as I can make it to November that's when I'll be relived," he said.
Over half a million immigrants, whose naturalization applications were filed months ago, are starting to make peace with the fact that, due to a backlog in processing applications, they may not be able to cast their first vote as American citizens in November.
Related: Trump: Government is Letting People 'Pour' Into Country to Vote
The tense political climate has thrown immigration issues into the national spotlight again and a recent application fee increase has motivated thousands of U.S. residents to apply for their citizenship to vote this year. But a swell in state level applications at the U.S. Citizenship and Immigration Services (USCIS) has led to backlogs that will prevent many from casting their vote.
At the end of June 2016, 524,014 naturalization applications were reported under review across all 50 states according to the USCIS. Though the number does not represent the exact number of applications in the backlog, a review of the pending cases by state from this period to the third quarter of fiscal year 2015 does show a 31.2 percent growth in pending applications.
USCIS spokesperson Jim McKinney says that the agency is on track to meet its goal of processing applications between five to seven months. He acknowledges that the agency has "experienced a significant increase in applications and petitions across the board" and attributes the discrepancy in processing times to geography and capacity in states.
Related: Report: Naturalized Citizen Vote Can Make Difference in Tight Races
The agency has experienced similar backlogs for at least the past three presidential election cycles, NBC News found.
Tara Raghuveer, deputy director of National Partnership for New Americans, said that the concurrent swell of backlogs during presidential election years are an example of corrosion in American democracy.
"Unfortunately we're going to see people disenfranchised in states that are critically significant in this election. To express frustration about that is an understatement and it's completely inexcusable that these backlogs exist, period," she said.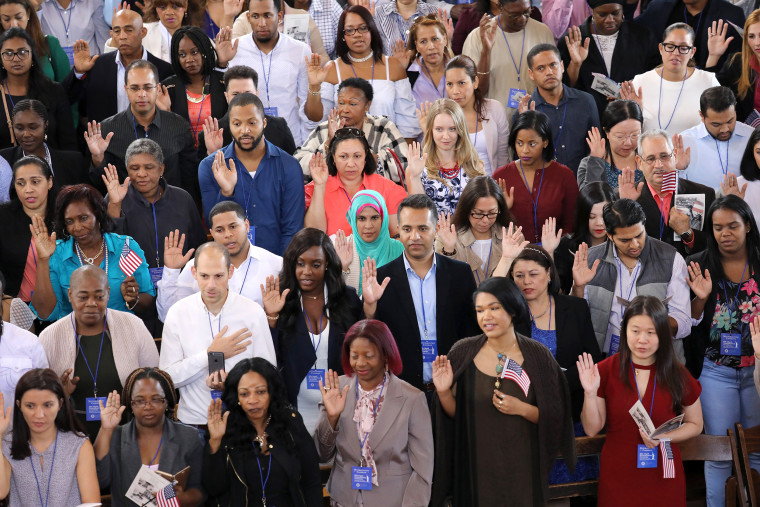 Francisca Fiero, 73, attributes her decision to quickly apply for naturalization to Hillary Clinton. She followed Clinton's political career ever since immigrating to the U.S. legally decades ago.
Fiero is still hoping to cast her vote for the first female presidential nominee even though she has not heard from USCIS since giving her fingerprints in June.
"I'm going to feel so sad if I cannot vote in November" Fiero said in an interview in Spanish. "Yet, I feel so proud because I was chosen out of all the people in Nevada to go through the process so I'll keep waiting."
Processing naturalization applications prior to voting registration deadlines could help tip the balance for a candidate in battleground states.
When comparing the pending cases in states from the third quarters of fiscal years 2015 and 2016, places like Nevada have seen a 89 percent increase while New Jersey almost reaches a 60 percent increase.
The more than 66,100 applications pending in Florida since June 30 could make the difference in a state that is always teetering between turning red or blue.
The USCIS has responded by sending staff to offices experiencing increased workloads and has authorized overtime for specific offices to try and speed up processing times.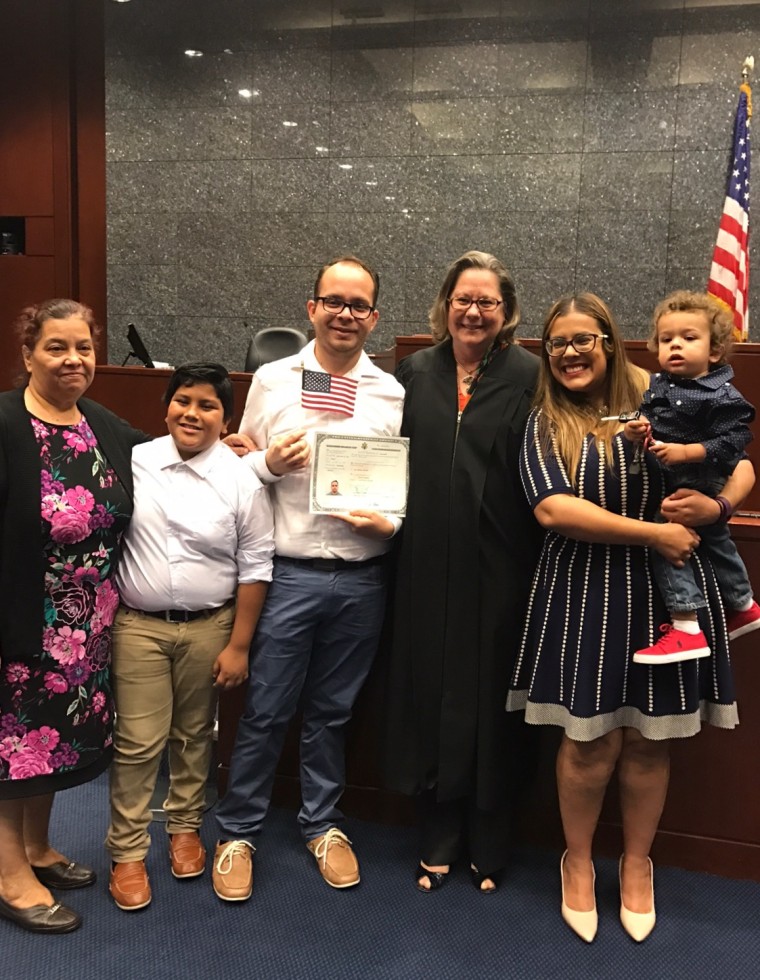 It is still too early to know whether the shift in personnel has decreased the backlog swell since the summer, officials said. But Zamora recently received a letter asking him to take his naturalization oath on October 14, just four days shy of Nevada's in-person or online voter registration deadline.
He didn't immediately breath a sigh of relief just in case something went wrong, again. The local immigration agency lost his application once through the process, resulting in him to wait almost a full year for his citizenship.
Yet by Friday afternoon, Zamora was finally able to declare himself a U.S. citizen. Upon taking the oath, he immediately registered to vote. He described the moment as symbolic for him, his family and the 11 million undocumented immigrants in the U.S.
"It's a whole bunch of emotions. It was relief, it was pride, I don't think there's one word to sum it up, just something different," he said.
Though Fiero still checks her mailbox daily for a letter to schedule an interview and citizenship exam—the last steps of the process—she remains positive. Even if she will not be able to vote, her children and thousands of other Latinos will help represent her interests on Election Day.
"I've always been treated well in this country and that's why I'm here. That's why I want to see this country rise," she said. "That's why it's so important to vote. We help each other up."