Tensions are rising between the New York City mayor's office and the state and federal governments over how to handle more than 58,000 asylum-seekers now in the city's care, as the Biden administration resists a quick fix proposed by the state and city.
Many migrants, some of them shipped to New York by Republican governors to the south, have been sleeping on the streets after existing hotels and shelters reached capacity, and they are starting to fill new shelters converted from houses of worship and schools. Opponents of the new migrant shelters rallied this week at protests in Brooklyn, Staten Island and Queens. 
Mayor Eric Adams, a Democrat, has repeatedly blamed the Biden administration for not giving the city more resources to house the migrants and fast-track them for work authorization.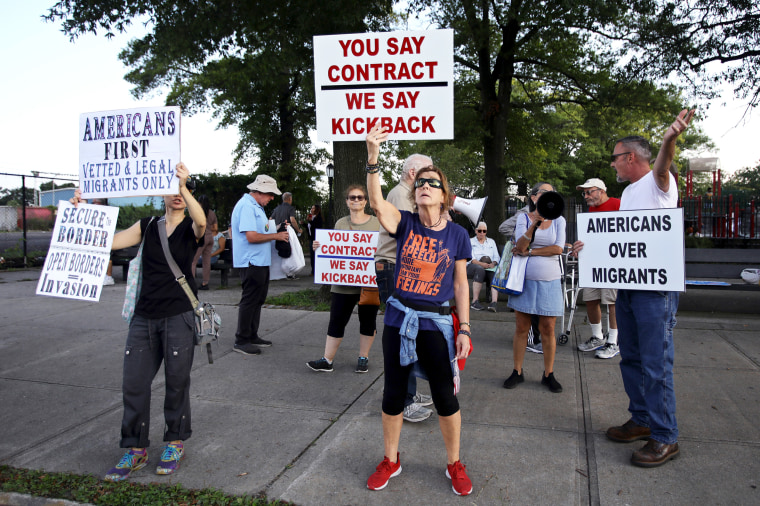 "We've been saying it since last year: We need the federal government to allow asylum-seekers to work, so they can provide for themselves and their families," he said Thursday. 
So why won't the federal government fast-track work authorization for the tens of thousands of asylum-seekers in New York City's shelter system?
Two senior Department of Homeland Security officials told NBC News the administration's hands are tied because of a rule that requires asylum-seekers to wait 180 days before applying for work authorization. The officials said it would take an act of Congress to change the law. 
But the Adams administration has proposed another solution to the problem: Granting Temporary Protected Status to certain nationalities, such as Venezuelans, that would let them apply for work permits instantly.
"We are calling on the White House, the United States Department of Homeland Security to ensure our newest Americans can work lawfully and build stable lives for themselves in our country. Our leaders in Washington must redesignate and extend Temporary Protected Status, also known as TPS," Adams said at a news conference in May. "And we want to be included those from Venezuela, Nicaragua, El Salvador, Honduras, Guatemala, Sudan, South Sudan, Cameroon and other nations. Given the continuing worsening humanitarian crisis in those countries, they are going to pursue the stability that our country has to offer."
But the two Homeland Security officials said it's not that easy. The Biden administration previously made Temporary Protected Status available to Venezuelans but only for those who were already living here before March 2021. Most Venezuelans living on the streets and in New York's shelters crossed the U.S.-Mexico border more recently and are not eligible.
A former Homeland Security official said the agency is reluctant to grant Temporary Protected Status to Venezuelans and other nationalities unless there are new crises in their home countries that would justify making recent arrivals in the U.S. eligible.
"There is a concern that granting TPS to one nationality will spur others from that country to come here," said one former Homeland Security official. "The concern is that word will get out, even through misinformation, and others will think they too can work and live here."
Adams has also said U.S. Citizenship and Immigration Services, an agency within the Department of Homeland Security, should speed up its processing time to approve work permits after migrants apply. A spokesperson for USCIS said the agency's processing time for asylum-based work authorizations has been less than two months this fiscal year. 
Another challenge, the Homeland Security officials said, was that many of the migrants on the streets of New York had entered the country illegally or without detection, and are not actually seeking asylum through U.S. immigration courts, making them ineligible for asylum.
Homeland Security does allow migrants to apply immediately for work authorization if they have used a number of legal pathways to seek asylum, including by making an appointment through the CBP One app or enrolling in a parole process designated for nationals of Cuba, Haiti, Venezuela and Nicaragua.
Adams has also called on the federal government to implement "decompression strategies" to make sure some cities, like New York, aren't taking on a disproportionate amount of the burden to shelter newly arrived immigrants. Just this week, Homeland Security Secretary Alejandro Mayorkas announced $77 million in funding for communities receiving migrants, bringing the total given to cities along the border and in the interior, like New York, more than $770 million. The Biden administration has also asked Congress to approve more than $600 million more for cities taking in migrants. 
But Adams says the city will incur a $12 billion bill if it doesn't get more help to shelter the migrants, and he has called on both the federal and state governments to do more to support the city.
Meanwhile, the state's governor, also a Democrat, has accused Adams of taking too long to communicate with the state and to take action to avoid a crisis.
In a 12-page letter to Adams last week, Gov. Kathy Hochul said, "The city can and should do more to act in a proactive and collaborative manner with the state."
But, like Adams, Hochul wants more from the federal government, including a way for migrants to find work. On Thursday, Hochul sent a letter to President Joe Biden asking that the federal government "expedite work authorizations," "provide the state and the city with significant financial assistance" and let the city use federal buildings as shelters.
"I cannot ask New Yorkers to pay for what is fundamentally a federal responsibility," she wrote, "and I urge the federal government to take prompt and significant action today to meet its obligation to New York state."