Federal immigration agents have used more aggressive tactics since a January 2017 executive order by President Donald Trump that broadened their authority, a New York immigrant advocacy group alleges.
In a report dubbed "ICEwatch" released Monday that details more than 650 arrests or operations by Immigration and Customs Enforcement agents in New York state, the Immigrant Defense Project says ICE agents have increasingly made arrests in courthouses, used ruses such as posing as police officers, and used excessive force while enforcing immigration law.
"ICE relies on fearmongering, secrecy, deceit, manipulation, and force to enact its devastating deportation mandate to deport as many people as possible," said Genia Blaser, IDP senior staff attorney. "By making the reports of their dehumanizing tactics widely available through ICEwatch, we aim to inform the public and community members around the escalation of 'unshackled' ICE policing."
IDP and the Center for Constitutional Rights, another legal advocacy group, compiled the report and created an interactive map by collecting data from local organizations, regional immigrant assistance centers, the New York Immigrant Family Unity Project and calls to the IDP hotline. IDP says it confirms the accounts by speaking with those arrested, their attorneys, witnesses and others with "direct knowledge."
The group, which has been collecting data for five years, then compared the results for the beginning of the Trump administration with the data from the end of the Obama administration. IDP identified six enforcement tactics that have increased under Trump: the use of force, surveillance, arrests at courthouses, ruses, warrantless entries into homes, and collateral arrests.
While ICE used identical tactics under President Obama, Blaser said the agency is using them more often — and more aggressively — than before.
"What we're seeing under this administration is that these tactics aren't necessarily new — they're legacies of past practices," said Blaser. "But they are using a variety of tactics all at the same time."
In the first 523 days of the Trump administration, IDP saw arrests after surveillance — including staking out immigrants in front of their homes or work — increase nearly fourfold over the last 523 days of the Obama administration. Immigrants also reported more than twice as many incidents involving use of force, ruses and warrantless entry. During the last days of the Obama administration, the organization received no reports in New York state of collateral arrests–meaning the arrest of immigrants who are not the intended target of an enforcement operation. Under Trump, there were 21 recorded collateral arrests.
In New York, IDP found that courthouse arrests spiked from 11 in calendar 2016 to 144 in 2017, and have continued on the same pace in 2018. While ICE said in January 2018 that it would "generally avoid enforcement actions in courthouses," the agency has come under fire for its increasing presence there.
Just this month, in a case that was not handled by IDP, ICE agents in Charlotte, N.C., arrested a mother and her 16-year-old son after they arrived to court for a domestic violence hearing. ICE does not consider a courthouse a "sensitive location" like a church or hospital. In sensitive locations, enforcement actions are only permissible under "exigent circumstances," including prior approval or if other law enforcement actions "have led officers" there.
Blaser said that ICE agents posing as police and making courthouse arrests in particular have eroded trust in law enforcement in immigrant communities.
"There has been a chilling effect across the criminal process," Blaser said. "ICE has gone to courts and arrested people who are witnesses in cases and people who are defendants and trying to access their due process rights. It has a real chilling effect on people who want to be involved with courts in any way."
While the Obama administration prioritized the removal of immigrants convicted of serious crimes, national security threats and gang members, Trump's executive order, signed just five days after his inauguration, expanded the scope of removable immigrants to include anyone present in the country illegally.
The president's order called for an end to "exempt[ing] classes or categories of removable aliens from potential enforcement." In February 2017, White House Press Secretary Sean Spicer said Trump wanted to "take the shackles off" ICE agents.
ICE arrests in New York are up 61 percent in the first 14 months under Trump as compared to the final 14 months under Obama, according to ICE data compiled by NBC News. Although ICE does not provide state-by-state arrest data, NBC News combined the data from the Buffalo and New York City areas of responsibility, which an ICE spokesperson confirmed covers the entire state of New York and no area outside of it. IDP's data stretches into June, while ICE has only released data through March 2018, so the data are not a perfect comparison.
"ICE feels more liberated in arresting people than under the prior administration," said Stephen Yale-Loehr, professor of immigration law practice at Cornell Law School.
"People want to cooperate with police"
IDP says the following cases exemplify alleged ICE enforcement trends in New York state under Trump. IDP was unwilling to provide identifying information regarding these clients. ICE said it would not comment on the individual cases without that identifying information. NBC News has not spoken to the individuals involved, and has not confirmed their identities or the details of their cases.
One woman swept up in an ICE courthouse arrest, according to her attorney, had been a legal permanent resident since she was two months old, but was arrested while in court. She had a prior criminal conviction that is a deportable offense, her attorney said, but was in court for the final appearance for a separate case — and ICE was there waiting for her. The attorney declined to say what the criminal conviction was.
ICE agents requested the case be postponed until they arrived. According to IDP, agents blocked the woman in a hallway before arresting her, and refused her attorney's request to show a warrant.
Yale-Loehr said that courthouse arrests like these make immigrants afraid to report crimes.
"It makes immigrants fearful about reporting crimes to the police, showing up for cases that they are supposed to be involved with or testify in or attend because they have a relative in the case," Yale-Loehr said. "It's the same kind of concern that police officers have about ICE enforcement priorities generally."
ICE Deputy Press Secretary Sarah Rodriguez said in an email to NBC News that ICE will not make "civil immigration arrests inside courthouses indiscriminately." Rodriguez said ICE arrests at courthouses are "the result of targeted enforcement actions against specific aliens." Rodriguez said those targeted include individuals with criminal convictions, gang members, persons deemed to be national security or public safety threats, individuals who have been ordered removed and did not leave, and those that were removed but illegally re-entered the country.
Rodriguez also referred indirectly to sanctuary cities like New York in saying some localities have made it necessary for ICE to change tactics. More than two-thirds of the cases cited by IDP in its study of New York state took place in New York City.
"The increasing unwillingness of some jurisdictions to cooperate with ICE in the safe and orderly transfer of targeted aliens inside their prisons and jails has necessitated additional at-large arrests," Rodriguez wrote. "It is important that such arrests, including those taking place inside courthouses, continue to be undertaken with the same level of professionalism and respect that ICE officers and agents are committed to exhibiting every day."
New York City, which has declared itself a sanctuary jurisdiction, does not honor ICE detainers, meaning it will not hold individuals booked on local charges for delivery to ICE. According to a three-month ICE review in 2018, ICE prepared 440 detainers against those booked by NYPD or NYDOC, but 40 of them were released and arrested again for subsequent crimes.
"Simply put, the politics and rhetoric in this city are putting its own communities at an unnecessary risk," Scott Mechowski, acting field office director for ICE's New York City field office, said in a June press release. "ICE has no choice but to continue to conduct at-large arrests in local neighborhoods and at worksites, wasting valuable resources on criminal aliens who could be securely turned over to ICE custody at jails and prisons. However, ICE remains committed to its public safety mission and will continue to enforce our nation's immigration laws."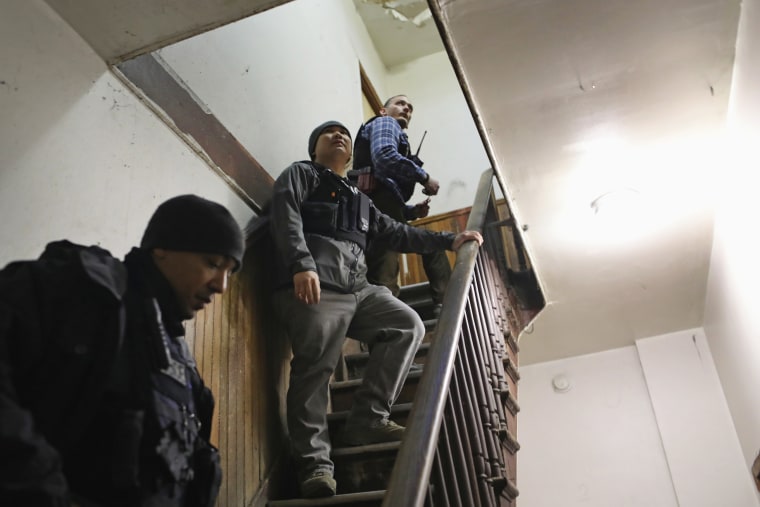 In late 2017, a New York resident was awoken by a knock at the door before 6 a.m. by ICE agents pretending to be police, according to IDP. Through a closed door, the agents said they were police and asked for someone named "Vasquez." IDP says no one named Vasquez lived in the apartment.
The man's sister told them through the door they had the wrong apartment, but the agents continued "banging on the door," according to the report. His sister asked the agents to slip the warrant they said they had under the door, but the agents refused, IDP says.
His sister left, but ICE kept banging on the door. The man opened the door and told the agents there was no "Vasquez" there and they needed to leave. With children in the room after the noise woke them up, his sister returned and argued with ICE, saying it was the wrong home.
The agents — who she still believed to be police — said if she wasn't hiding anything, she should let them in, so she said she felt intimidated and let them in. They asked for the man's ID and then arrested him without identifying themselves as ICE.
IDP says its New York data shows that ruses, which they allege commonly include ICE posing as police, have shot up from 29 under Obama to 68 under the Trump administration over the same time period.
Federal and local law enforcement regularly use ruses. It is not illegal for ICE agents to identify themselves as police or otherwise mislead immigrants during enforcement operations. But Yale-Loehr said the practice is deceptive.
"It can be overbroad and misleading to people who don't know the difference between ICE and regular police," Yale-Loehr said. "People want to cooperate with police, whereas if they talk to immigration agents, they fear being put into removal proceedings."
Rodriguez did not respond to a specific question from NBC News asking if ICE policy approves of the tactic of posing as local law enforcement.
ICE has also increasingly used force, IDP alleges, citing one example in which it says ICE pushed a visibly pregnant woman to the ground. IDP's data from New York notes 44 incidents that involved force under Trump versus 14 under Obama during the 523-day periods it compares. IDP did not identify the woman to NBC News.
A man and his girlfriend were walking towards the subway when they heard someone yell "yo, yo!" The couple kept walking, thinking that the person was not talking to them.
As they crossed the street, two ICE agents dressed in jeans and sweaters — not in uniform — tackled the man, IDP alleges. His girlfriend asked what was happening, but they didn't explain.
She grabbed an agent and he threw her to the ground. They later took the man into an unmarked car and told her that they had an immigration warrant on her boyfriend.