WASHINGTON — The Pentagon is fighting against proposals by White House officials to drastically cut the number of refugees allowed into the U.S., and has called for reserving visas for Iraqis who risked their lives working for U.S. troops, according to five people familiar with the plan.
In internal discussions, the Defense Department has expressed opposition to any further reductions to the current annual ceiling of 30,000 for refugee admissions, which already is at a historic low for the 40-year-old U.S. refugee program, the sources told NBC News.
Defense officials also proposed setting aside about 6,000 slots specifically for Iraqi applicants who worked for U.S. troops as interpreters or in other jobs, according to one current U.S. official, one former U.S. official and three refugee advocates briefed on the deliberations.
The Pentagon has emerged as the lone voice in internal debates defending the traditional role of a refugee program overseen by the State Department, an unusual twist that reflects the administration's aggressive stance on immigration and refugees.
The Pentagon's stance is at odds with White House senior adviser Stephen Miller — the architect of the president's sweeping crackdown on immigration — and his allies at the State Department and the Department of Homeland Security, who are all proposing deep cuts or even a halt to refugee admissions for the next fiscal year starting in October.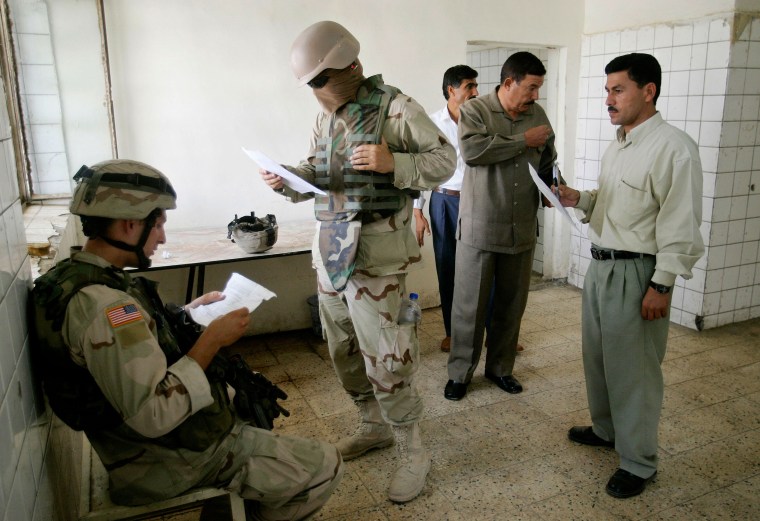 The White House, however, is weighing one option that would reduce overall refugee admissions — possibly lowering the cap to 15,000 or lower — while setting aside a certain number of openings for Iraqi applicants, similar to what the Pentagon has proposed, the sources said.
Defense officials are making the case that accepting refugees is in the country's national security interest, arguing that it provides a way to support allies who are inundated with refugees fleeing conflict and to promote stability in volatile areas.
The Pentagon declined to discuss its position in the administration's deliberations.
"Current ongoing discussions for this year's refugee ceiling are pre-decisional and it would not be appropriate to comment at this time," said Pentagon spokesperson Lt. Col. Carla Gleason.
Gleason added that the department recognized Iraqis and Afghans who had worked for the U.S. government had put their lives at risk and deserved to be taken into account.
"For that reason, leadership of the Department of Defense and the Joint Chiefs of Staff want to ensure that we fulfill our commitments to those who have provided support to our diplomatic and military efforts abroad to protect the homeland and support key aspects of the president's national security strategy," she said.
It remained unclear how hard the new defense secretary, Mark Esper, and his deputies were ready to push in the interagency debate, one Republican congressional aide said.
"It's time to step forward in the fight in the interagency and to speak out," the aide said. "I haven't seen that leadership yet from the department."
Since President Donald Trump entered office, the number of former Iraqi interpreters allowed into the U.S. has slowed to a trickle, with only two obtaining visas last year, NBC News previously reported. Military veterans and lawmakers have voiced outrage over the issue, saying the administration is turning its back on Iraqis who now face threats over their association with Americans.
A special visa program designed to help Iraqis who worked with U.S. forces resettle in the United States expired in 2014. Since then, Iraqis have been treated like other refugee applicants but can apply directly to the United States instead of having to register with the United Nations.
Former Defense Secretary James Mattis last year unsuccessfully argued against scaling back refugee admissions, citing the service of Iraqis and the need to support allies abroad. In a September 2018 memo, Mattis said Washington owed a debt to Iraqis who "have risked their own lives and their families' lives by aligning with our diplomats and warfighters providing essential mission support."
In an open letter to the White House this month, 27 retired generals and admirals called on President Trump to raise the ceiling for refugee admissions in line with previous administrations to support what they called "critical national security interests."
"When America turns its back on refugees, we are challenged to call on our allies to accept them, ultimately risking premature returns, like those of Syrians back to an unstable Syria, Somalis back to an unstable Somalia and Afghans back to an unstable Afghanistan," the officers wrote.
In a break with both Republican and Democratic presidents, Trump has slashed the annual ceiling on refugees since entering the White House. At the end of the Obama administration, the cap was at 110,000. Trump cut it to 45,000 for the 2018 fiscal year, and then to 30,000 for the current fiscal year. Both caps represented record lows since the introduction of the 1980 Refugee Act. The average level for refugee admissions has hovered around 95,000 over four decades.
The refugee program traditionally falls under the authority of the State Department and in previous administrations discussions about refugee ceilings were overseen by the National Security Council. But under the Trump administration, Miller and White House officials have treated it as a domestic issue as part of a wider policy designed to limit both legal and illegal immigration.
Administration officials have defended cuts to refugee admissions, citing the need to vet applicants for any possible terrorist links as well as the need to focus administrative manpower on handling an increase in asylum cases.
Asked about the internal debate over refugee admissions, a State Department spokesperson said: "We do not discuss internal and interagency deliberations or communications involved in those deliberations."
But the spokesperson added: "We will continue to resettle the most vulnerable refugees, including those who have fled religious persecution, while prioritizing the safety and security of the American people. "
The DHS and White House declined to comment.
For decades, the United States led the world in refugee admissions but that is no longer the case since Trump entered office. The dramatic drop in U.S. admissions coincides with a global refugee crisis, with 25.9 million people fleeing war, famine and persecution — the most since World War II.
The Trump administration has come under criticism over its refugee policy not only from retired military officers but from evangelical leaders and organizations, a constituency that otherwise has steadfastly supported the president.
Evangelical activist Tony Perkins, president of the conservative Family Research Council and a strong supporter of President Trump, said earlier this month he was "alarmed" that the administration was considering more dramatic reductions in refugee admissions.
"We strongly urge the administration to extend its admirable commitment to advancing religious freedom to its refugee resettlement policy," Perkins said in a statement on Sept. 10 as chairman of the U.S. Commission on International Religious Freedom, a bipartisan body mandated by Congress to track religious freedom abroad.
In a letter in July, nine evangelical leaders appealed to the administration to back up its frequent public statements on religious freedom and helping persecuted Christians abroad by raising the cap on refugee admissions.
"The drastic decline in the number of refugees we are resettling in the U.S. is really troubling and it goes against everything that we believe about what our faith teaches us," said Jenny Yang, vice president for advocacy and policy at World Relief, an evangelical organization that helps resettle refugees in the United States.
"It's extremely concerning that the administration is not heeding the views of a lot of evangelicals."